AHAVATH TORAH PULLS OUT OF MERGER TALKS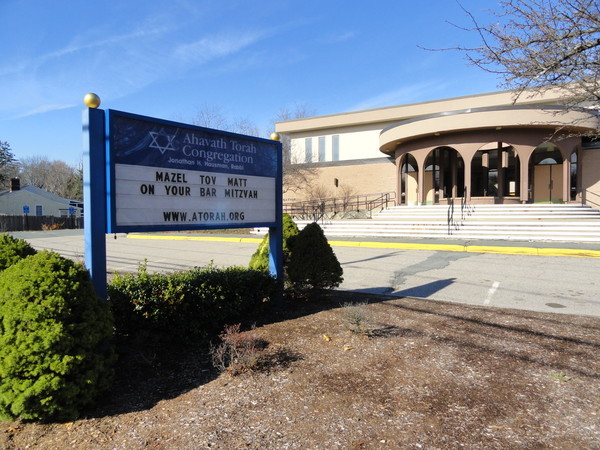 Tuesday, June 4th could become a very important date in the history of Stoughton's oldest synagogue. At a special congregation meeting that night, which was attended by over 100 congregants, the members of Ahavath Torah Congregation overwhelmingly voted in favor of removing ATC from the regionalization process. ATC President David Schulze said, "The conversation was intense and the points discussed were very detailed. In the end, the concepts of lost identity and a commitment to our Stoughton community were two of the overriding factors that caused the outcome. I think this experience opened the eyes of many of our congregants that were previously apathetic or possibly just unaware of the issues our synagogue faces. There was a significant rejuvenation of spirit and internal commitment throughout the meeting and the members spoke of their want and desire to remain autonomous and focus specifically on the future of Ahavath Torah Congregation."
Meanwhile, Temple Beth Am in Randolph and Temple Beth Emunah will continue to work together toward a merger of their shuls, according to sources within both Temples.
Calls to Steve Merlin and Stu Kirsch, the leaders of the Brockton temple were not returned. A secretary who answered the phones at Temple Beth Am said that their president is away until Friday.
But Schulze added, "It is understood that Temple Beth Am and Temple Beth Emenah will now determine their own path and manage unification as a group of two. ATC fully supports that effort and will look to maintain a regional partnership with both temples and whatever the outcome of their merger process presents. We also want to ensure that there is still communication and sharing of programming as well as joint activities as we are keenly aware of the need to extend the Jewish community beyond our own four walls."
Rabbi Jonathan Hausman of Ahavath Torah told me that he was not at the congregational meeting. "I've tried to stay away from that decision. The Congregation decided what they wanted to do.The Stoughton Jewish community needs us to remain here. If the synagogue had moved forward with regionalization, it brings one set of issues. Now, there are other issues connected with long-term survival, including membership and fundraising efforts."
Mark Leppo, a real estate agent with Zip Realty, who served on the Site Committee for the regionalization group, told About Town that he resigned Wednesday morning from the Committee he worked with for over a year. "I think this is really best for the greater Jewish community. People now know they can't be complacent. They need to volunteer and be active." Leppo, a former President of Ahavath Torah, added, "If we're going to die, we'll die on our own. But, I really believe this is going to energize the congregation."
Schulze said it was a very difficult process. "At the end of the day, my job was to gather information and let the congregation follow the path they chose. But, my family has attended here for 40 years, and I'm go glad to see it energized. There were people there last night I have never met. They were passionate and engaged. I spent two years trying to work on the merger. If a reignited ATC comes out of it, it was worth my time."
Written by Mark Snyder. Photo by Jeffrey Pickette of Stoughton Patch.