ANNUAL INDEPENDENCE DAY PARADE PHOTOS

Big Day for Small:
Sinai Man of the Year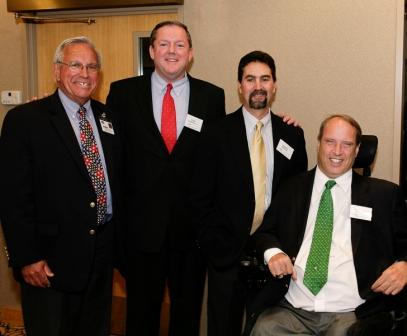 Attending the Man of the Year event at N.E. Sinai were (l to r): Sinai Board Chairman Richard Blankstein, Sinai Board Member/Stoughton Town Manager Frank Crimmins, Jr., Stoughton Selectman Chairman Stephen Anastos, and Massachusetts State Senator Thomas Kennedy. In right photo, Sinai President and CEO Judith Waterston and Man of the Year George Small. The Board of Selectmen declared June 7th as "George Small Day" in Stoughton.
---
Scenes from Stoughton Police Dept. Open House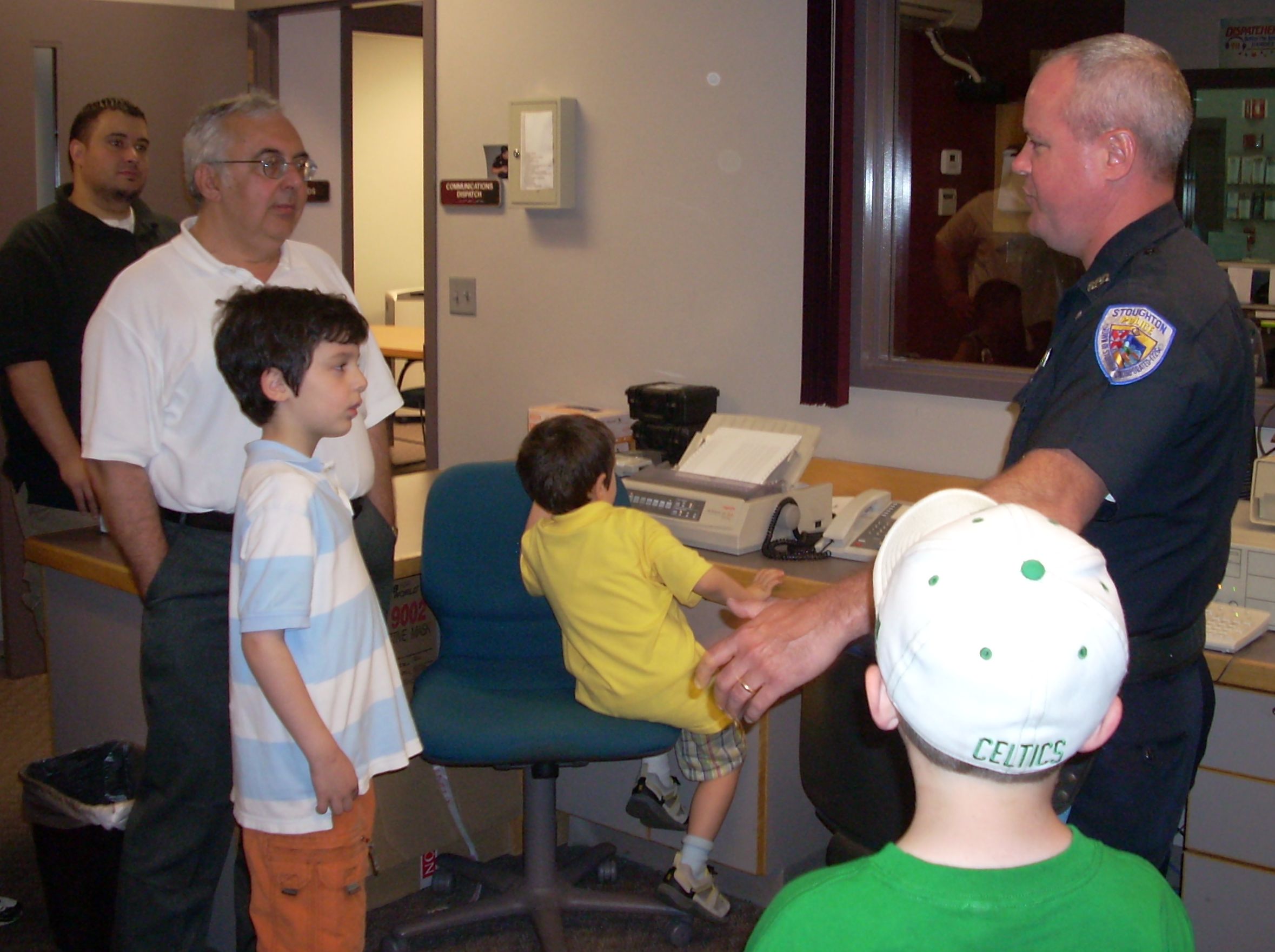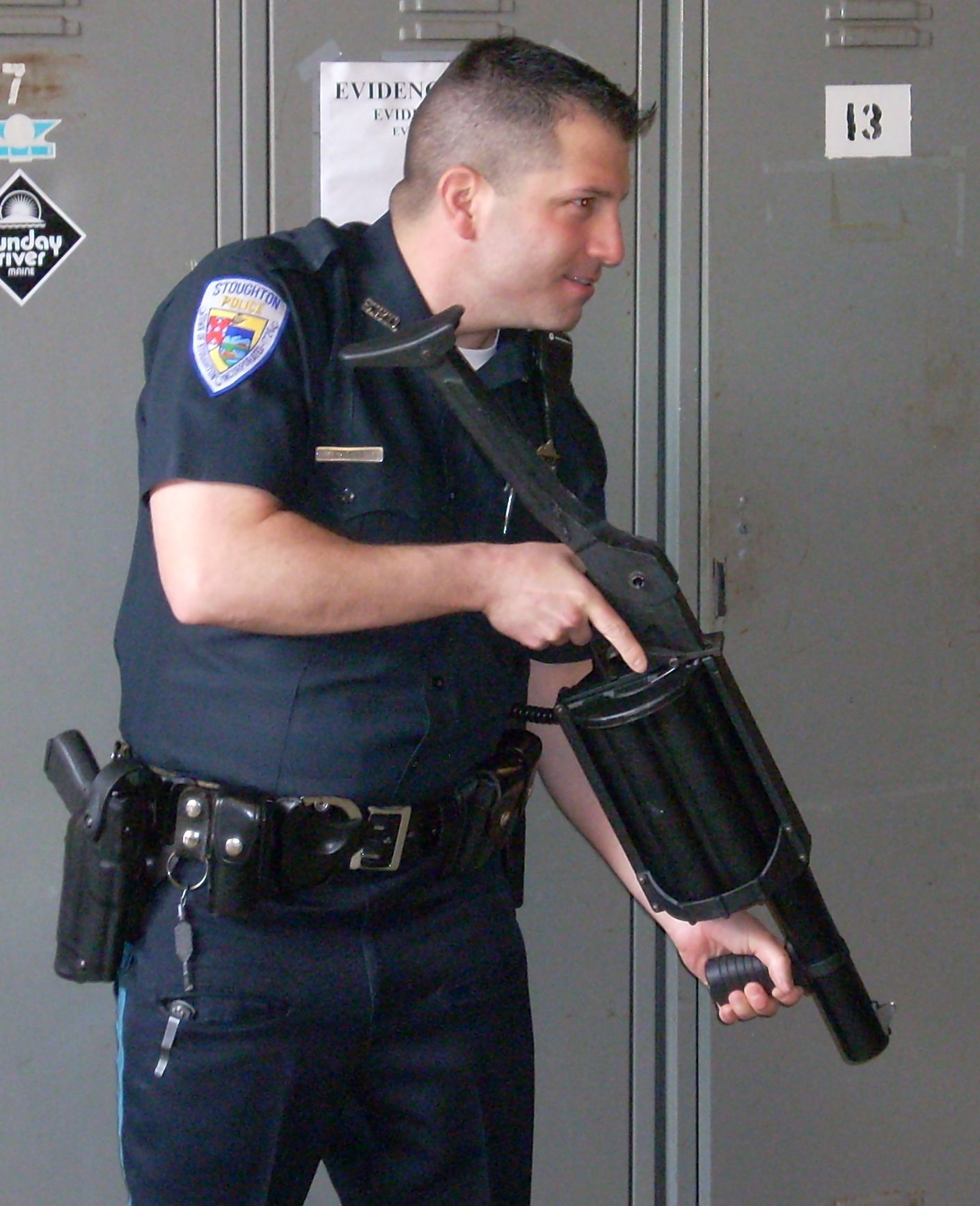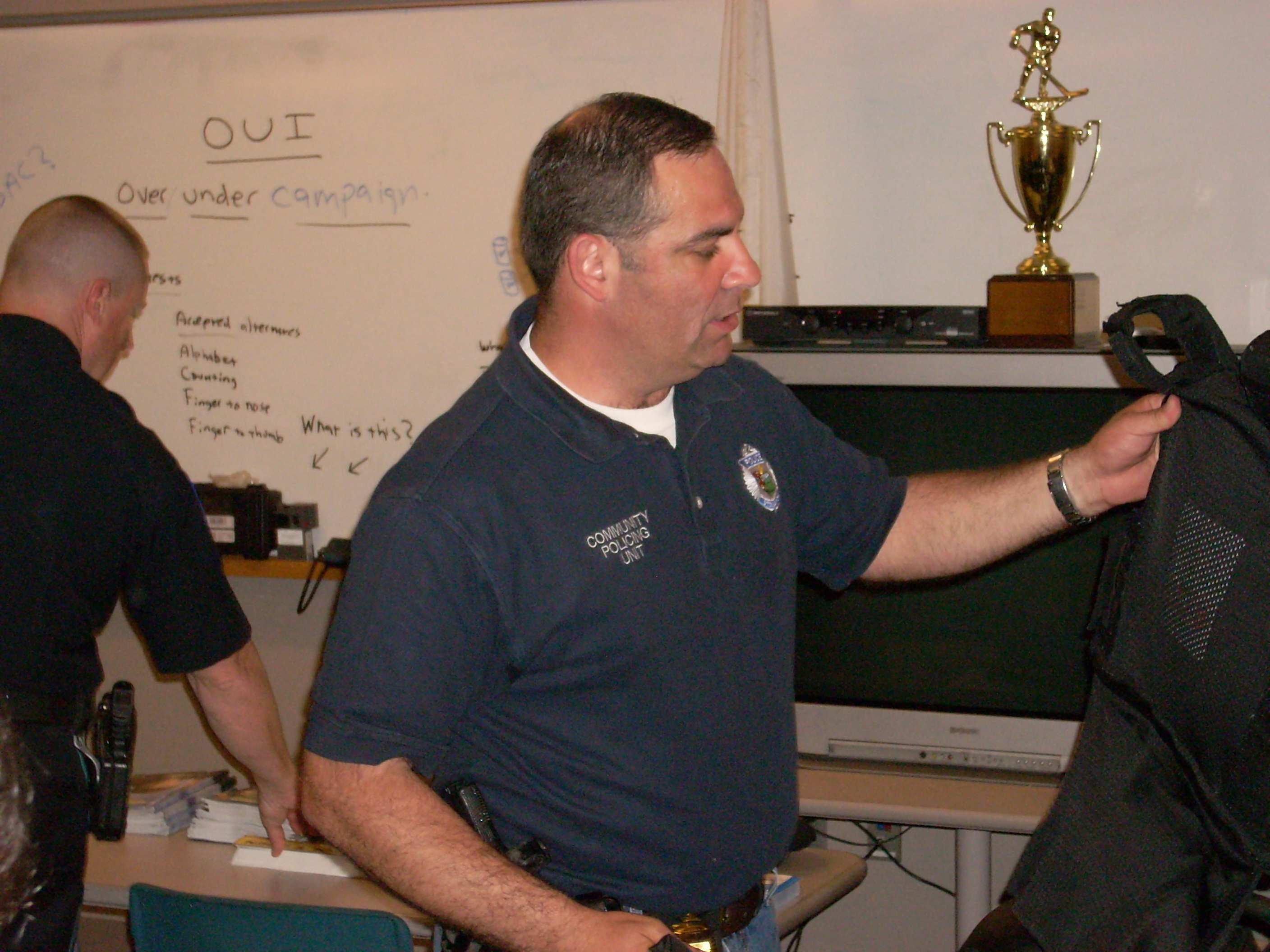 Photos by Mark Snyder/ includes Det. Bill Tracey, Officer John Owens, Det. Roger Hardy, and Sgt. Dan McGowan. Mark pictured in jail cell. No comments, please.
---
Scenes from Friends For Seniors 2010 Dinner
May 22nd @ Immaculate Conception Church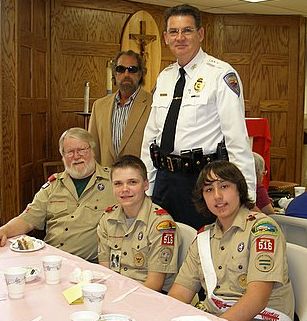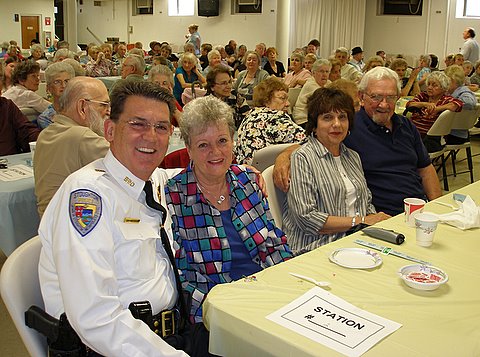 Photos by Hank Herbowy
VOLUNTEERS FOR THIS WONDERFUL EVENT
Council on Aging/Youth Commission Open House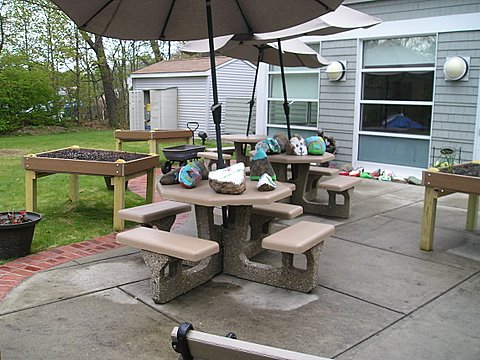 Featuring Private Gardens---a unique concept
(photo by Hank Herbowy)
Spa Delivers Cash to Red Cross




Kerry Eskholme, daughter of Town Spa owner Dick Philips, hands a donation check for $6,000 to Jon Abrams of the American Red Cross. In return, he is presenting Kerry with a plaque in appreciation for the donation. The Town Spa held a raffle of four Opening Day game Red Sox/Yankees games tickets on Easter Sunday. ALL the proceeds were donated to the American Red Cross/Haitian Relief Fund.
John Abrams of the American Red Cross with Haitian employees of Town Spa, including Estane Augustin, Marceau Thanis, Michel Etienne, Reagonson Roger, Wilkens Desravines & Rosmene Louijeune.
Mr. James Kourafas (owner of the George E. Belcher Mansion), Historian David Allan Lambert, and Norma (Field) Raymond holding a last made while she worked at George E. Belcher's factory in the 1960's. Portrait of George E. Belcher in the background. Taken at Lambert's lecture on George E. Belcher at the Stoughton Historical Society on April 11, 2010. (Dwight MacKerron photo)
---
VOLUNTEERS HONORED AT TOWN HALL
In a first for this town, the Board of Selectmen held an Appreciation Party to celebrate volunteerism in Stoughton. Everyone from town meeting members to committee and subcommittee members were invited Monday night (12/21) for some food and liquid refreshments. Representatives of seniors groups, sports organizations, and numerous boards came. Close to 200 people were there, and were treated to meatballs, chicken parm, and an assortment of great hors d' oeuvres, incredible desserts, beer and wine. Selectman Chairman Steve Anastos told the crowd, "I want the people of this town to see the glass as half full. I hope that people take a positive feeling about Stoughton from this event." There were too many well known faces to event list one. Selectmen all attended. And, from what I could hear, the word of mouth was all positive. As one volunteer said, beer glass raised high, "I hope they do this again." So do I. No taxpayer dollars were spent on the party. Everything was donated!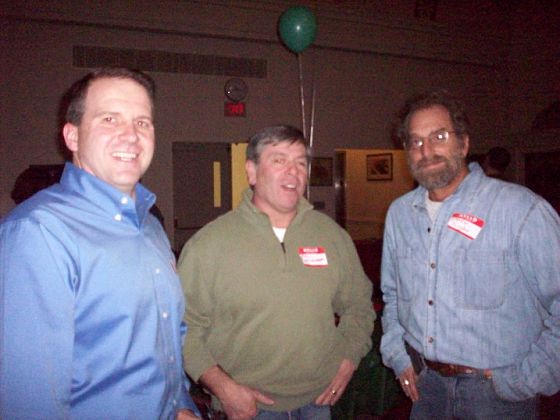 Leo Fay, Billy McNamara and Mark

Steve Anastos with Don Interrante (photos by Candice Fisher)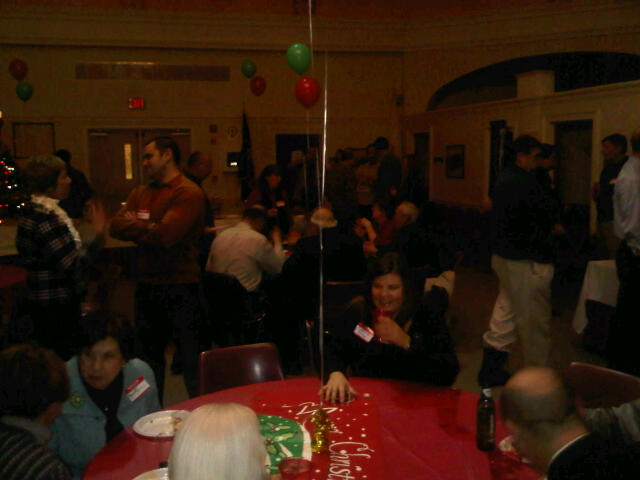 Partying at Town Hall
---
Dick Murphy Throws Party for Stankiewicz
Cable TV Host Dick Murphy threw a party Friday night (12/18) for outgoing Town Manager Mark Stankiewicz, and about 75 people came to Village Pub to say their goodbyes. The crowd included manyt familiar faces. Current Selectmen (Steve Anastos and John Anzivino), as well as past Selectmen (Dick Fitzgerald, Ed Finn, Ed Defelice, Bob Mullen, Joe Pascarelli.) There was school committee member Dr. Erdem Ural, FinCom members Peter Ventresco and Steve Mitchell; Stoughton Police Department's Lt. Michael Blount and Officer Chuck Roberts; Planning Board Chairman Joe Scardino; retired 7th grade science teacher, and town meeting activist Dr. Roberta Camacho; hosts Gerry and Nicole Capozzoli; real estate magnates Walter Parshley and Christopher Layton; attorney Barry Crimmins (who also made the opening of Whiplash that night); veterans Hank Herbowy and Warren West; landscaper Phil Yaitanes; Pennysaver owner and Southeastern Regional School Committee member Roberta Harback; and activist Rick Lynch. Stankiewicz was presented an "honorary rocking chair" by Capozzoli. Stankiewicz's last day was December 18 as Stoughton Town Manager. He takes over Plymouth's top job next week.

Selectman Steve Anastos, and Cable hosts Dick Murphy and Mark Snyder.

Mark holds his "rocking chair", handed to him by Gerry Capozzoli.

Selectman John Anzivino, Dr. Roberta Camacho, Stankiewicz and Capozzoli.

Former selectmen Ed Finn and Ed DeFelice surround current Vice Chairman John Anzivino.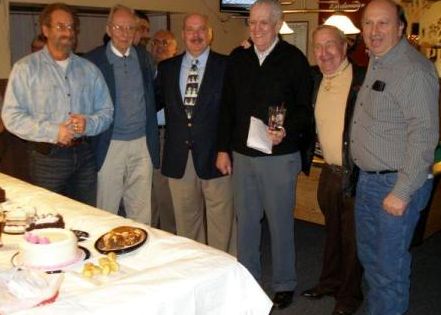 Partygoers (l to r) Mark Snyder, Bill Klein, Mark Stankiewicz, Dick Murphy, Warren West, and Bob Mullen. (In background, Phil Yaitanes and Dr. Erdem Ural.)
(Hank Herbowy Photos)
FRIEND FOR SENIORS ANNUAL CHRISTMAS DINNER 12/12/09
| | |
| --- | --- |
| | |
| | |
| Senior Event photos by Bob Mullen. Pictured are Student Council volunteers; Dennis, Josie and Father Joe ; Mark and John O'Meara, people having fun at Immaculate Conception Church! | |
---
FRIENDS FOR SENIORS GOLF TOURNAMENT BIG SUCCESS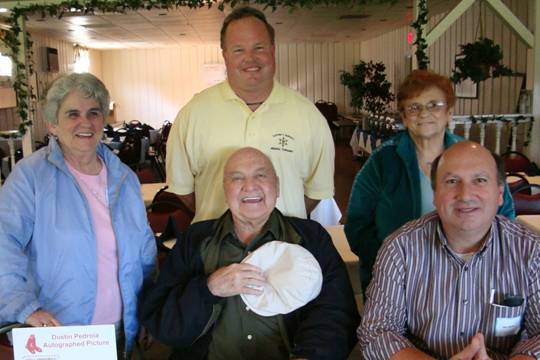 Seated left to right: Vice President John J. O'Meara & Bob Mullen
Standing left to right: Treasurer Carol Weineck, Dave Sheehan & Alice Araujo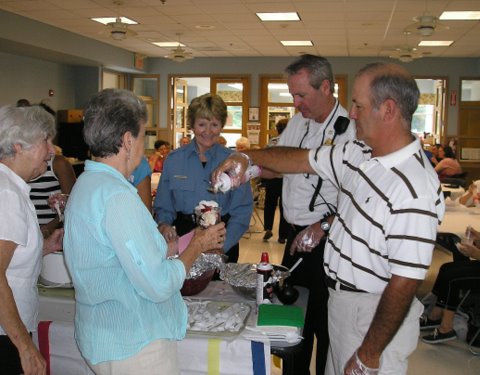 Stoughton Senior Center hosted an Ice Cream Social August 20, 2009. Stoughton Police Detective Tony Bickerton and Stoughton Deputy Fire Chief Mark Doloff handle the whipped cream. (Photo by Hank Herbowy)
---
T.G.I. FRIDAY'S IN STOUGHTON RAISED $1800 for the Make A Wish Foundation
with A BEST BARTENDER CONTEST
featuring Stoughton's Mike Klipp (watch the video clip: http://www.youtube.com/watch?v=72TQRMEnOog&feature=channel_page)
and the WINNER IS......
Stoughton's Rachel Wilson!
---
11th Annual Concerts In The Park Series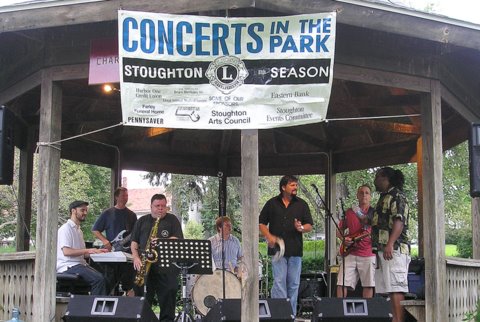 Insufficient Funds rocked the house on August 2. (Hank Herbowy photo)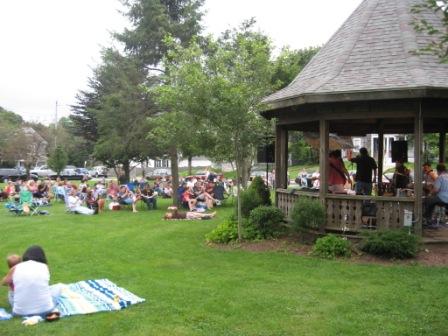 Crowd listens to Insufficient Funds on August 2 (Bob Mullen photo)

Charlie Large listens to Magical Mystery 4 on August 16. Concert raised funds to support the Gazebo at Faxon Veteran's Memorial Park named after Large.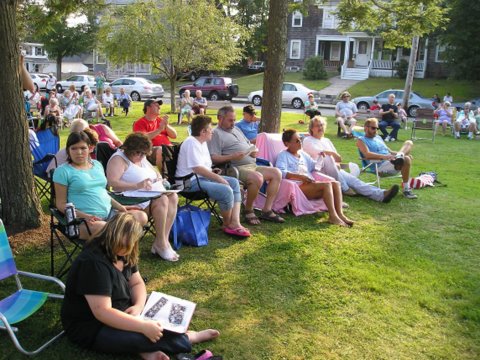 Crowd takes in Magical Mystery 4, a Beatles tribute band., featuring Charlie's son-in-law in the John Lennon role.

Magical Mystery 4 Performs at Charles Large Gazebo on August 16. (All four photos by Hank Herbowy)

David Steinberg (r) donated to Paul Flynn for the Charles Large Gazebo fund.
---
Did you miss
FOX 25 MORNING SHOW?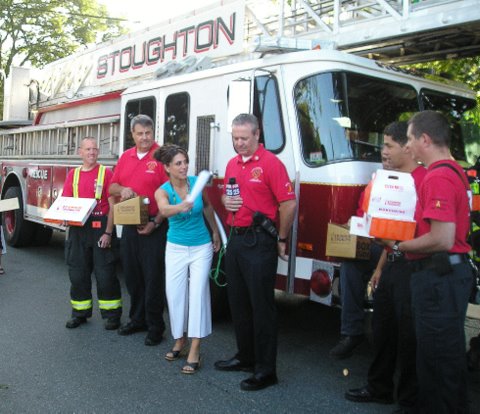 Weather Gal Cindy Fitzgibbons with Deputy Fire Chief Mark Doloff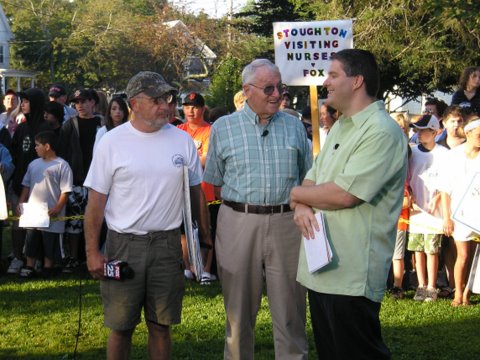 Doug "V.B" Goudie talks history with Stoughton Historical Society members, including president Dwight Mackerron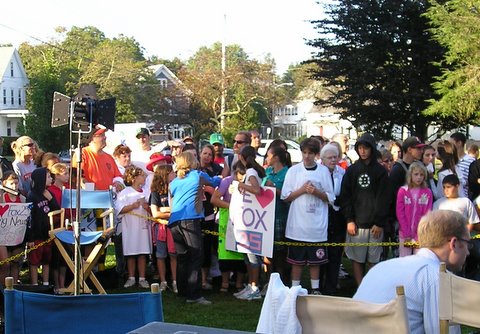 Big Crowds turned up at Faxon Veteran's Memorial Park to watch the Fox TV Broadcast Kim Carrigan with Selectman John Anderson, Library Director Pat Basler, and Town Manager Mark Stankiewicz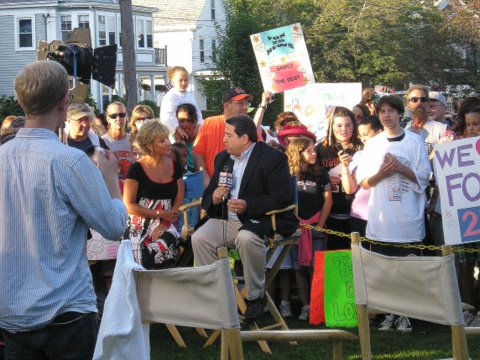 Kim Carrigan interviews Selectman Joe Mokrisky
(PHOTOS BY HANK HERBOWY)
Catch what you missed:
http://www.myfoxboston.com/dpp/morning/zip_trips/zip_trip_stoughton_073009
Miss the July 4th Fireworks? (watch them!)
July 4 Weekend (Photos)
(photos page includes two parade video links)

The BIG BAND BLOWOUT!
ALL STAR COMEDY BENEFIT SELLS OUT!
500 Enjoy Amazing Night of Comedy!
Comedians who got their start at the famous Ding Ho Chinese Restaurant/Comedy Club in Inman Square, Cambridge, some 25 years ago, and are now some of the hottest names in comedy today, performed a special memorial fundraiser for the legacy their late friend and comedian Bob Lazarus in the "Bob Lazarus Memorial Comedy Benefit Show." Comedians Steven Wright, Jimmy Tingle, Steve Sweeney, Mike Donovan, Tony V, Rich Ceisler, Jonathan Katz, Ken Rogerson, Bill Campbell, Jimmy Smith, Bill Braudis, Mike Bent, Brian Powers, Frank Santorelli, Tommy Gilmore, Emily Singer, Chance Langton, Dan Margarita, and Mike McDonald performed on Sunday, June 14 at Ahavath Torah Congregation before a sold-out crowd in Stoughton, MA. Proceeds of the show benefited the Carly Lazarus College Fund and Stoughton's Ahavath Torah Congregation, of which Bob was an active member.
"Laz" never lost his sense of humor and was known for his large heart and concern for all. He actually developed a lot of new material about his illness and experiences. He performed brilliantly right up to the end including the night Steve Wright was inducted into the Boston Comedy Hall of fame in December 2008. Bob explained with great joy and enthusiasm about being able to perform even when not feeling that great, he said that "[his] doctors gave him the OK, 'cause they knew that it was good for my soul… -- definitely," he added emphatically. His friends from the world of Boston comedy and Ahavath Torah Congregation will honor Bob's memory and show their love and support for his family by keeping the laughs flowing. Kudos to Jimmy Tingle, who organized the event; Rabbi Jonathan Hausman, who worked closely with him; and the dozens of volunteers who made the night a huge success! If you missed it, and would like to help, send your checks to Carly Lazarus College Fund, c/o ATC, 1179 Central St., Stoughton, MA 02072
16 of the 20 performers stopped by for short interviews on the Snyder's Stoughton TV Show. That show will play the weekend of June 26, 2009.
---
MEMORIAL DAY Weekend 2009 in Photos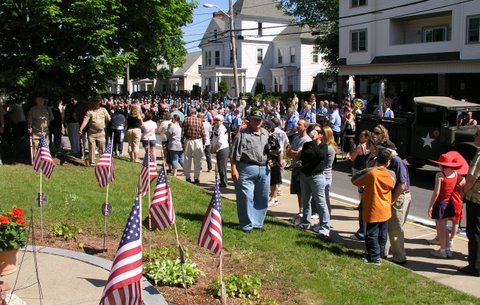 (Hank Herbowy photo)
---
Barrett Retirement Party
Larry Barrett's Retirement Event @ Lantana in Randolph on Friday night was a rolicking success. Hosted by Judge Francis Crimmins, it drew 300 people at $45 a ticket, which included a "gift" that the crowd never got to see. We'll have to find out what it was! The crowd included current officer holders (Selectmen Steve Anastos, Cynthia Walsh and Joe Mokrisky, Town Manager Mark Stankiewicz), representatives of companies that supply the DPW with equipment (like Mack Trucks), and some special guest appearance. Among those in the crowd were former Town Manager Phil Farrington (now a math instructor at Massachusetts Maritime Academy), former Fire Chief William Stipp (in from Arizona), and former DPW Director Jimmy Williams, Jr. The "service" (and I use the term loosely) at Lantana was just horrid, but the spirit of honoring Barrett for his 40+ years of dedication to the town took center stage. Stories were shared, and the feeling was one of pride for the Town of Stoughton. It was a good feeling! May Larry stay healthy and enjoy his retirement for a long time! His three wonderful daughters and his loving wife are looking forward to it!

Selectmen Steve Anastos, Cynthia Walsh and Joe Mokrisky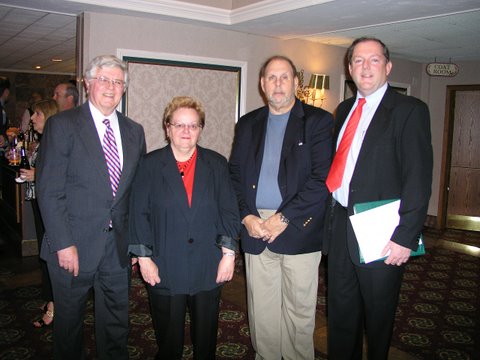 Former Town Manager Phil Farrington, Louise Packard, Jerry Savage & Emcee/Judge Francis Crimmins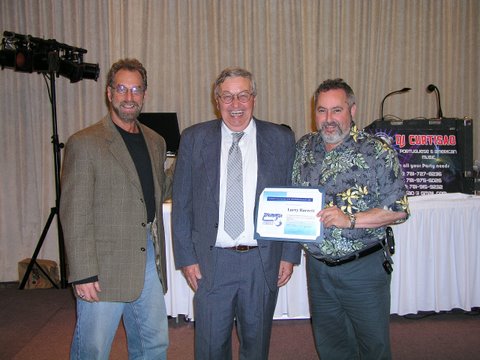 Mark Snyder & Terry Schneider of Stoughton
Chamber of Commerce present Larry a nifty
certificate suitable for framing.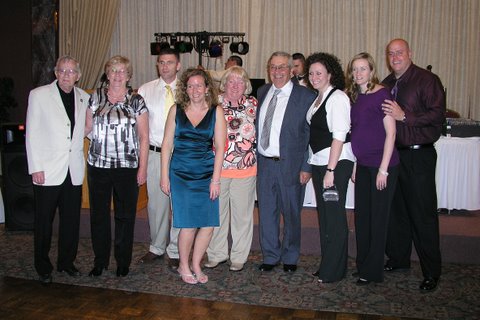 Larry's Loving Family!
(photos by Hank Herbowy)
TRACKSIDE FESTIVAL

Selectman Joe Mokrisky, Fire Chief David Jardin and
Acting Police Chief Tom Murphy (not pictured) got dunked
for charity! Also, organizer Steve Kelley with the Great Bonafuci (a/k/a/ Messianic Rabbi Henry Morse) (Mark Snyder photos)
---
STEPPIN' OUT WITH SINAI GALA

Richard Blankstein, Chairman of the New England Sinai Hospital Board of Directors, and Sinai Chief Medical Officer Lawrence S. Hotes, M.D. present the hospital's first Lifetime Achievement Award to Stan Hatoff, Sinai Board of Directors Vice Chairman at the "Stepping Out with Sinai Gala" held at the Fairmont Copley Plaza. Nearly $400,000 was raised at the event!
---
Friends of Seniors 2009 Dinner--You Missed it!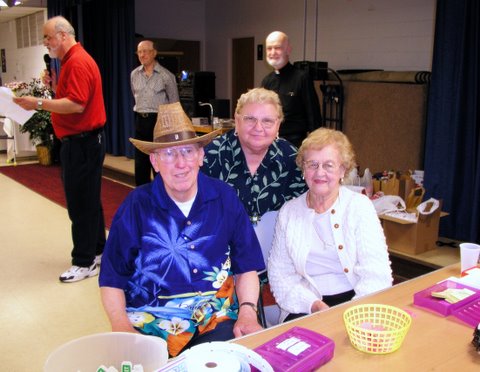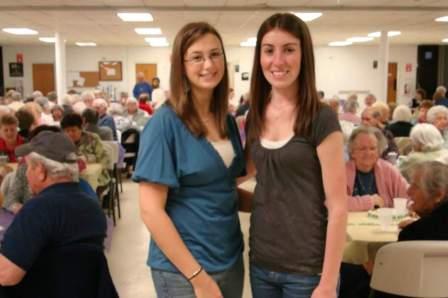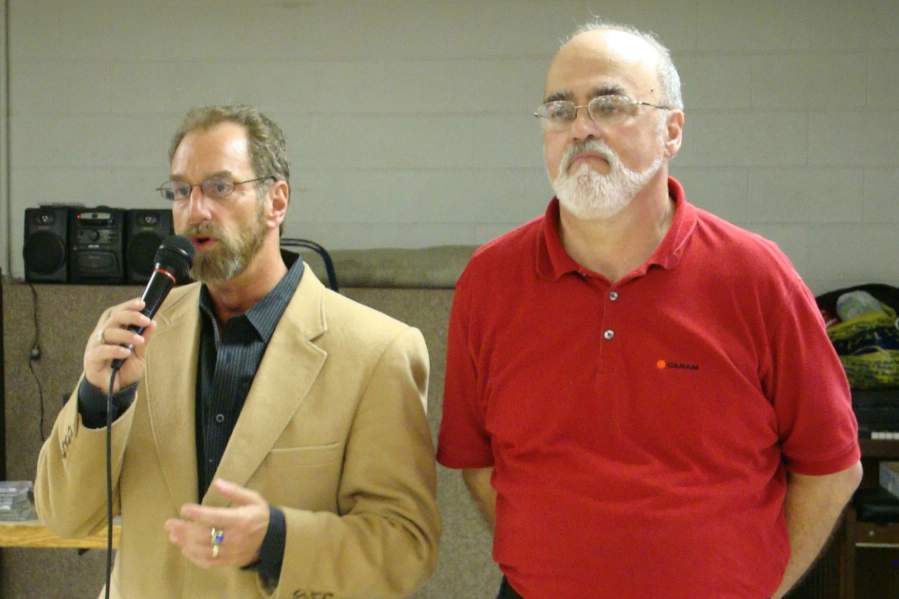 Another Amazing Time for 200 Stoughton Seniors, Saturday, May 2, 2009 @ Immaculate Conception Church!
(photos by Hank Herbowy)
Veteran's Day 2008 Photo Collage (here)
---
T.G.I. FRIDAY'S NOW OPEN
Rt. 139, Next to Target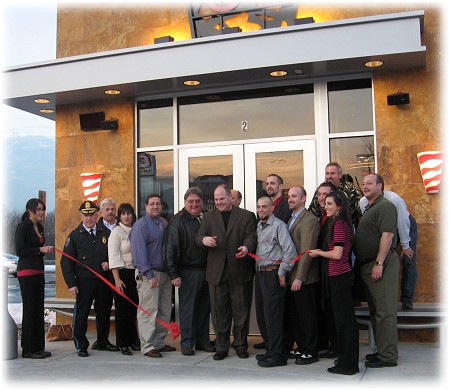 Ribbon Cutting on February 2, 2009
---
Nationally Known Artist Comes To Stoughton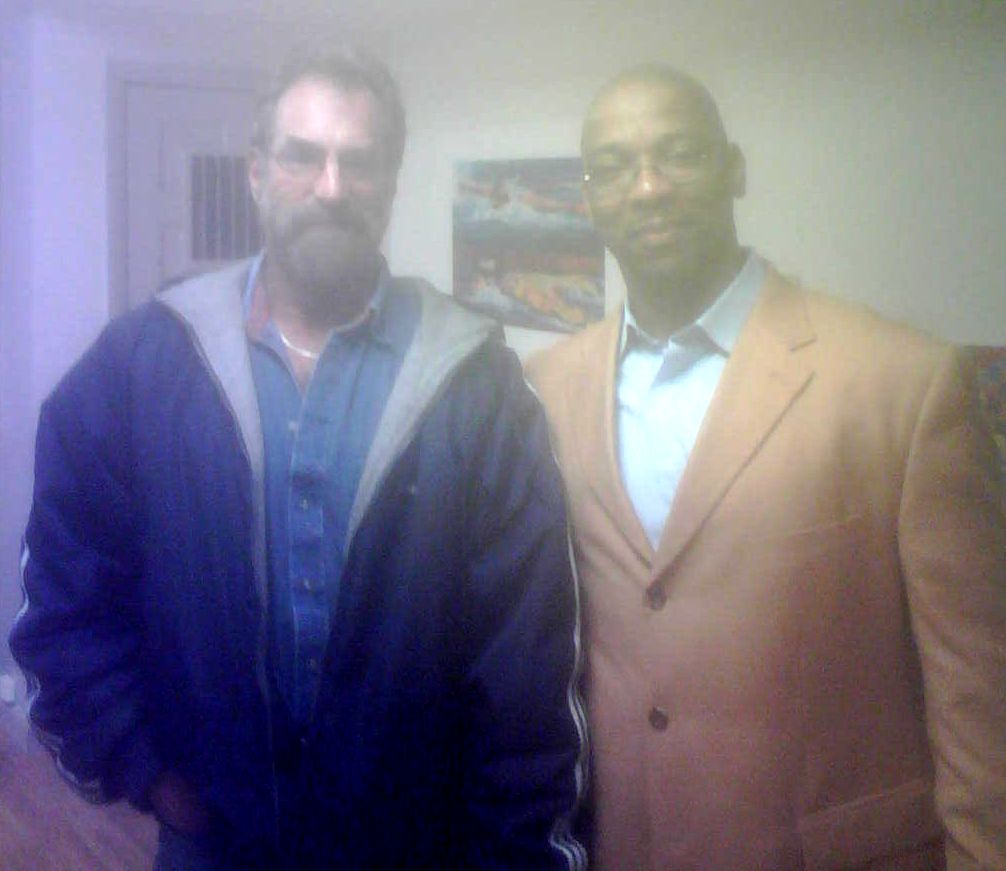 Artist Winford Gilmon comes to Henson-Jackson Art Gallery
---
Friends For Seniors Dinner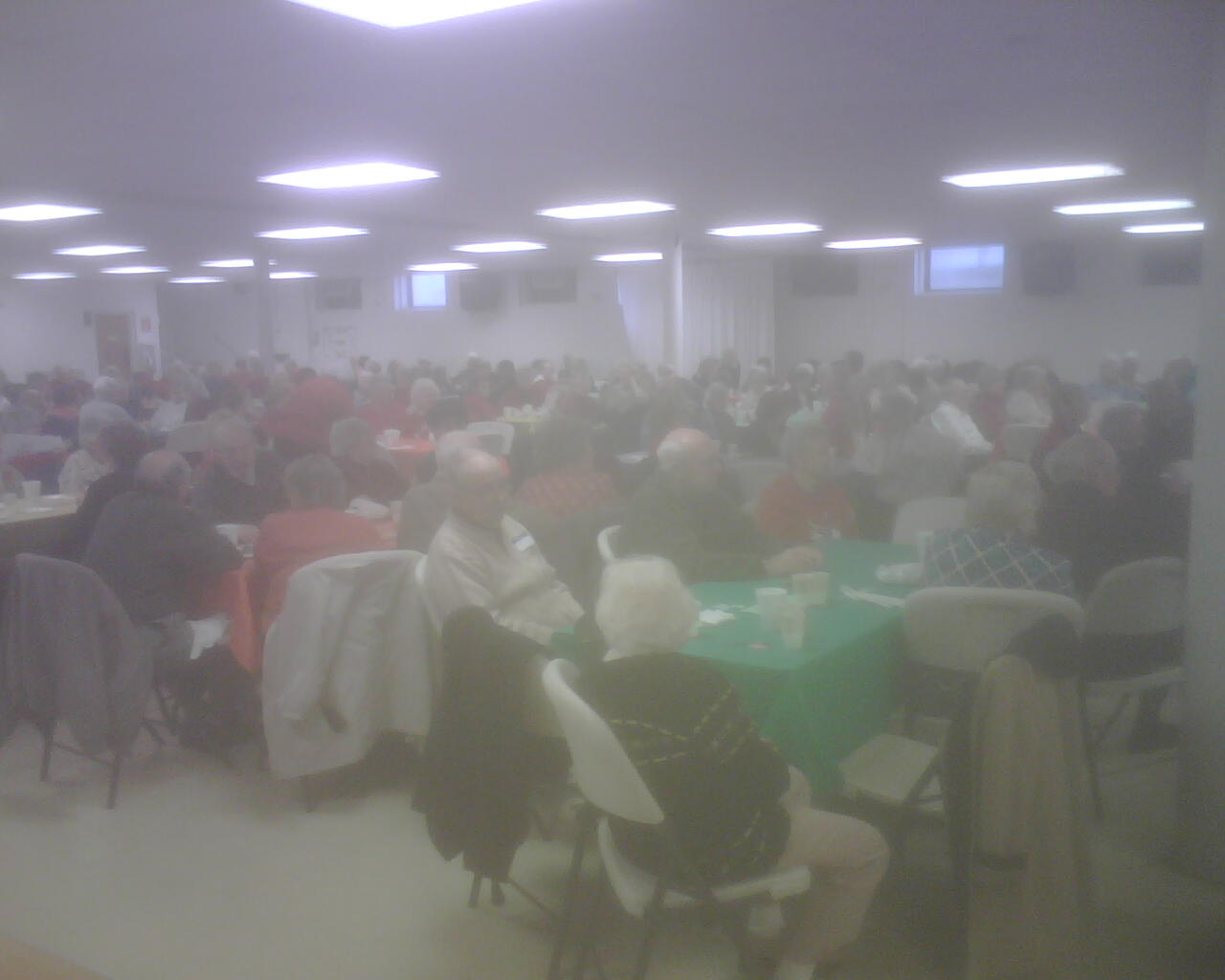 Adult Volunteers included Cook Extraordinaire Mike Sammarco, and his serving crew including, Stephanie and Dan Skiba; Dennis Gada, Charles Driest, Sr., Bobby Jordan, Al Venterosa, Don Interrante. David Sheehan, Steve Signori, Town Clerk Maria Chiofolo, Rose and Anthony Bickerton; Nancy Paterson, Elaine Hatch, and Tony Novello. Kitchen served about 250 people, and with the help of Stoughton High's National Honor Society, they were served a delicious dinner (chicken with stuffing, corn and baked potato) in 12 minutes! This was a result of Friends for Seniors successful golf tournament. Dinner was served for a nominal $3 charge. The seniors loved it!
---
Haunted Hayride a Scary Success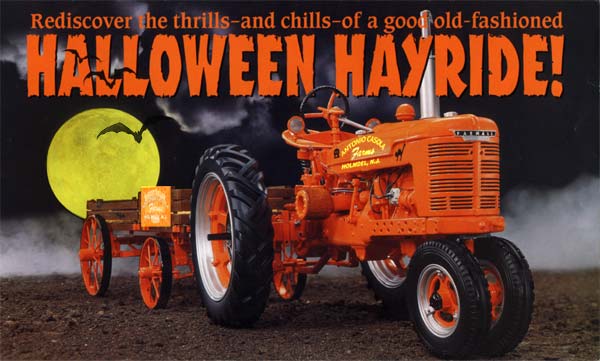 The Committee for Community Events held their first Haunted Hayride on Sunday, October 26 and it was a MASSIVE HIT. The event drew hundreds of families from Stoughton, and surrounding towns, and featured hayrides, free cookies from Nocera's, and goodie bags for the kids. For the paltry $1 admission price, the kids got a great time. The only glitch seemed to be that due to the popularity of the event, the line took a long time to wait in, before boarding the hayrides. Committee Chairman Joe Mokrisky said that what they learned from this first event will result in a big improvement next year. "The Committee worked really hard on this. We had it down to a science on paper. It never runs exactly as planned. Next year, we'll have more attractions in the field, more hayride trucks, and a little bit more effective time planning." Still, for a first time event, it was a lot of fun and a scary success. A future Snyder's Stoughton TV program will feature footage taken at the hayride. It is just another thing that makes you proud to be living in Stoughton.
---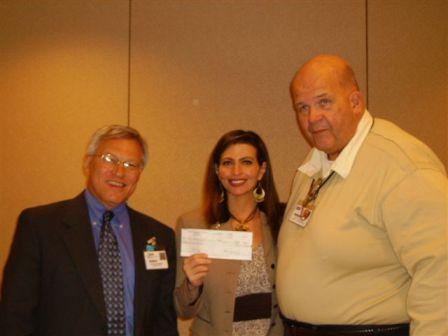 Knights of Pithias – Grand Lodge---Support For Stepping Up With Sinai
Sinai Men's Associates President and Knights of Pithias-Grand Lodge (Stoughton) past Deputy Supreme Chancellor and current Grand Vice Chancellor Thomas O'Connor of Randolph (on the right) is pictured presenting a check for $1,000 from the Knights to Bettyann McKenzie, Executive Director, Sinai Foundation and Lester P. Schindel, Sinai President and CEO. The check is in sponsorship of the hospital's Stepping Up With Sinai Walkathon on October 5, 2008. The walk, presented by the Rotary Community Corps Adult Day Health Program, is held annually with proceeds used to provide scholarships for eligible people who wish to attend Sinai's Adult Day Health Care Program but do not qualify for insurance coverage and cannot afford to personally pay the program fees. Without this scholarship assistance, these adults would be unable to participate in the program.
---
Stoughton Friends for Seniors Golf Tournament Huge Success! (Photos Here)


Friends for Senior President Dennis McCarthy, Mark Snyder, Selectman Steve Anastos and Matt Baldassari
---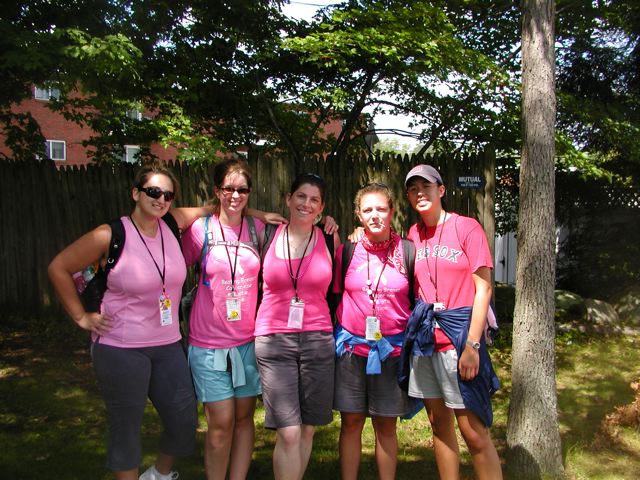 These 5 ladies comprised the Stoughton 3-Day team and participated in the Susan G
Komen For the Cure walk to raise awareness and money to fight breast
cancer. Over three days they walked 60 miles, some of those miles in
a downpour, from Gillette Stadium and finishing at UMass Boston on a
perfect Sunday afternoon. The total amount raised by this three day
event was $5.1 Million and these ladies were part of it.
(Pictured
Left to right: Amanda Mahoney, Sarah Christensen, Julia
Sh
eehan, Heather Mills and Nikki Robles.)
(Paul Christensen Photo)

---

The Salute to Acting Police Chief Chris Ciampa---who knew he was the Don Rickles of Stoughton? And, with the next Acting Chief Tom Murphy (July 1), Stoughton found themselves a new M.C. for events (I'm off the hook!)
---
June 2008
A Tribute to Ron Christianson, Legendary Coach of Stoughton's Best Music Teams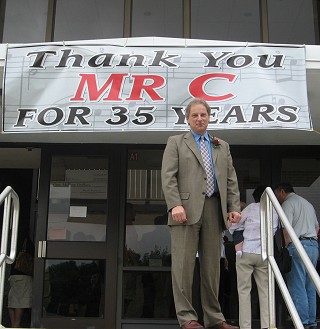 (terry schneider photo)


The Celebration to honor the award-winning 35 year career of Stoughton Public School's Director of Fine Arts Ron Christianson was simply a spectacular event. Hundreds of people came to honor him on a Father's Day afternoon at Stoughton High School. In an event coordinated brilliantly by Mary Coulter-Bennett, the get together was a success on so many levels. It began with a recorder solo of the elementary school music program's staple "Hot Cross Buns" by adorable South School first grader Mia Qi Bennett. Retired SHS Principal Phil Iacobacci gave a welcome to the crowd. Iacobbaci also started at Stoughton High in 1973, as did Christianson. He said Ron was "the leader of the best band east of the Mississippi." School Committee Chairman Allan Mills said of Christianson, "He set high standards for himself, his staff and his students. His reputation will live on in

perpetuity." Synneve Carlino, a 1987 SHS grad, said Christianson taught her and her classmates, "That it takes practice, discipline and hard work to succeed." Carlino is now the Director of Public Affairs for Carnegie Hall. The SHS Alumni Band, featuring over 50 talented musicians, received a standing ovation from the crowd. They were conducted by Elana Swardlick of the SHS Class of 1997, a music educator in Norwood. Their amazing medley included tunes like "Yellow Rose of Texas", and "Love Me Tender" and a marvelous rendition of "Holst Suite." Stoughton Public School's new K-12 Director of Fine Arts John Kearns said he had good and bad news for Christianson. "The good news is I saved on my car insurance. The bad news is that your family sold you out big time." He then commenced to show a number of embarrasing photos of Christianson from toddlerhood to his SHS days, to the delight of the crowd. He warned the women in the audience, "No screaming, no rushing the stage, and no throwing clothing items." Kearns also spoke about Christianson's musical recording---with Franki Gubala & his Polka Fun Boys. "I'm sure the girls--who loved the rock guitarists and drummers--swooned with the polka music and his violin playing." The SHS Chorus, under the direction of Dan Davey, played a couple of tunes, the last one (a tune from Broadway's "Wicked") with the telling lyrics, "Because of you, I have been changed for the better." It was a sentiment echoed all afternoon by those in the auditorium. Susan and George Day, founding members of POPS (Parents of Performing Students) introduced the current president Nancy Morris (a dynamo), who said, "I'm glad to see the auditorium so filled with love for Mr. C. You leave our children in very good hands, and we thank you for that." Mark Rappucci, a 1983 SHS graduate and an instrumental music director at a Connecticut high school, said, "I'd like to thank you for being our musical father on Father's Day." The Kane and Day families combined their talents on a hilarious sendup of "Hey Jude", called "Mr. C." Brockton music teacher and SHS grad Bob Ferrante told a few stale jokes, and then blew away the crowd with a personalized version of Sinatra's "My Way." After a humorous video presentation from the officers of the Class of '08, Stoughton Chamber of Commerce Executive Director Terry Schneider presented Christianson with an Award from the Chamber for his years of service. Time waiting for Ron to hit the stage was filled by a babbling dude in sunglasses. The SHS Jazz Band, under the direction of Paul Alberta---retired director of fine arts in Norwood--was its usual brilliance. The band--like the rest of the SHS Music Dept.--have swept awards all over the country, and the world! Joyce Parsons, past POPS president, and Interim Supt. of Schools Tony Sarno, also got to salute Mr. C. Mr. Christianson then got to thank the throngs, and everyone went downstairs to the cafeteria for nosh. A wonderful time was had by all. Mr. C's legend will live on through the hundreds of trophies in the high school cases, and the thousands of students who have soaked up his wisdom and positive role model over the past 35 years. Happy & Healthy retirement, Mr. C. (Christianson, and a group of talented juniors and seniors will appear on this weekend's Snyder's Stoughton TV Show, Friday Saturday and Sunday night at 7 p.m. on Comcast Channel 9.)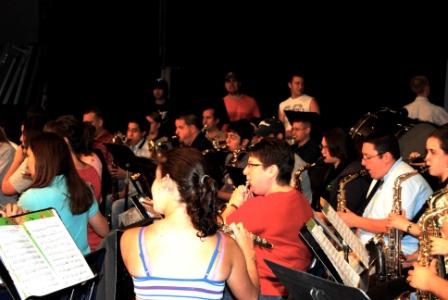 Some of The Alumni Band (Nancy Morris photos)
The Performing Arts Center at SHS was renamed the Christianson Performing Arts Center

---
FEARSOME FOURSOME –Mark Sokoll, left, president of the Jewish Community Centers of Greater Boston, and Jeffrey Savit, right, JCCGB board chairman, finish their round of golf in fine fashion as they pay tribute to Steve Greene, (second from left) of WB Mason, and Andy Janfaza of HighVista Strategies, during the JCCGB's 5th annual golf tournament held on Monday, June 16, at the Pinehills Golf Club in Plymouth. Greene and Janfaza were honored for their outstanding and longstanding commitment to the community. More than 220 golfers participated in the event, which raised over $300,000 for vital JCC services such as summer camp scholarships, early learning center scholarships and special needs services. Of course, the two on both ends of this photo later sold out the Jewish community south of Boston by selling out the Striar JCC to the YMCA. It is a scarlet letter they will wear for life.
---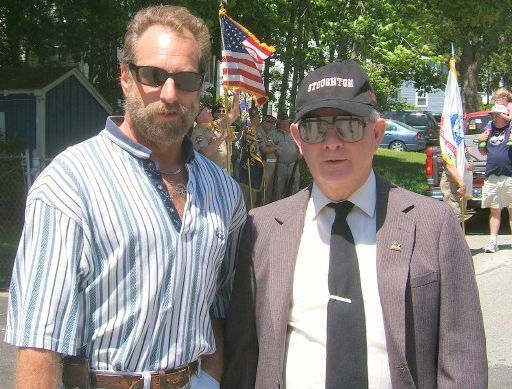 Mr. Moderator, do you recognize me now?
(Hank Herbowy photo)
Second Annual Gerry Hartstone Memorial Miniature Golf Tournament
held at Ahavath Torah Congregation on 5/18.08
STOUGHTON BUILDS
FUNDRAISING CONCERT featuring
Stoughton's Own LORI MCKENNA
May 18 at the Shaw's Centre in Brockton
SHE ROCKED THE HOUSE!
Friday Night (May 16):
FUNDRAISER FOR "WILLY" FRANCIS
BIG SUCCESS, NETS $5400

'Willy' Francis, the Deputy Chief of the Stoughton Auxiliary Police, was in a serious car accident in December. Thankfully, he is on the road to recovery, but he has a long road ahead of him, which will take a toll on him physically and financially. The Stoughton Auxiliary Police are a ubiquitous presence directing traffic, closing off roads and keeping residents safe during parades, festivals, funerals, and many other town events. Residents "gave back" at the San John Filarmonica Society Friday night (May 16) in an event conceived and hosted by Stoughton Police Officer Lino Azul. Entertainment was presented by the excellent band, Wild Blue Sunday. An excellent time was had by all, at the event which featured delicious food, fun raffles, and a bit of adrenilan for Officer Francis. Financial highlights included a donation of $500 from the Doin' It For Diane Committee and $100 from the Stoughton Chamber of Commerce.
---
"DOIN' IT FOR DIANE" FUNDRAISER NETS $14,800 for Food Pantries
Saturday Night's (5/10) Doin It For Diane Fundraiser for the Stoughton Food Pantry and St. Anthony's Free Market was a rousing success, netting $14, 800. The fundraiser, named for the late Diane Murray, brought a smile to the face of her widower Dr. David Fisher. "Unbelievable." was his reaction to the capacity crowd and final results. This year, the Stoughton Chamber of Commerce took over the event, and Executive Director Terry Schneider and his wife Joanne led the charge. Schneider, speaking of his Doin' It For Diane Committee, wrote, "We Did It Again For Diane, who I'm sure is sitting upstairs, proudly looking down on what we've accomplished, but we also did it for those who cannot do it for themselves, whether temporarily or permanently. We should all be very proud of what we've accomplished in one evening, whether a volunteer worker bee, a donator of food, a donator of raffle items or a donator of food. The sucess of the Not Just Spaghetti Dinner would not have been as sweet without every one of you. Like a jig saw puzzle, if a piece or two is missing you can still make out the picture but it certainly wouldn't be as clear and complete as when all the pieces fit just right. Thank you all for making it all Just Right!"
The Doin' It For Diane Committee included:
Suzanne Blacker ~ Ilse Marks Pantry, Stacey Doiron ~ Panera Bread, David
Fisher ~ Resident, Christine Gallagher ~ St. Anthony's Free Market, Anne
Havlin ~ St. Anthony's Free Market, Nadine Israel ~ Fred & Nadine Team,
Steve Kelly ~ Kelly Contracting, Stephanie Martin ~ Webster Bank, Cindy
Pazyra ~ Resident, Maria Pimental ~ Randolph Savings Bank, Bernie Planeta ~
Millennium Marketing, Hank Polanzak ~ Ilse Marks Pantry, Joanne Schneider ~
Stoughton Chamber, Terry Schneider ~ Stoughton Chamber, Beth Snell ~
Randolph Savings Bank, Mark Snyder ~ PMP Network, and Fred Yaitanes ~ Fred &
Nadine Team
IKEA Donated $2500 to the event. Other high bidders included A Bid to have lunch with Congressman Stephen Lynch in D.C., along with a White House tour went to a winning bid of $1000.00 that was split between Richard and Ann Power, and Nancy and Stephen Rowe. A package for lunch with State Rep. Lou Kafka went to Robert Germain for $225.00. Two Red Sox tickets (with a face value of $90) went to Bill Horan for $210.00. And a pair of Lori McKenna VIP tickets went to some guy with crooked sunglasses for $100.
The Echoes entertained the crowd

14 Year Old magician David Rysin impresses an attendee.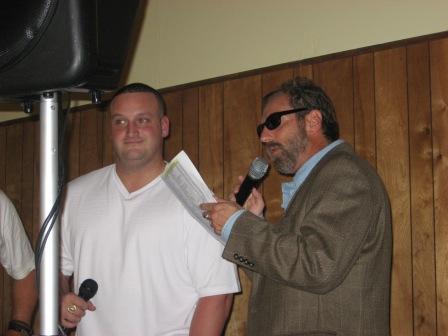 DJ Sonny B Jr. (Joey Apotheker) and Emcee Mark Snyder
Anne Havlin, David Fisher, Suzanne Blacker, Hank Polanzak and Terry Schneider

"Hot Hot Hot" Conga Dance and Limbo
(Photos by Joanne and Danielle Schneider)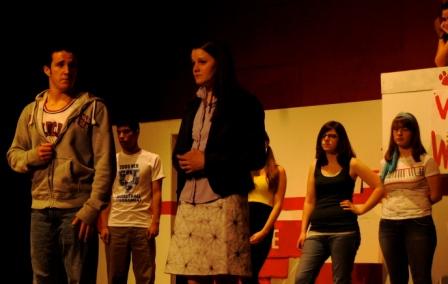 Bobby Amaral and Megan Porter star in "High School Musical"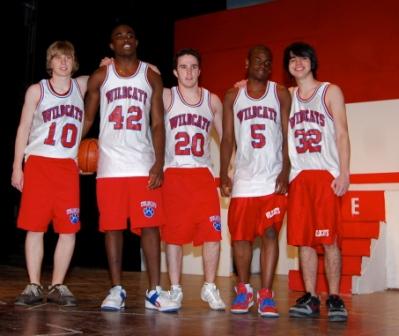 The Jocks include David Morris, Jeff Numero, Bobby Amaral, Bobby Brown and Alex Kosta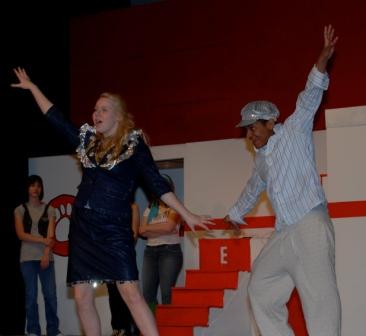 Becca Griffing and Damani Barboza doing their thing in High School Musical.
(photos by Nancy Morris)
---
ART EXHIBIT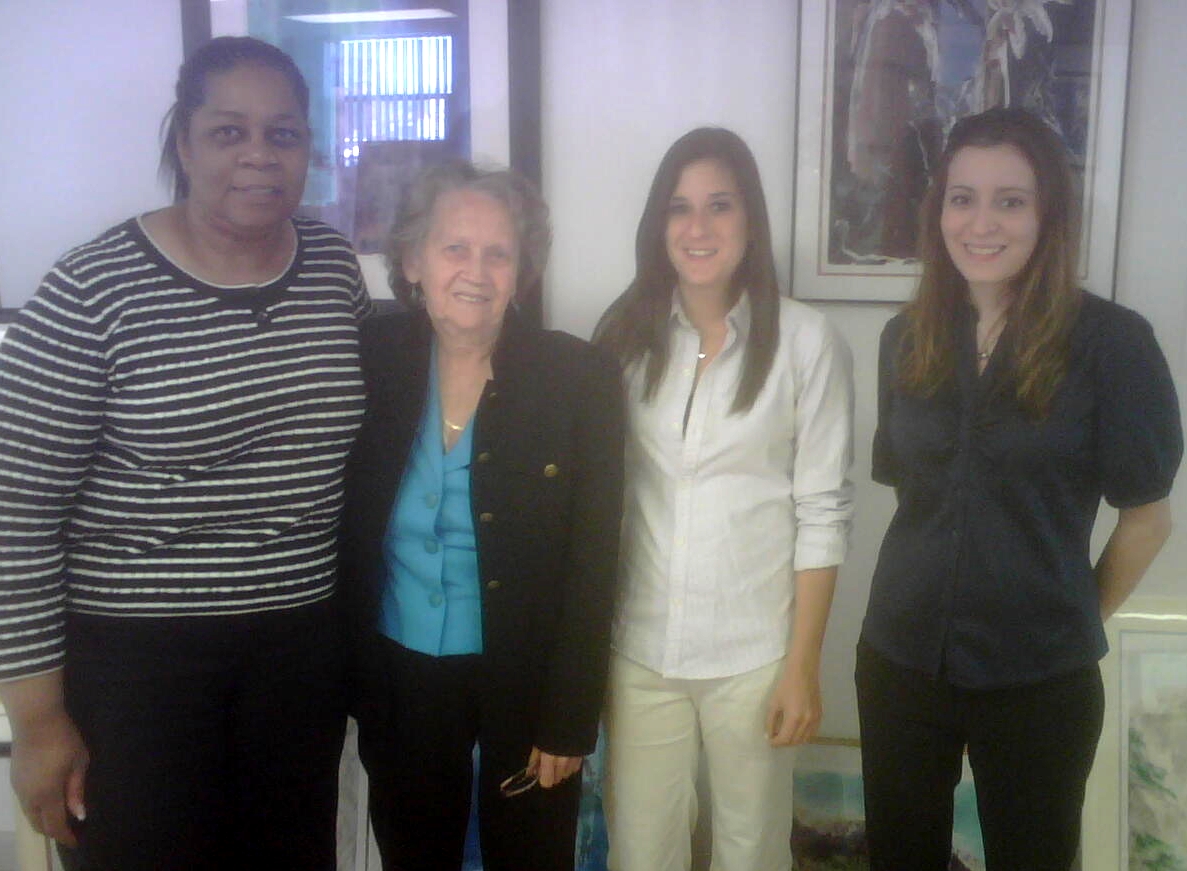 HENSON JACKSON GALLERY ART SHOW April 26
(pictured left to right) Owner Everline Henson-Jackson, Artist Carol Hiltz Chisholm, and Stonehill College seniors Sabrina Boniface and Catie Licalzi.

WHAT A FANTASTIC DAY!
WHAT A GREAT TIME at Earth Day festivities on April 26 at Bird Street Conservation Land and at Bradley Lessa Memorial Playground in West Street. Stoughton Community Police Director Lt. Robert Devine led a spirited biking expedition at 10 a.m., after early morning bird watching, led by Deborah Sovinee. Then Elisa Blanchard talked about recycling. John Linehan of Zoo New England brought a few of his animal friends to Bird Street. Robert Brahm exhibited his amazing wood carvings. Professor Jonathan Twining of Eastern Nazarene College gave a fascinating tour of the Vernal Pools in the conservation area between West Street and Plain Street. He was aided the fascinating historical ruminations of Stoughton Historical Society president Dwight MacKerron. Steven Wright gave a presentation on Coyotes in the area, with an excellent slide show. Maria Issac discussed Bird of Prey and did a reptile show. Officer Lino Azul and his dog Baron gave a demonstration, along with other attack dogs and a drug-sniffng dog, from a county contributor. Also represented was Habitat for Humanity's Stoughton Builds, and the Neponset River Watershed Association. What an amazing event. Next year will only get bigger and better! Hats off to Denise Lochiatto and all the volunteers!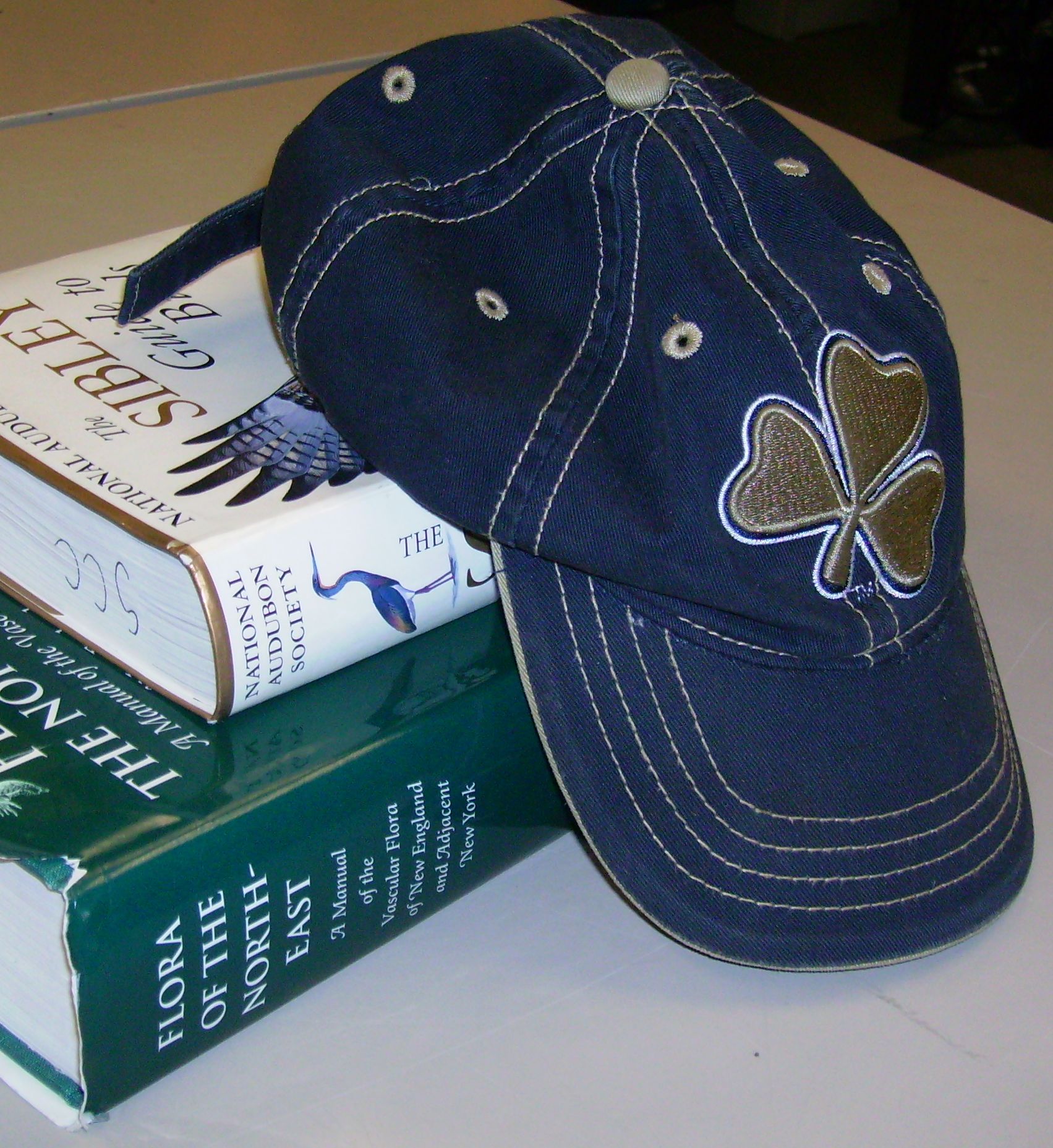 HAT FOUND AT EARTH DAY
This youngster's University of Notre Dame collegiate cap was left behind at the Town of Stoughtons Earth Day Celebration at the Bird Street Conservation Area on April 26, 2008. Is it yours? If so, go see James Conlon in the Engineering Dept. at Town Hall to claim it!

---
THE RUSSIANS AREN'T COMING---THEY'RE HERE!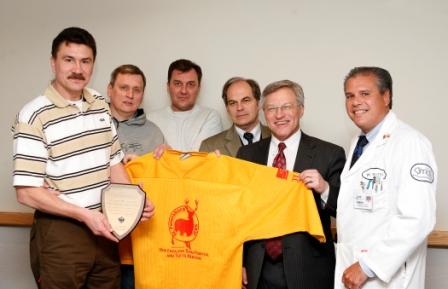 Russian guests from the Russian National Standing Amputee Ice Hockey Team recently made a "Thank you" visit to New England Sinai Hospital. From left to right: Nikolai Maslov, VP of the Russian Federation of Handicapped Hockey, Gennady Trunin, Defenseman, and Alexei Balakhontsev, Captain of the Russian National Standing Amputee Ice Hockey Team, and 4th from left: Mark Pitkin, Ph.D., Director of Sinai's Center for Human Performance and Research, Sinai President and CEO Lester P. Schindel and Chief Medical Officer Lawrence S. Hotes, MD on April 7, 2008, and brought memorabilia of the first amputee hockey game on December 04, 1999, in Lowell, MA.
---

Selectman Chairman John Kowalczyk presented an award from Senator Brian Joyce to Charles Starkowsky,who was honored for 26 years as Stoughton's Town Engineer. He had been named to the Conservation Commission in 1963. Ceremony was part of a larger event hosted by Dwight MacKerron Sunday (4/20) at Stoughton Historical Society.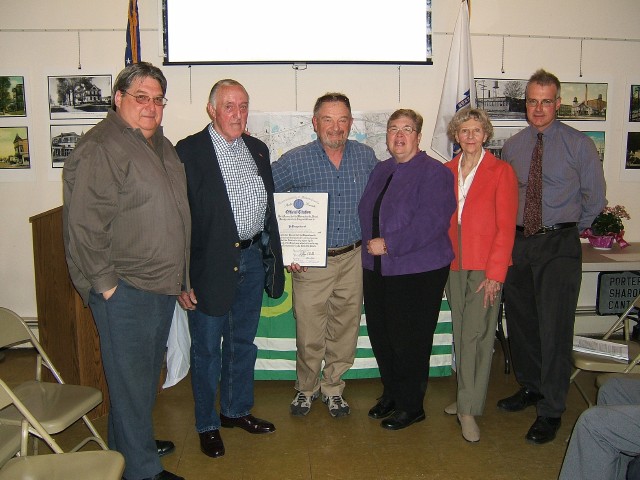 Pictured (l to r) are Selectman Chairman John Kowalczyk, former Town Engineer Charles Starkowsky, Stoughton Historical Society President Dwight MacKerron; environmental activists Kathy Murphy Williams Sylvester and Joanne Blomstrom; and Stoughton Town Environmental Agent
Jim Conlan. (Hank Herbowy Photos)
---
Friends For Seniors Holds Dinner Dance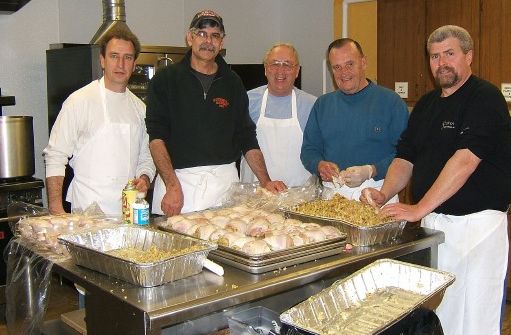 The Kitchen Crew
The Friends for Seniors held a wonderful dinner dance, attracting over 200 senior citizens to the function hall at the Immaculate Conception Church Saturday afternoon (4/12). Master of Ceremonies included President Dennis McCarthy and Vice President Josie Sargent, and Secretary Lorraine J. McCarthy. The Friends for Seniors is an independent organization that does wonderful things for seniors in Stoughton. They will be holding a golf tournament in September. The people behind this fantastic organization include Treasurer Carol Weineck, and Executive Advisors John O'Meara and Greg Bartlett. Board members include Phyllis Tabbi, Lee Lysko, Alice & Joe Araujo, Fred Sargent, Jerry Capozzoli, Dave Sheehan, Mike Sammarco, past president and founder Dave Doherty, Candace Fisher, Carol Weineck, Natalie Resnick, Anne & Cal Calibani, and Rev. Joseph McDermott (Father Joe). A delicious dinner was cooked by Sammarco, Dennis Gada, Robert Jordan, Charlie Dreist, and Dan Skiba. The food was served by members of the National Honor Society at Stoughton High. An excellent time was had by all. SENIORS---FREE BINGO!

National Honor Society Students from SHS acted as servers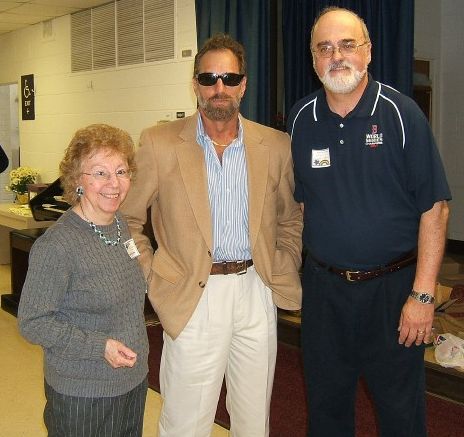 Snyder's Stoughton between Friends For Seniors VP Josie Sargent and President Dennis McCarthy
(photos by Hank Herbowy)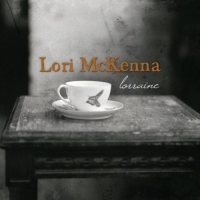 Secretary Lorraine McCarthy with Town Manager Mark Stankiewicz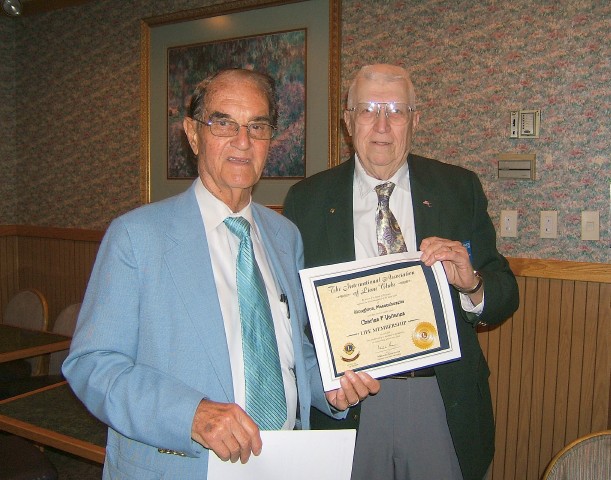 Former Selectman and author Charles Yaitanes, A 50 year member of the Stoughton Lions Club,
receiving a Life Membership award from King Lion Bill Harmon at Nocera's Restaurant last Wednesday night. (Hank Herbowy photo)
---
EARTH DAY 2008
SLIDE SHOW & ART EXHIBIT AT TOWN HALL
APRIL 24, 2008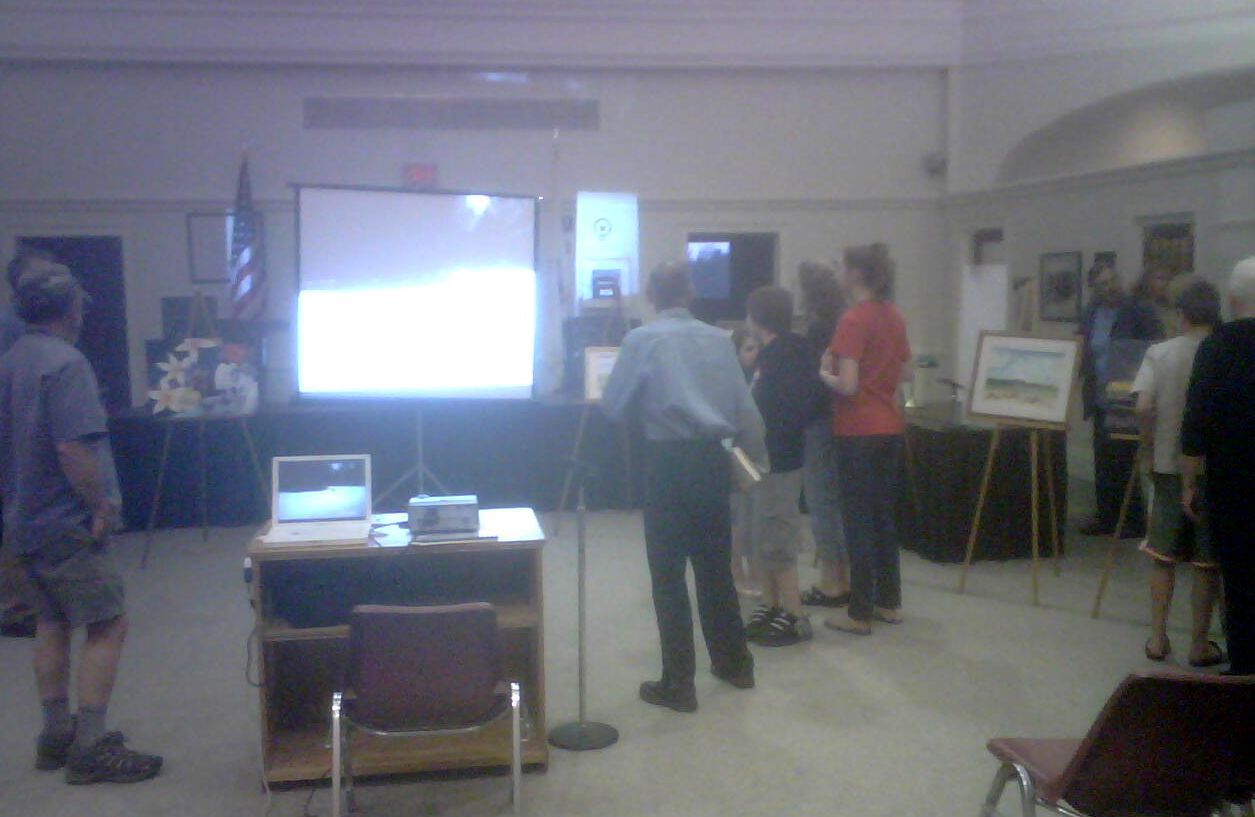 Stoughton Historical Society president Dwight MacKerron, along with Town Hall's Denise Lochiatto, presented a fun night Thursday at Town Hall. Faces in the crowd included Zoo New England CEO John Linehan, and Stoughton's Environmental Agent Jim Conlan and his family.
---
Another Stoughton Eagle Scout


Matthew Romano is Stoughton's newest Eagle Scout. He installed tables and ADA compliant items at Lessa Playground, as well as clearing trails at Bird St. Sanctuary. We congratulate Matt!
---
SHALOH HOUSE GROUNDBREAKING CEREMONY
April 6, 2008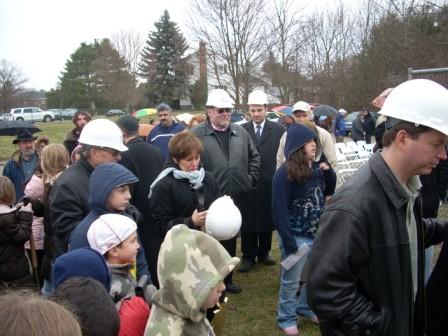 Congregants gather for Shaloh House Expansion Groundbreaking. Pictured (center) are State Rep.
Lou Kafka, and Shaloh House President Steve Rosen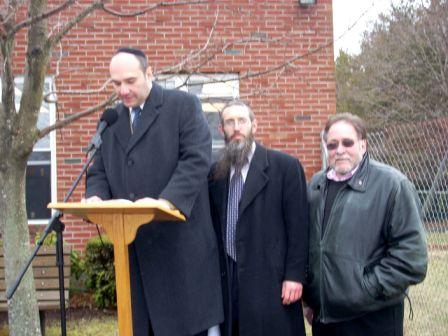 President Rosen,. Rabbi Gurko and Rep. Kafka
(Mark Snyder Photos)
---
REVIEW:


Family International Night
The night of food and entertainment, held on Saturday, March 1 at O'Donnell Middle School, was a blast! Delicious foods and desserts from the international community, and wonderful musical performances by the award-winning Stoughton High School Jazz Combo, and Stoughton native Michelle Romeiro, capped a fantastic night. Family International Night was sponsored by Stoughton No Place For Hate Committee, Stoughton Clergy Association, Stoughton Public Schools, Massasoit Community College, and Stoughton Chamber of Commerce. Romeiro, a graduate of Stoughton High, has an amazing voice and captivated the crowd with Portuguese music, as well as popular American music, and a salute to Abba. Romeiro's second CD, "Bola de Cristal," was recently released, and features nine Portuguese tunes, and an English one, "I Can Live Without You." (go to www.michelleromeiro.com for ordering info.) Beautiful twins Nina and Leana Pestana danced behind Romeiro. Before Romeiro's set, the Stoughton Jazz Combo hit center stage. Singer Megan Porter is simply amazing---a wonderful talent with a full, wide-ranging voice. The Combo includes Jeffrey Numero, David Morris, Jack Pombriant, Nick Silveira, John Widberg, and Porter. BatukAxe, an Afro-Brazilian Band, and a Brazilian Gospel Group also performed. The Committee that put on the event included NPFH co-chairs Selectman Richard "Dick" Levine and Karon Skinner Catrone, Nicole Barnaby, Stoughton Library Director Pat Basler, Beverly Harris, Susan Kafka, and SCC President Terry Schneider. Levine and local access TV Personality Shirley Farber co-hosted the event.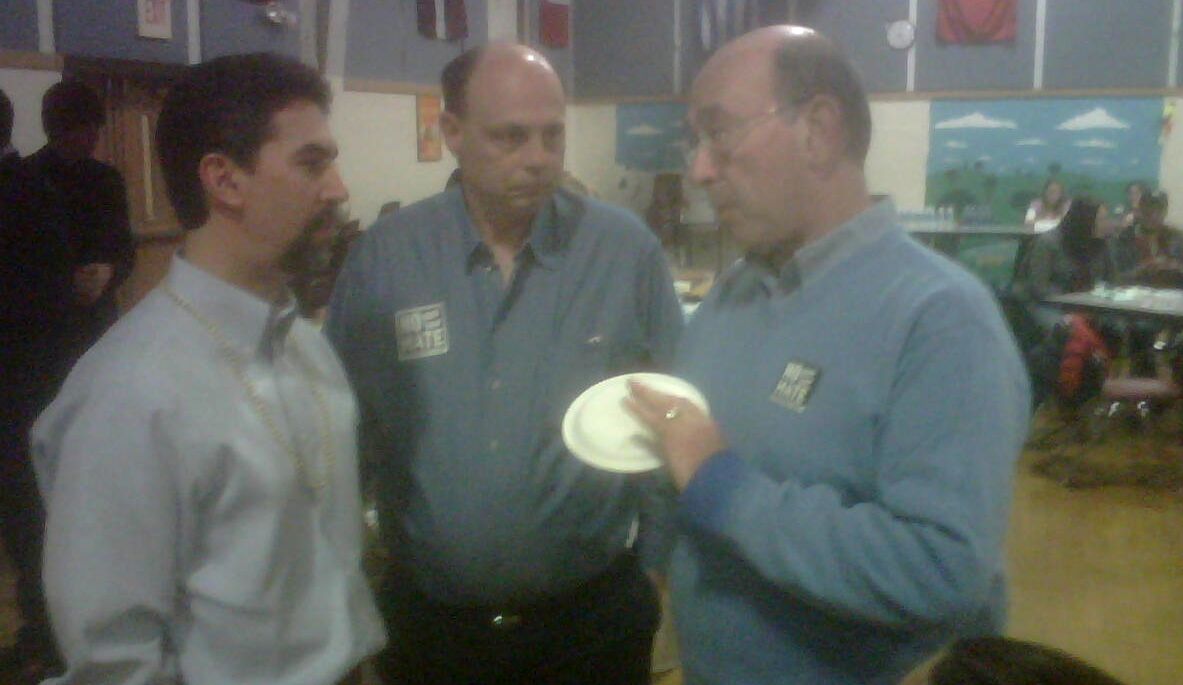 Selectmen Dick Levine (r) speaks with selectmen candidates Steve Anastos and John Anzivino at Family International Night.
---
A GROTTO IN HONOR OF THE BLESSED VIRGIN MARY
at Immaculate Conception Church
How can you support it?
---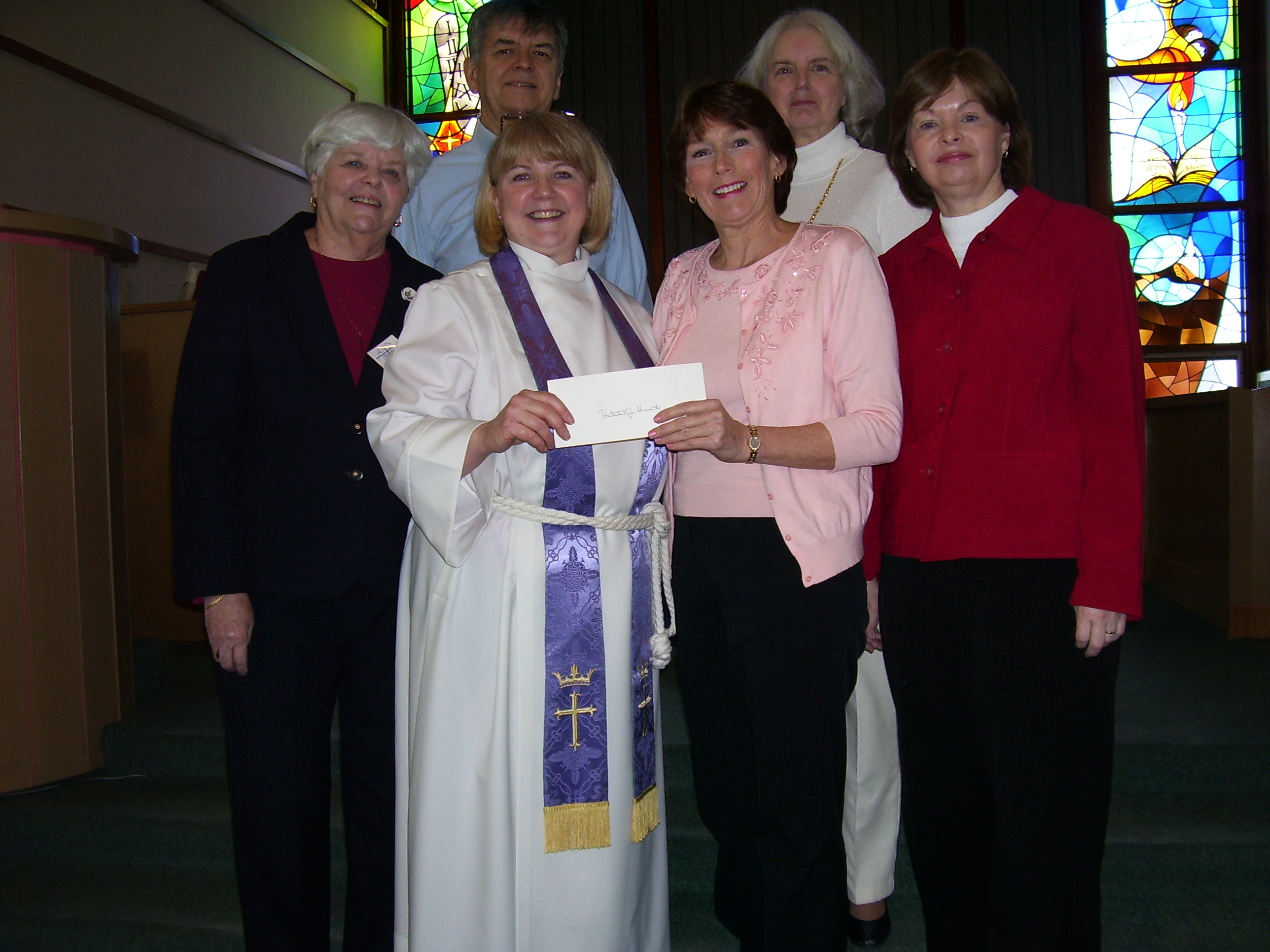 Rev. Jean Lenk, Pastor of the First Congregational Church of Stoughton, presents a check for $3679 to Ms. Cindy Benedetti, faith representative for the South Shore Habitat For Humanity "Stoughton Build" group who hope to break ground on their first home this spring. The donation is part of the First Congregational Church's Capital Campaign drive and represents their commitment to local Mission giving. Also witnessing the presentation are other members of the Capital Campaign Task Force (back row) Paul Christensen, Charlene Smith (front row) Janet Clough, Rev. Lenk, Cindy Benedetti and Milly Christensen.

---
Stoughton's No Place For Hate Committee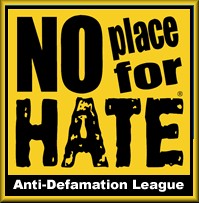 ---
LOCAL CHILDREN RAISE SERIOUS BREAD for 2007 Walk For Hunger!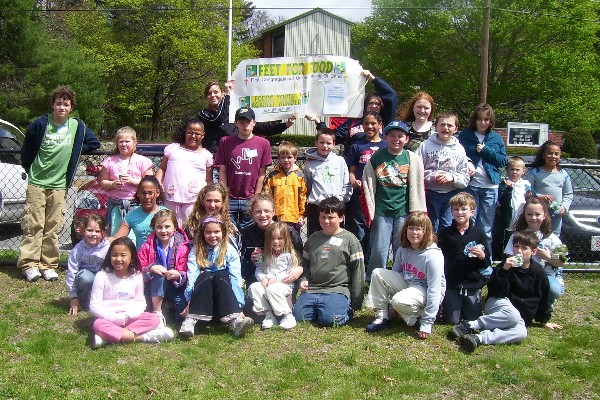 Thirty children from Stoughton's First Congregational Church on Pierce Street completed 252
laps in 30 minutes at Halloran Park on Sunday raising over $700 in support of Project Bread. The "Feet for
Food" children's walk is held annually to support Project Bread and the Walk for Hunger.