DOWNTOWN HONEY DEW TO CLOSE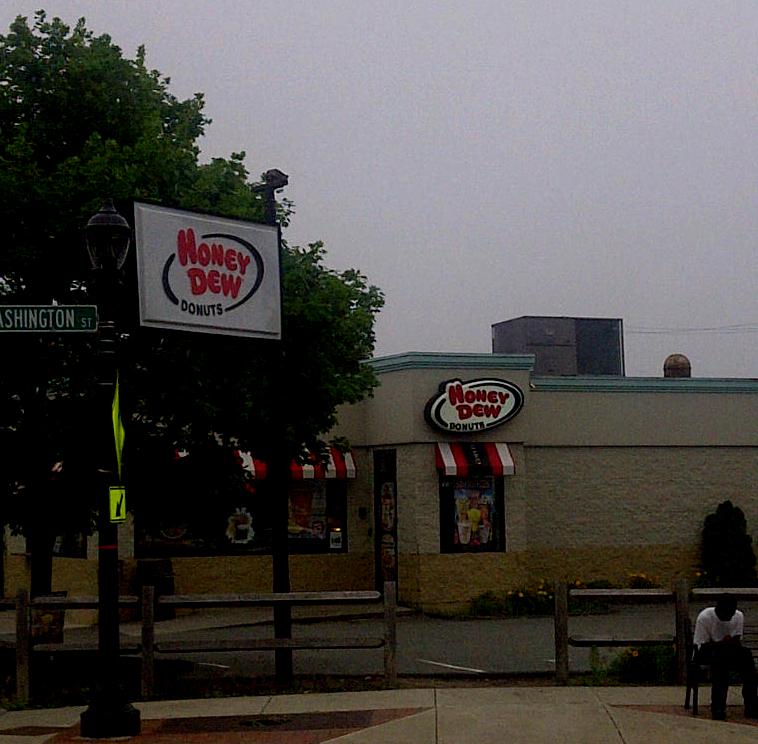 The Honey Dew Donuts in Downtown Stoughton will be closing on July 6, 2013. Owner Gary Lewis told Snyder's Stoughton that he couldn't keep it open while waiting for a better location to come along. "It just kept getting worse. There's the traffic situation. Then, there's businesses like Cheng Du and Pacheco's Hardware that closed down. Customers from there would walk over for a cup of coffee." Lewis also cited economic conditions, adding, "Taxes go up, and so do costs. But, it's a competitive market. I can't charge a premium because my expenses are higher." Lewis has done much for this community. I know he has donated coffee and pastries to numerous organizations and events in this Town. Still, Honey Dew Donuts remains in Stoughton. Lewis owns a Honey Dew inside of Page's Groceries & Liquors on Pearl Street.

Lewis had actively explored relocating his Stoughton location. He said Corvo Properties in Randolph was going to build (and then he would lease) a coffee shop at the corner of Washington and Monk Streets, in the area where a shut-down gas station had been. Lewis told me, "He abandoned that project with no explanation. I understand that apartments may be going there." Lewis also looked at the abandoned Friendly's location, and the former Zoot's location (now occupied by Jake's Wayback Burgers.) He's still looking. "If I find a Stoughton location that works with a drive thru, I'll open up," he told me.
He wanted to wait until after the 4th of July to close. "I've been a part of this town's parade for nine years, even driving our truck a couple of years. I wanted to remain open for the Parade." If you are a fan of Honey Dew--which was founded by Stoughton High grad Richard Bowen--in addition to Page's, Lewis owns Honey Dew locations at Springdale Variety on Bolivar Street in Canton; Canton Shell on Rt. 138 near Blue Hills in Canton; The Shell Station on Mazzeo Drive on Rt. 139 in Randolph, and another in Norwood.
Lewis said that Stoughton's Town Hall was not to blame. "I had no issues with anyone in Town Hall. For whatever reason, the sites didn't work out. The people in Town Hall tried to help me out. We could end up somewhere else in Stoughton."
Honey Dew was a regular stop for me when I was downtown. There will be a hole in the center of town with its closing. We'll miss the coffee, the cinammon twists, and Gary.
(Photo and Story by Mark Snyder)