MORE EVENTS ARCHIVED!
---
WATCH THE POLICE CHIEF GET TASERED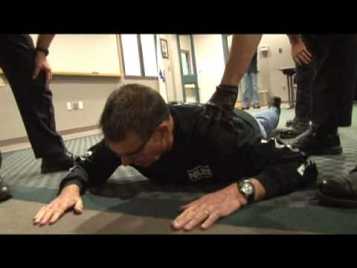 GRACE CHURCH HOLDS FREE COMMUNITY CAR WASH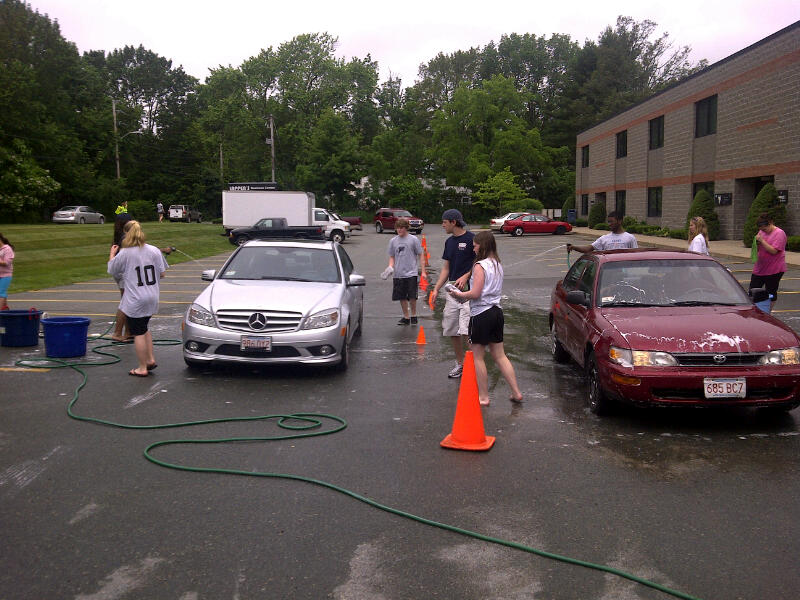 Young people turned out to clean cars as a community service of the Grace Church, in the parking lot of their Parish at 421 Page Street. The FREE car wash cleaned 111 cars on Saturday morning (June 25, 2011). Those who brought their cars were given hot dogs, soda, and a smile by the kindly volunteers there. Pastor Sean Sears told Snyder's Stoughton than they now have over 200 people attending identical services at 9 a.m. and 11 a.m., and they may have to begin a third. The Pastor is quite happy with the growth of the Church and how it has been embraced by the community. Pastor Sears said that half the members are from Stoughton. Although it's technically a Baptist Church, Pastor Sears said all denominations and religions are welcome. "We have many people from all religions, including a couple of athiests," he told me.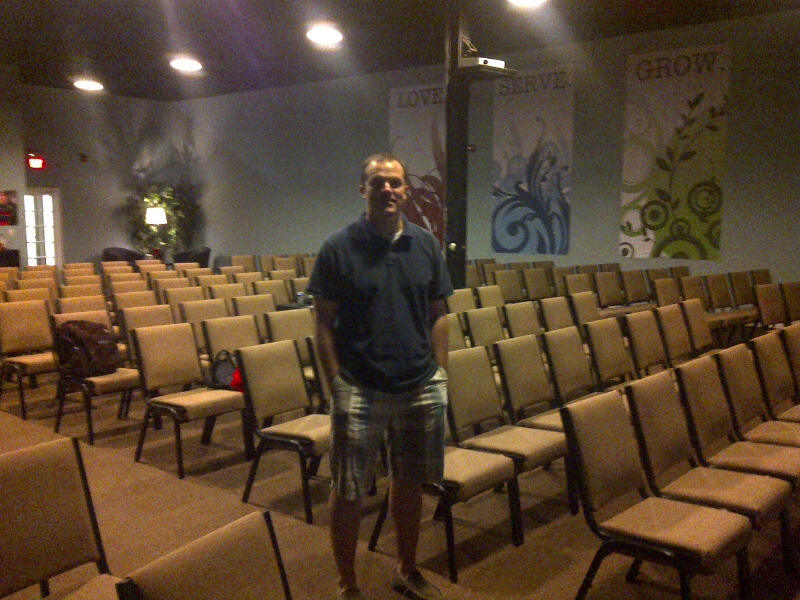 Pastor Sears in the Grace Church auditorium.
(Story and photos by Mark Snyder)
---
Annual St. John's Feast at San John Filarmonica Society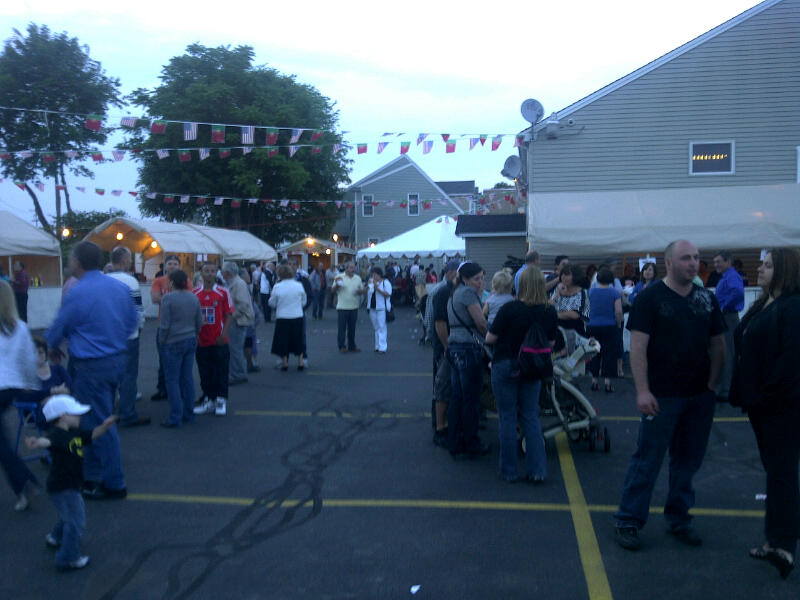 Early Evening Turns to Dusk at San John Filarmonica Society Saturday Night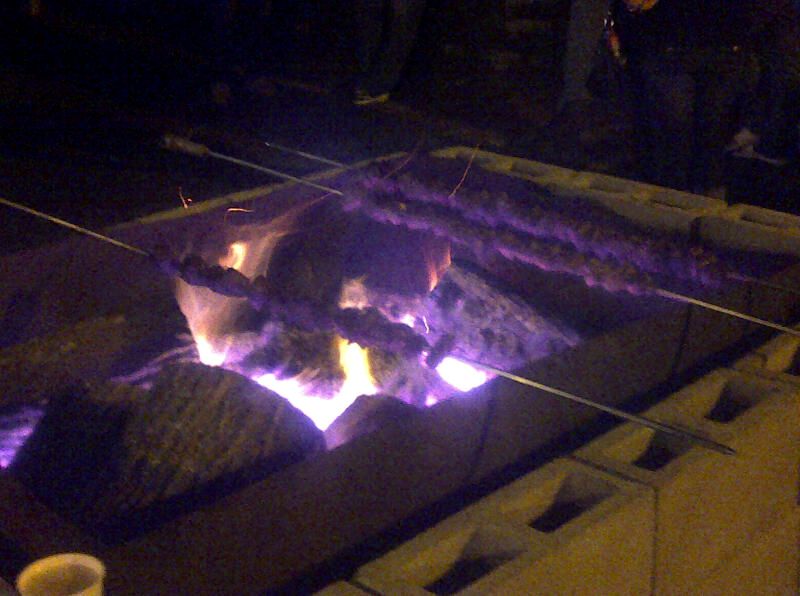 Singer Mia Silva, and Carne Espeto (steak tips on the grill). Delicious at $10 a pound, and 50 cents per roll.
Photos by Mark Snyder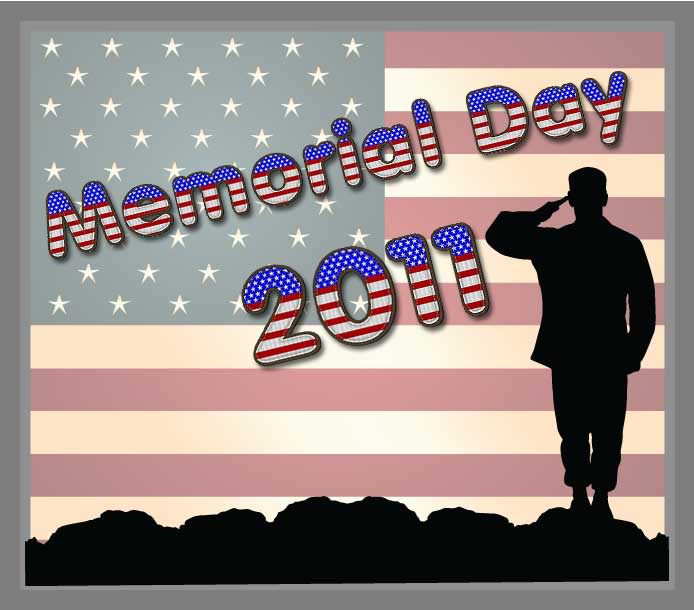 VETERAN'S AGENT MIKE PAZYRA PRESENTS A FULL WEEKEND SCHEDULE:
MEMORIAL DAY WEEKEND RE-FLAGGING
AND FLAG BURNING CEREMONY

Dozens of cub scouts, girl scouts and boy scouts, their parents, and other interested residents turned out yesterday to watch the festivities, and to take place in the honors for our veterans. Everyone took part in the re-flagging of the graves of all veterans at the Holy Sepulcher and Evergreen Cemeteries. Then, a collation was held for all volunteers, with Honey-Dew Donuts and Coffee served to the delight of the children---and the adults. After refreshments were enjoyed, the old and worn flags removed from the graves were properly disposed of in a Flag Burning Ceremony. There were about 28 speaking parts available for the kids, and they all enthusiastically took part, with parents manning digital cameras and digicams. Take a look at the photos and meet Alex Morgan, Genevieve Witchington, Abigail and Aidan Curtis, Bailey Duclos, and Carly Devine in a series of photos taken on Saturday, May 28. Veterans Agent Mike Pazyra was pleased with the weather and the turnout, and taught the children (and some of the parents) about the origins of the flag and our country. He was ably assisted by the Veterans Secretary Kelly Lamb. Children all went home with a new American Flag.

PHOTOS BY MARK SNYDER
---
Memorial Day Parade Big Success

Hundreds of Stoughton residents turned out in full force for a myriad of activities on Monday, May 30, Memorial Day in Stoughton. Veteran's Agent Mike Pazyra sweated out the possibility of storms, but only a few drizzles came during part of the day's festivities. Pazyra stressed that the parade, the ceremonies, and the square dedications all had one thing in common--they were to honor those who have made the ultimate sacrifice for their community--and their country. There were separate ceremonies at the Pearl Street Cemetery, the Evergreen Cemetery, Faxon Veterans Memorial Park, Grand Army of the Republic (GAR) Lot, the American Legion Burial Site, and Town Hall. In addition, there were Memorial Square dedications at the entrance to Stoughton High School on Adams Street, and on Mahoney Avenue.
At Town Hall, Grace Centauro did the opening prayer. She is the widow of the late Sgt. First Class Mike Centauro. World War II Veteran Charlie Large read the names of all those who gave their lives in America's Wars (the last soldier from Stoughton lost was in Vietnam). Ringing the bell after each name was Past Commander of the VFW Fred Varner. Calling out "Absent, Sir" was retired Veteran's Agent and Purple Heart Vietnam Veteran Paul Flynn. Participants in the parade include the VFW Color Guard and Firing Detail, Veterans groups, the Fire and Police Departments, the High School Band, the St. Johns Band, Town and State officials, Cub Scouts, Girl Scouts and possibly other groups. The ceremonies at the various sites include opening prayers, playing by the bands, an Honor Guard Firing Detail, the laying of wreaths and various speakers. Eagle Scout Dan Noyes read the opening prayer at Evergreen Cemetery, G.A.R. lot.
Stoughton's Town Moderator Howard Hansen did a nice job on the Gettysburg Address at the Evergreen Cemetery. After he was finished reading it, he handed it over to the youngest boy scout at the ceremony, Daniel Pestana. Hansen said that 50 years ago, he was fascinated listening to it, and suggested that young Daniel read it and keep it. He also hoped that 50 years from now the town would still be reading it. Pazyra assured him they would.
After the cemetery readings, a collation was hosted at VFW Post #1645, where hot dogs, beans, salad, and cold drinks were served to all who had participated in the parade and ceremonies. All in all, it was a fantastic day for residents to feel a pride for their community, as well as a way to pay respect to those soldiers who have given their lives in service to their country. Kudos to Mr. Payzra, who put together another fantastically successful event.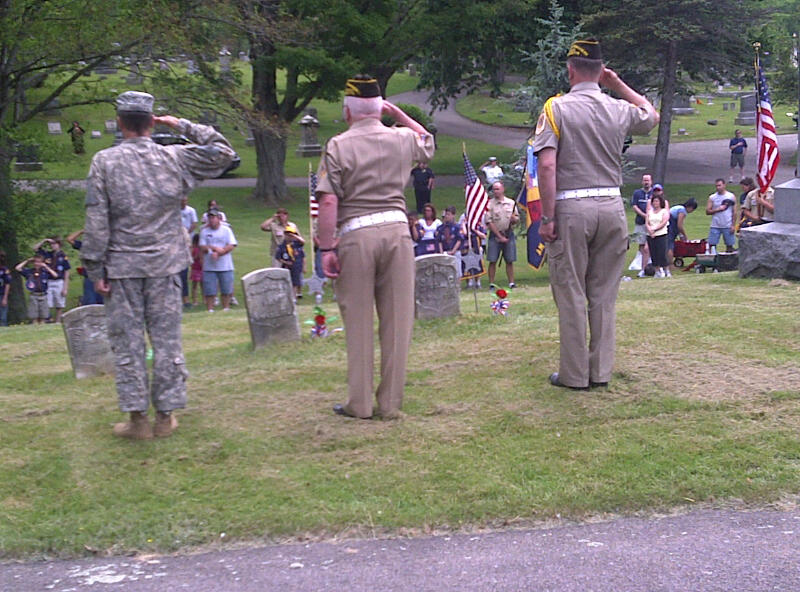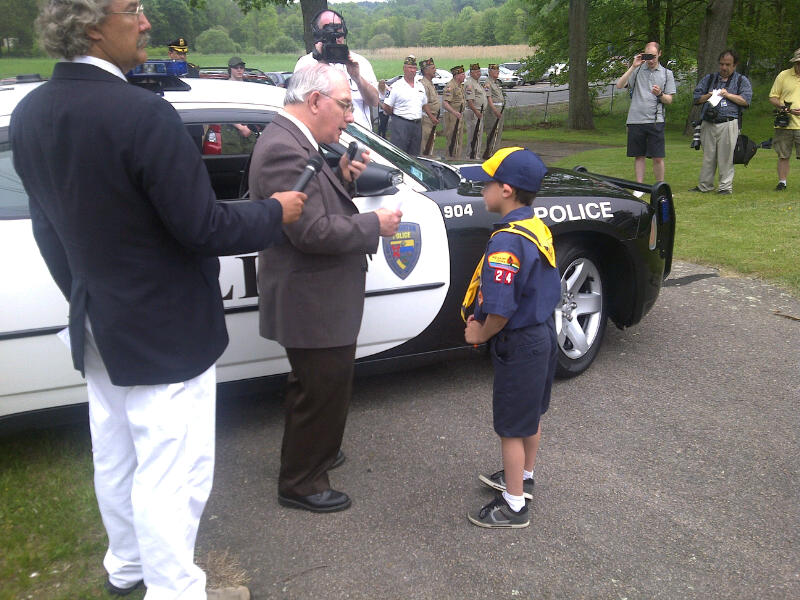 Memorial Square Dedications
Mahoney Avenue was re-dedicated to Daniel H. Mahoney Jr., who was Killed in Action in World War II in the Army Air Forces. Dorothy "Dot" Sweet, Mahoney's fiance so many years ago, has never married, continues to reside in Stoughton, and attended the ceremony. His sister Edna Mahoney Lyons was also represented.
Later, the entrance to Stoughton High School on Adams Street was dedicated to Anthony M. Klim. His son Brian Klim did the unveiling on his new sign. Also representing the late U.S. Army Staff Sgt. Klim was his grandson, Joe Sanduval, a U.S. Marine, who is scheduled to be deployed to Afghanistan in September.
(Story and photos by Mark Snyder. Posted on May 30, 2011 @ 6 p.m.)
Striar YMCA Holds Open House
Thursday, May 26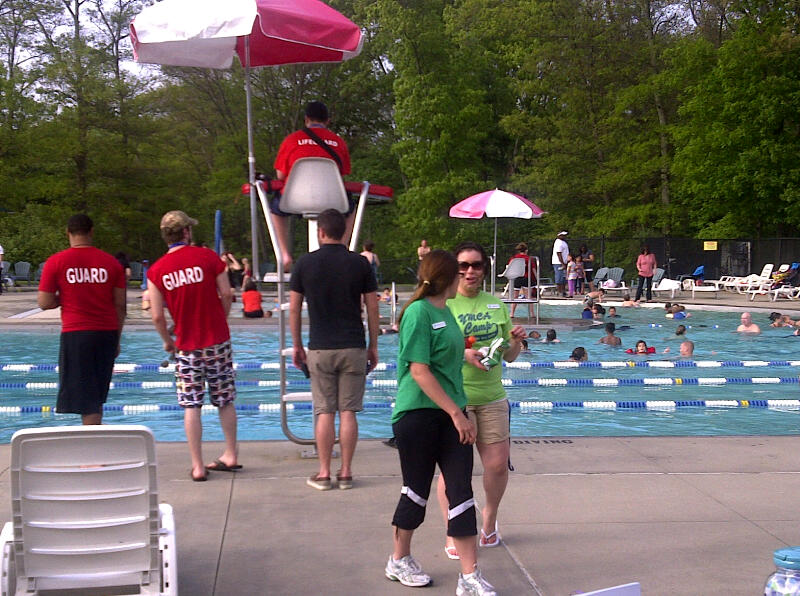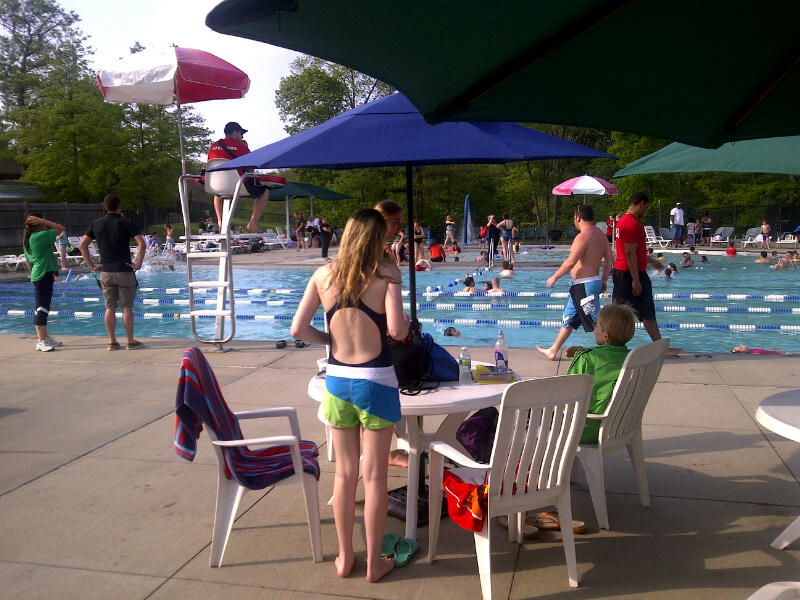 Photos by Mark Snyder
YOU MISSED A FUN SCAVENGER HUNT...
WITH ALL PROCEEDS TO "SAVE THE STATE THEATRE"
CO-WINNERS.....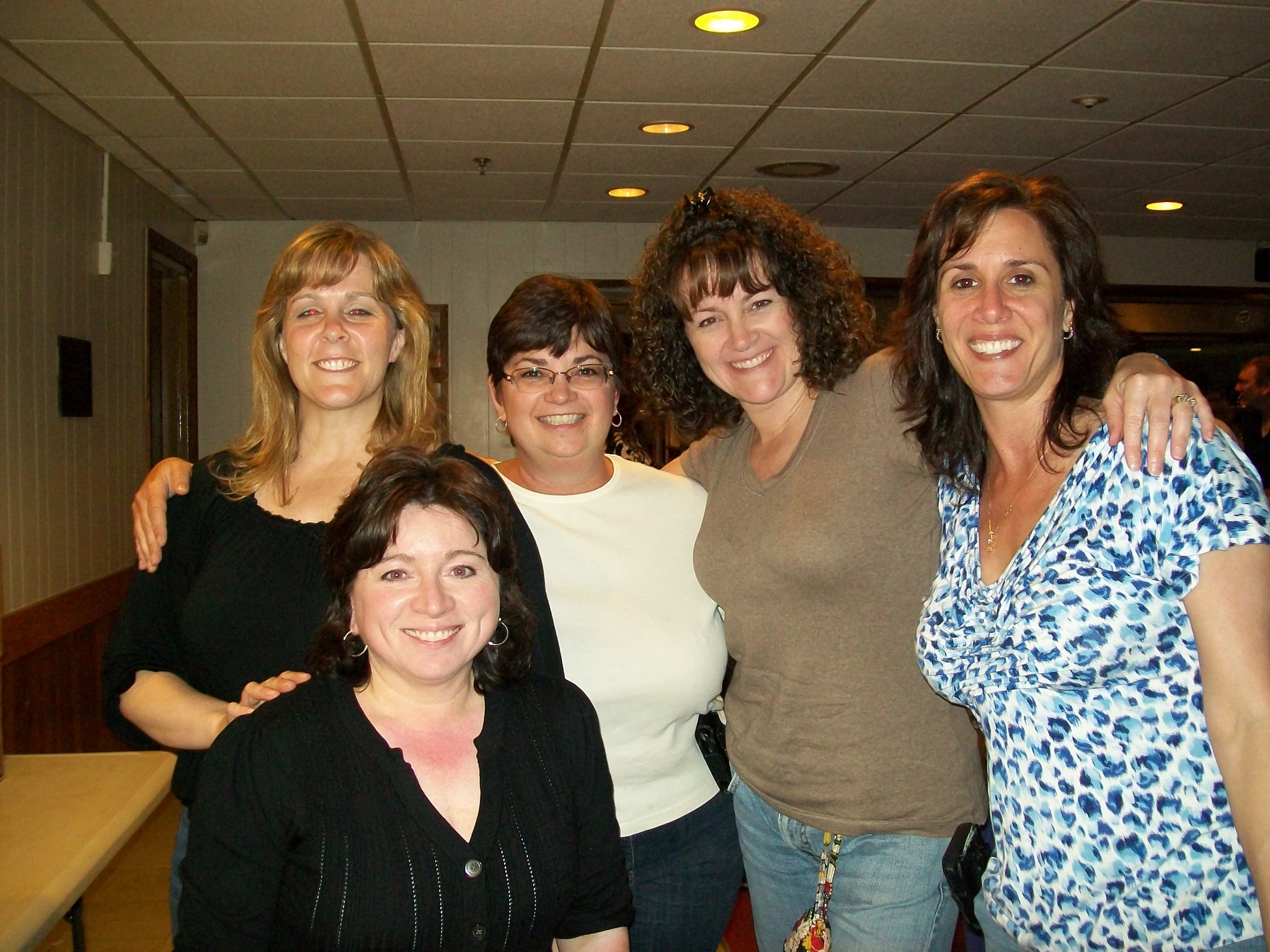 Maureen Huminik, Gina Coe, Joanne Stracqualursi, Mary Leal, Kim Mauriello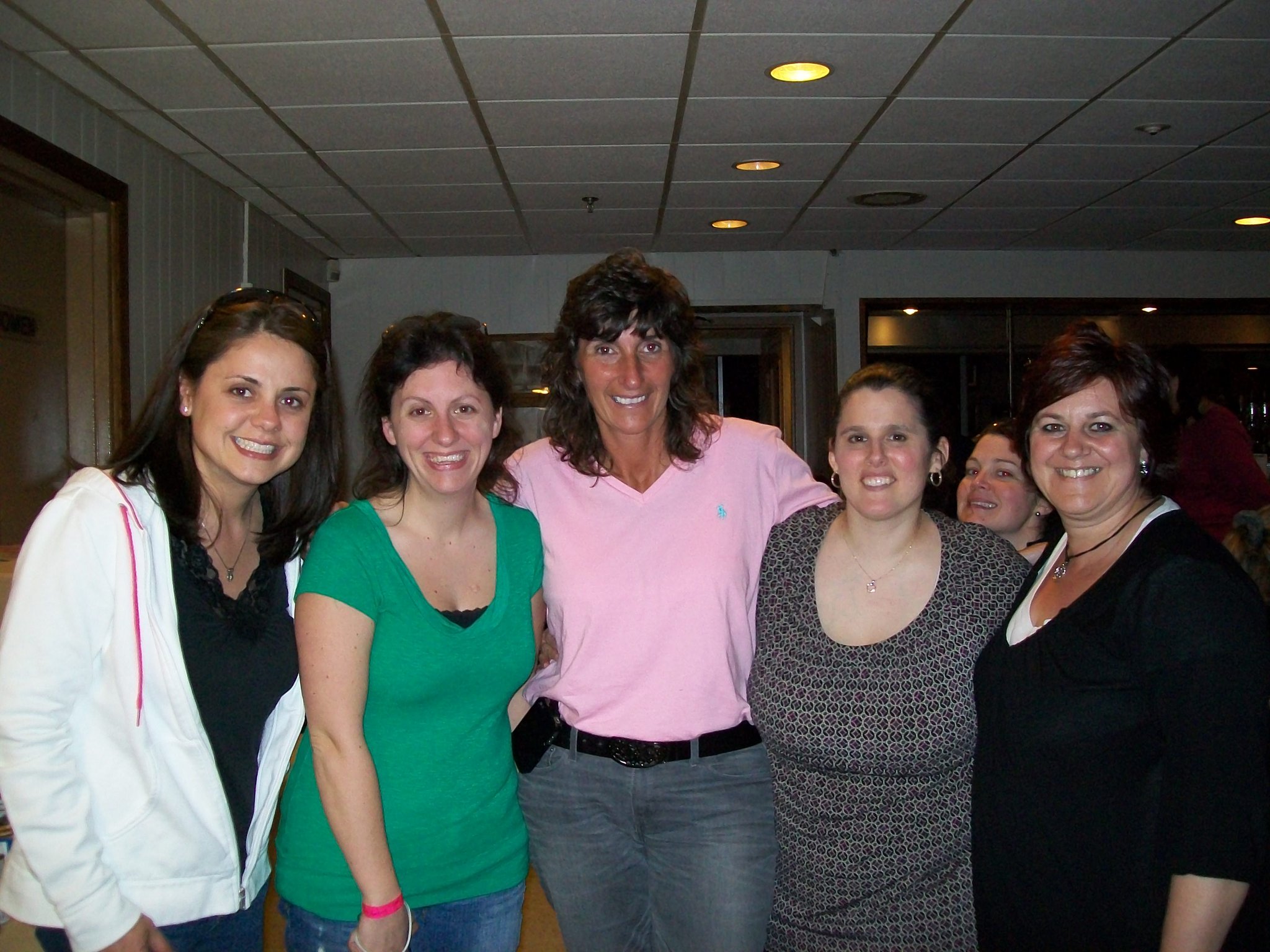 Joanne Queeney, Stella Marangos, Maggie Reis, Kellie Correia, Jen McCarthy
ARMED FORCES DAY @ THE Y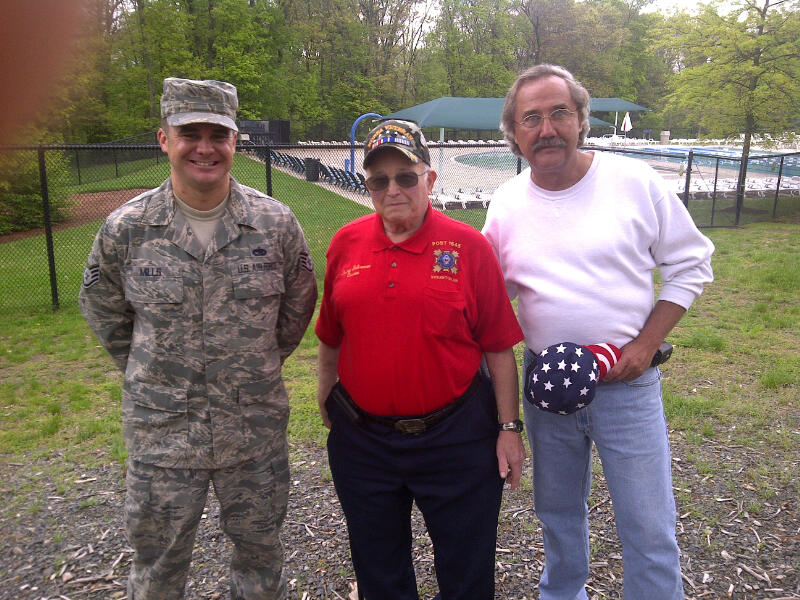 The Striar Old Colony YMCA had a special time yesterday for veterans, past and present. They invited families to come and enjoy some fun at the outdoor camp, to have a complimentary BBQ lunch, and lots of fun and games. Stoughton Veterans Agent Mike Pazyra was on hand, as was Sgt. Derrick Mills of the U.S. Air Force, and VFW Post 1645 Trustee Irving Saltzman. A fun time was had by all.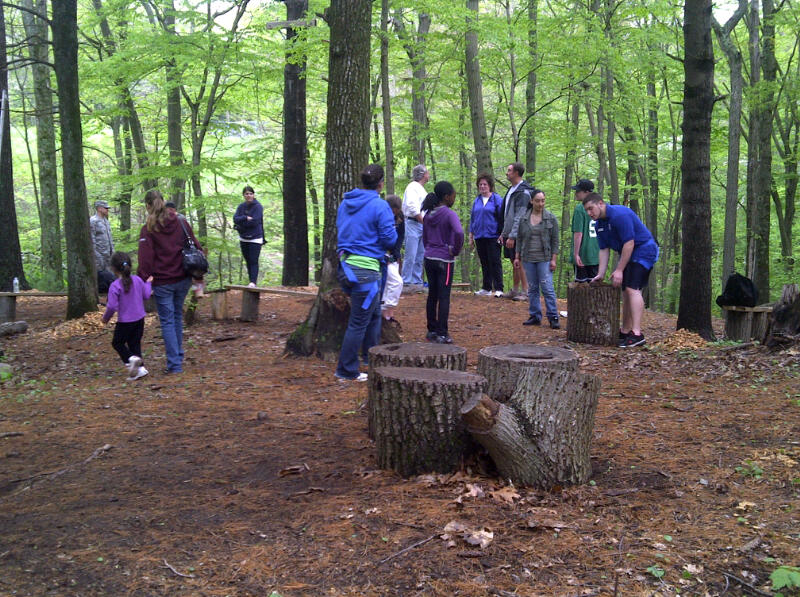 (Mark Snyder photos)
STOUGHTON SENIORS ENJOY THREE DOLLAR DINNER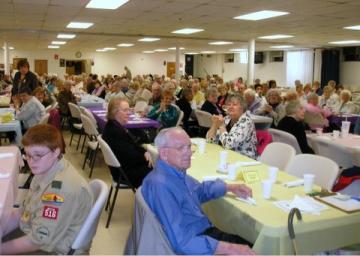 Stoughton Friends for Seniors held their Annual Spring Dinner and it was the largest one ever! Who wouldn't want a scrumptious meal of roasted chicken, baked potato, green beans, roll, butter, and cake for $3? That's the nominal price the organization charges for this dinner, which also features a talented singer and pianist David Cuddy, assisted by his wife Cindy. There was also some dancing entertainment by members of the Stoughton High School National Honor Society, who also served as waiters and waitresses for the event. President Dennis McCarthy played emcee, and also handed out some chacks. Mike Sammarco, who along with his kitchen crew cooked the meal, got a donation of $500 to Babe Ruth League from the Friends for Seniors for his efforts. Boy Scout Troop 516 got a $250 donation for their efforts in the Salt and Sand program, where the Boy Scouts deliver salt and sand during the winter to seniors to help with snow melting for their safety. Accepting the check was David Lurie, Boy Scout Committee, and Boy Scout Dan Goldberg.
Finally, a $500 scholarship was awarded to Stoughton High School National Honor Society member Kelly Li. According to Lorraine McCarthy, Secretary for the Friends for Seniors, a number of NHS students applied for the scholarship, "and they were all well-qualified. It was a tough decision." This year, the Friends expanded the amount of tables in the basement of the Immaculate Conception Church Hall. For the first time, they served over 300 meals. Special thanks to Father Joseph McDevitt of Immaculate Conception Church, who shares his hall for the community to utilize. In addition to the McCarthy's, other Friends for Seniors Board Members who stepped up big time to help included: John J. O'Meara, Vice President; Mary P. Laurenson, Recording Secretary; Carol Weineck, Treasurer; Joseph & Alice Araujo, Alexandria (Lee) Lysko, Bob Mullen, Paula Myers, Michael Sammarco, Alfred & Josephine (Josie) Sargent, Paul & Florence Stearns and Phyllis Tabbi. Cooking up a storm was the kitchen crew, including Sammarco, Charley Dreist, Dennis J. Gada, Donald G. Interrante, Nancy Patterson, and Daniel Skiba. Many Stoughton High Honor Society students turned out to lend a hand (both Friday night preparing the room, and Saturday serving), including Lauren Pinchieri, Adam Kenney, Rachel Cotton, Emily Lamplough, Jessie Olans, Gabi Glickman, Courtney Hart, Julia Rodenbush, Heather Baeta, Zachary Finer, Dierdre Simms, Alexandra Cohen, Joshua Dressler, Dahlia Kushinsky, Jordan Benson, David Rysin, Molly Zuck, Lianna Tilton, Brittany Mahan, Jasmine Scott, Julia Quattrucci, Michele Henry, Anthony Jeudy, Kersey McDonald, Katherine Chlus, Kristina Kobak, Keryne Jean-Baptiste, Evelyn Falkof, Michael Silveira, Lauren Cellucci, Emily Barber, Rachel Resurreccion, MacKenzie Hudson, Melanie McFadyen, Keri Blea, Kelly Li, Marissa Horgan, Kara Morse, Danielle McCormick, Paul Comeau, Muhammad Mir, Danisha Dumonou, Loreen Luiny, Sarah Harrelson, Eddie Ruddy, Hannah Palefsky, Leesa Snyder, Cassie Luce, Jeremy Lim, Mitchell Price, and Kayla Floro.
Kudos to all of the members of the Friends for Seniors. They truly do a wonderful job for our senior population. The dinner is funded primarily through funds earned at the annual golf tournament fundraiser. The 13th Annual event will be held on September 26 at Brookmeadow Country Club in Canton. For information on how YOU can play, or your company can be a SPONSOR of the event, call Dennis McCarthy at 781-341-0158 or email lorrainemccarthy@comcast.net.

Photos by Hank Herbowy
---
CRIMMINS ROAST A BIG SUCCESS
Over 185 people came to the Portuguese National Club for the Roasting of Town Manager Frank Crimmins. The Stoughton Chamber of Commerce and The Memory Room were the beneficiaries of the proceeds. A panel of a dozen roasters peppered Crimmins with comments ranging from his Harvard days, into the courtroom, and through his childhood. His brother Barry recalled how he tortured his brother by taking his favorite flavored Pop Tarts. Roasters also included Selectmen Cynthia Walsh and Steve Anastos, Police Chief Paul Shastany, Zoning Board of Appeals member Attorney Bob O'Regan, AT & T/Cellco CEO Rick Kaplan, Plymouth County Juvenile Court Assistant Clerk Magistrate Paul Flanagan (who brought greetings via cell phone with Senator Scott Brown, who joked that Crimmins should double check the authenticity of any photos taken at the event), Yaitanes Landscaping owner Phil Yaitanes, Wrentham District Court Clerk Magistrate Ed Doherty, Attorney Harold Cohen, Financial Counselor and Crimmins' college friend, Phil Jameson. Local businessman Bill Selby introduced Crimmins, who roasted back, particularly to Stoughton Chamber Executive Director Terry Schneider, and Emcee & About Town columnist Mark Snyder. The Memory Room's founders Beth McNeill of Stoughton, Pam Abrams Warnick of Easton, and Francie Minder of Canton were introduced. The Committee that put the event together, Chaired by Cindy Pazyra (and including Kaplan, Schneider, Snyder and Chris Petrie) were quite pleased with the amount of tickets sold, the enthusiasm of the people who came, and the funds garnered from a raffle and auction that went directly to The Memory Room. Faces In The Crowd included: Norfolk County District Attorney Michael Morrissey, Selectmen John Anderson and John Anzivino, School Committee member Joyce Husseini, Acting Fire Chief Mark Dolloff, and an array of town department heads. Nurses from the Stoughton VNA were well represented (Crimmins wife, and his brother's wife are both nurses.) The New England Sinai Hospital, which lent their podium for the occasion, also was well represented. Final tabulations of the amount generated were not yet known, but a fun time was had by all.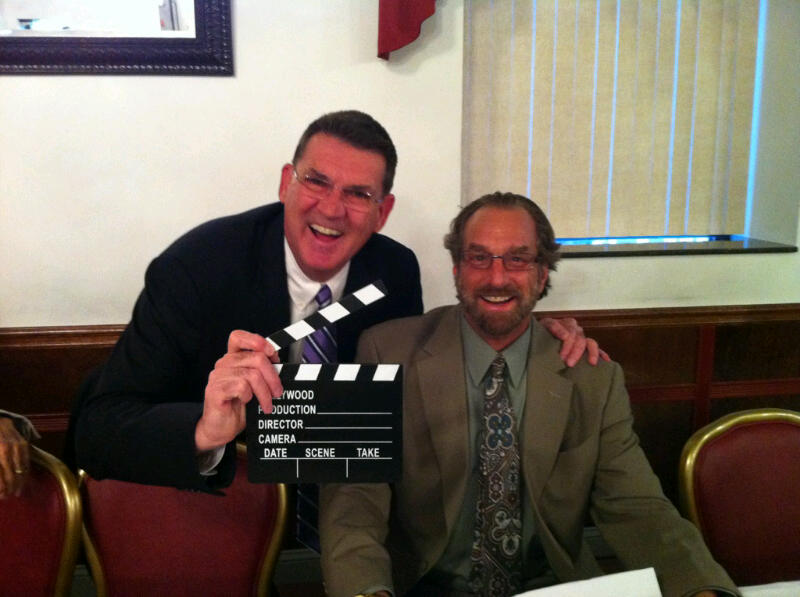 Chief Shastany jokes with Mark at The Roast, and Steve Anastos does the same. (Jeff Pickette photos)
STOUGHTON'S HIDDEN GEM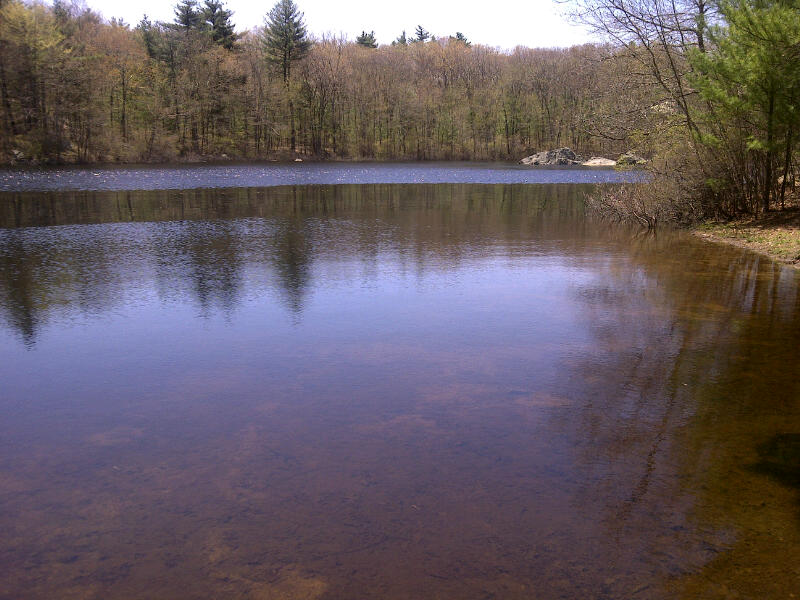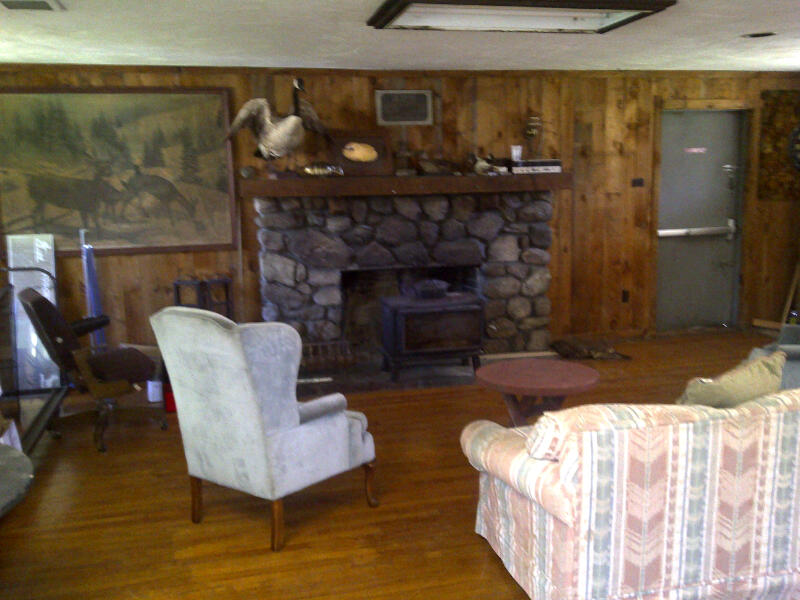 I almost hesistate to write about it. The C.W. Welch property is just a beautiful illustration of natural habitat, from ponds packed with fish, to pristine forest, to hiking trails, and more. The property is leased to Stoughton Fish and Game. The president of that organization, Elliot Hansen, gave Snyder's Stoughton a long tour of the 50 acre facility. Hansen showed me the shooting and skeet shooting ranges, as well as the many ponds, and woodlands. There's great fishing most any time of day (Hansen stocks the pond with three types of trout), and shooting from 9:30 a.m. to sunset. It's all well-controlled, and Hansen said they have a great record of safety. Membership is only $135 a year. The fifty acre property has plenty of deer, foxes, and wild turkeys. Enjoy shotgun season for deer, as well as archer season. There are literally miles of wide trails for long walks that go through to the Bird Conservation land, and the town-owned McNamara property on West Street. But, a reminder, THIS property is only available to members. For more information on membership, contact Elliot at 781-344-9633.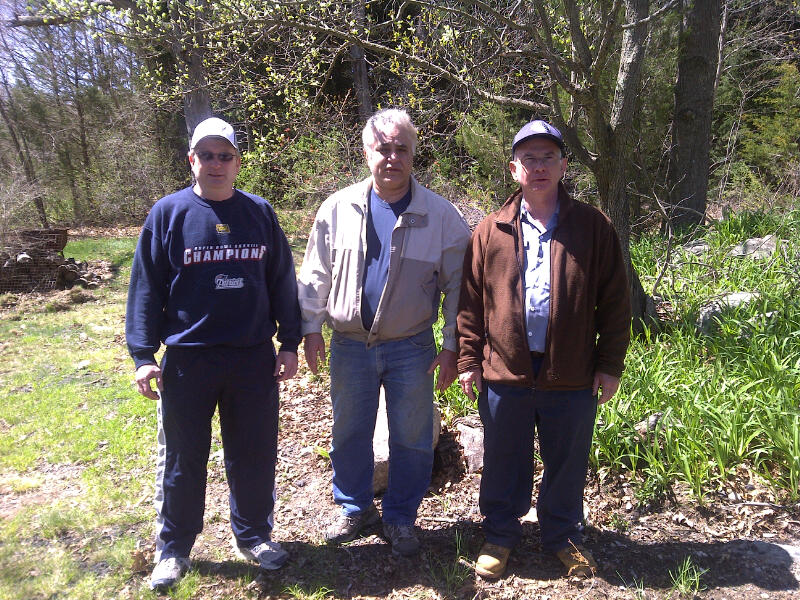 Selectmen Chairman John Stagnone, former Fish & Game president Dan Pessia, and current president Elliot Hansen.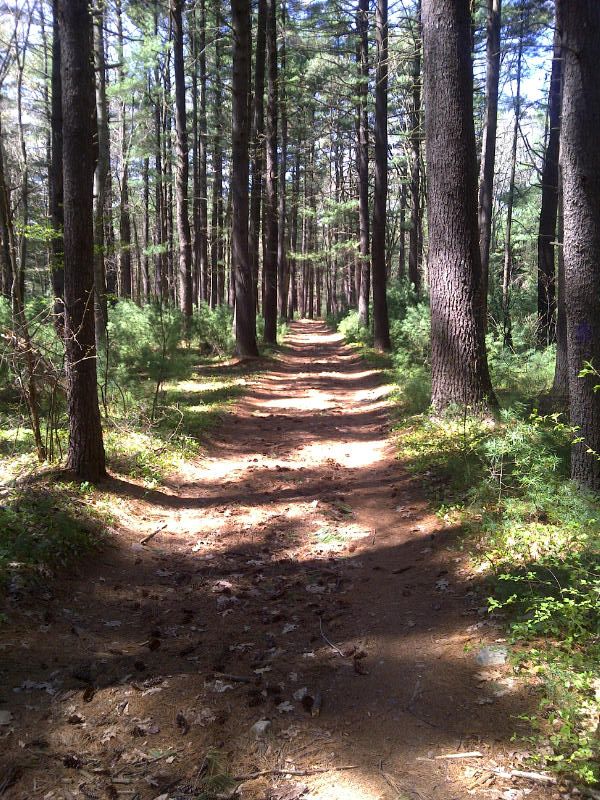 (Photos by Mark Snyder)
---
MOST EXPENSIVE CARR IN STOUGHTON
WRKO Talk Host and Boston Herald Columnist Howard Lawrence Carr (yes, THE Howie Carr!) made a stop in Stoughton on Sunday. Carr signed dozens of copies of his latest book, "Hitman," at BJ's Wholesale Club.. The book is about hitman John Martorano. Carr spent more than 100 hours doing interviews with him that make up most of the book. He brought his youngest daughter along, as well as his magnet collection.
---
Bicycle and Pedestrian Study Slide Show
---
"IT'S ELEMENTARY 5 SCHOOL 5 K FUN AND RUN" WAS A HUGE SUCCESS!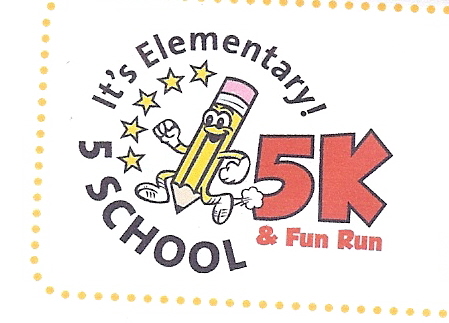 Carolyn Curtis-Mahoney and Rosanna Kelleher could see from their positions in the Dawe School PTO that money was getting tight, and that additional revenue was needed. They came up with the idea of a 5K road event to raise some funds, and like proud parents they nurtured this baby until it matured into the actual event, which took place on Saturday, April 30, at the Striar Old Colony YMCA. Over 200 people took part in the road race and the fun run, and thousands of dollars were generated for the elementary schools. Gibbons School parent Vaughan Enokian donated his sound equipment to play DJ, and graciously gave up his microphone so this reporter could emcee the event. Matt Ditrolio from West Bridgewater was the top-finishing man, while Stoughton's lovely Helena Lobo was the top female finisher. In the 18 & Under catagory, top finishers were (men): Matthew McKay of Canton, and Cameron Bean and Brian Tucker, Jr. of Stoughton; (female) Elizabeth Slade, Hannah Papagno, and Keryn Gambino, all of Stoughton. In the 19-29 category, top male finishers were Ditrolio, Brandon Tirrell of Milton, and Matt Bernstein of Attleboro, a teacher and coach for the Stoughton Public Schools. Top females in the 19-29 group were Colleen Murphy of South Easton, Justine Fox of Easton, and Lauren Bechtel of Attleboro. In the 30-39 division, top men were Adam Kempner of Nortn Easton, Mike Wilson of Stoughton, and Brian Oakes of South Boston. The top females were Lobo, Kathy Laska of Millis, and Melissa Chester-Letendre of Stoughton. In the 40-49 category, top male finishers were Scott Goodale, Gregory Swartz, and Scott Turner, all of Stoughton. For the females, it was Mara Hochberg, and Toni Weir of Stoughton, and Tammy DeWolfe of Westwood. In the 50-59 age bracket, top males were Michael Piccirilli of Cranston, R.I., Brian Bobrzynski of Pittsburgh, PA, and Robert Binns from Sharon. For the women, it was Kathy Dever of Canton, Roberta Fishman of Sharon, and Jacquie Becker-Olans of Stoughton. Top finishers for men over 60 were Mike Lozan of Attleboro, George Wang of Stoughton, and Jonathan Sauer of Weymouth. Top 0ver 60 female finishers were Irma Walat and Betsy Knapp. A fun time was had by all!
After the race, the Y held a "Healthy Kids Day", which included not only healthy ideas for the kids, but a TON OF FUN! Children got to touch a truck---fire, police, military, limo, landscaping and more. Twisted Ray may balloon hats for the kids. There was family sports, games and relay races. Boar's Head handed out samples, as did Crescent Ridge Dairy. There was rope climbing, obstacle courses, face painting, arts and crafts, live animals from Animal World Experience, singer-songwriter Denis O'Gorman, Family Zumba, A Dana Farber Bone Marrow registry, and raffles galore. What a day!

Event Co-Chair Carolyn Curtis-Mahoney confers with Dawe School Principal David Barner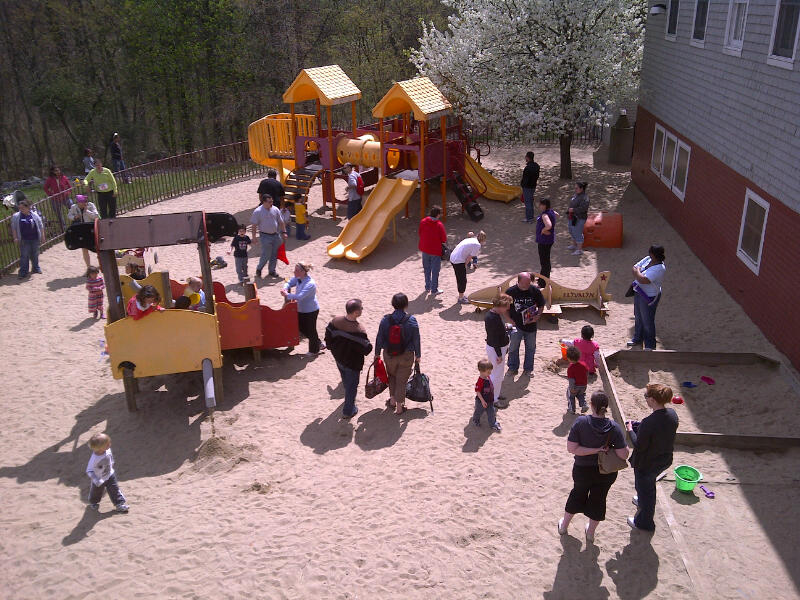 : Photos by Mark Snyder
WATCH MARK TRY TO SING @ 5K Event
Stoughton Public Library & Youth Commission
Celebrate Earth Day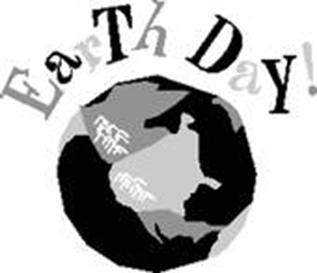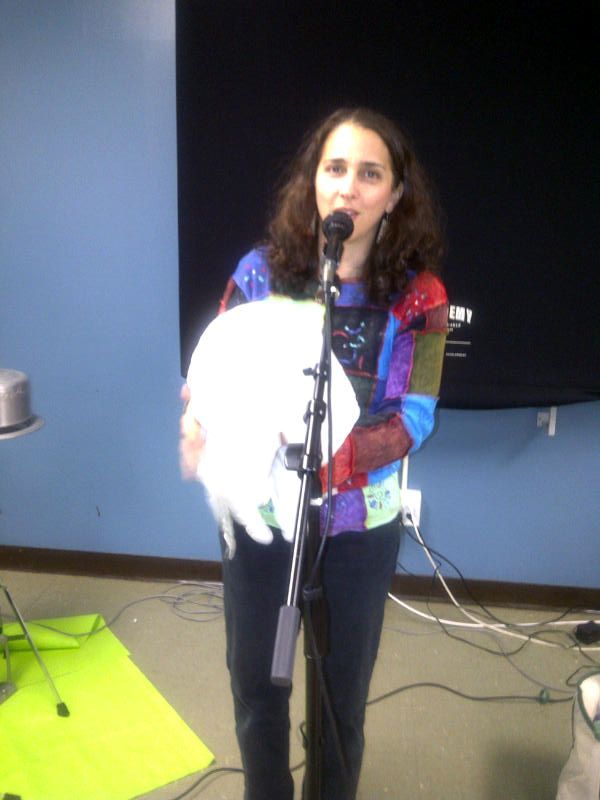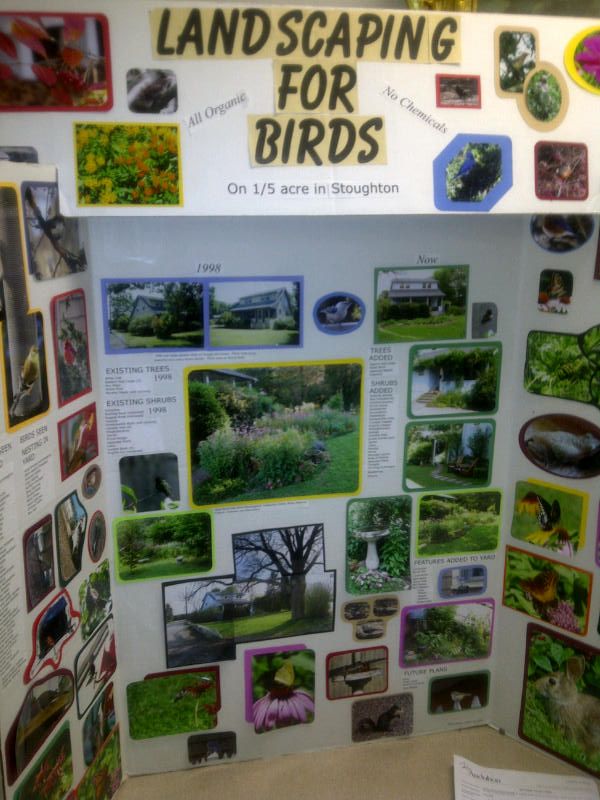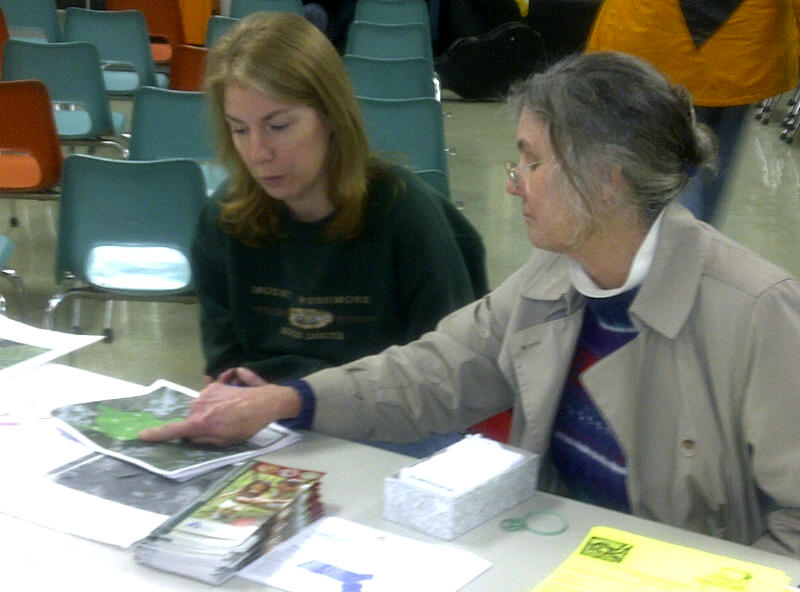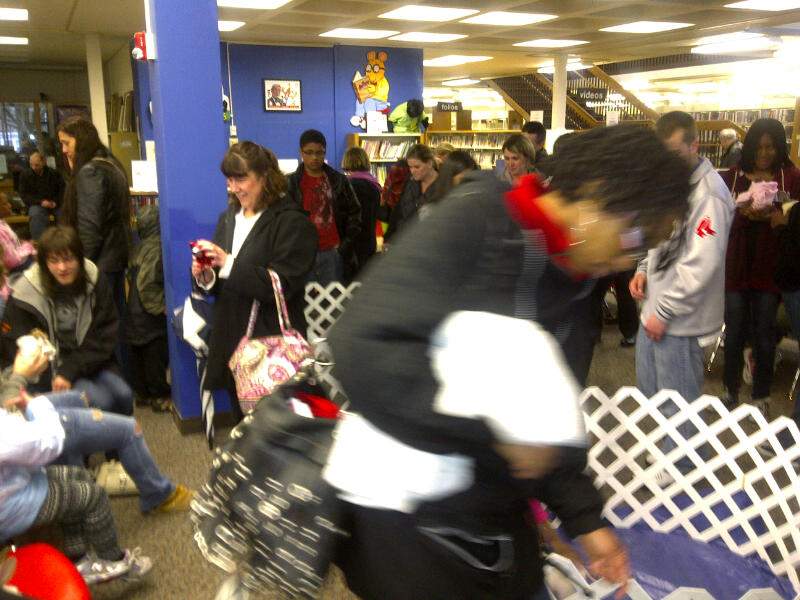 Photos by Mark Snyder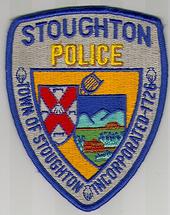 ---
JARDIN EVENT A HUGE SUCCESS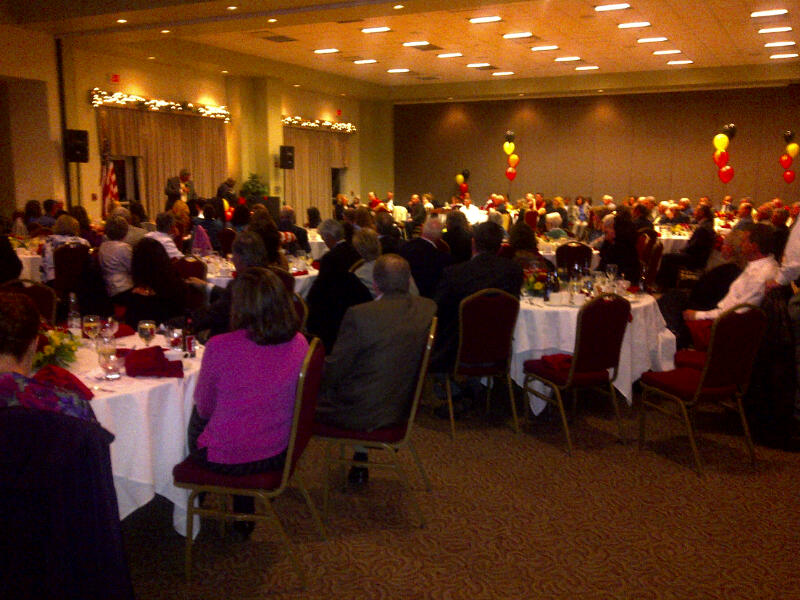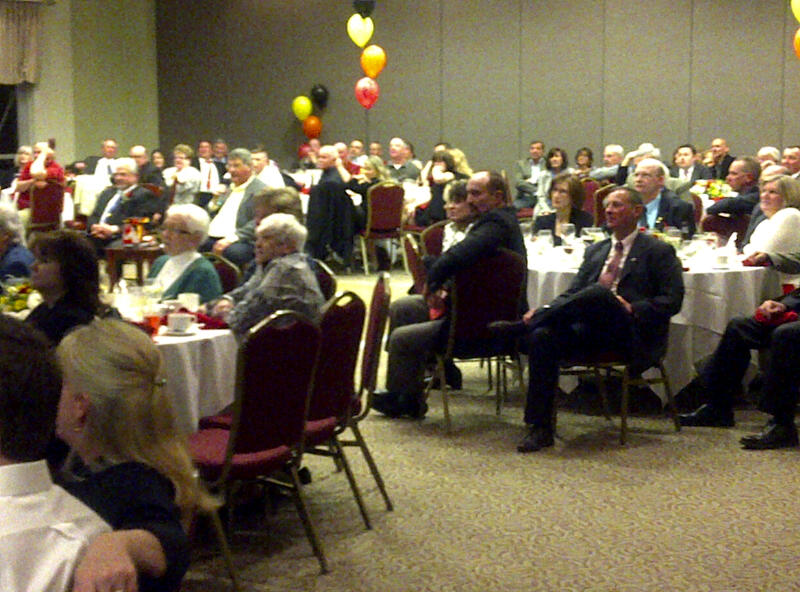 Hundreds of people jammed the Shaw's Center in Brockton Saturday to say thanks to Fire Chief David Jardin, who retired after 38 years of service to the Town of Stoughton. Captain Don Jasmin did a great job as emcee. Fire Chiefs representing a dozen towns and a half dozen fraternal organizations came to the event, with some making presentations. Ted Phillips, Chief Aide to State Rep. Lou Kafka, read the House of Representatives proclamation. Selectman Chairman John Stagnone read a Proclamation from the Board of Selectmen. Retired Superintendent of Schools Tony Sarno read a letter from Superintendent of Schools Dr. Marguerite Rizzi. Chief Jardin thanked his family (wife Maureen, daughter Christine, and son David), his Administrative Assistant Kathy McGrady (awarding her a special Stoughton Fire Department badge which read "Superintendent"), area fire chiefs, and the men and women of the fire department (his "other family'). He was also presented the mangled front bumper from his beloved Ford Explorer, as well as a rocking chair. Former Stoughton Town Manager Mark Stankiewicz, who hired Jardin as Fire Chief, also come in for praise. Other Faces In The Crowd: Selectman John Anzivino, Selectwoman Cynthia Walsh, School Committee Chairman Tom Colburn, Finance Committee Chair Holly Boykin and Vice Chair Rick Hill, State Reps. Lou Kafka and Bill Galvin. We wish Chief Jardin a long and healthy retirement. Of course, we'll still see him around during emergencies---as he's goes to work part time for FEMA.
(Photos by Mark Snyder)
---
SEAN BETTENCOURT & GERALD SCHIFONE GET COMMUNITY SUPPORT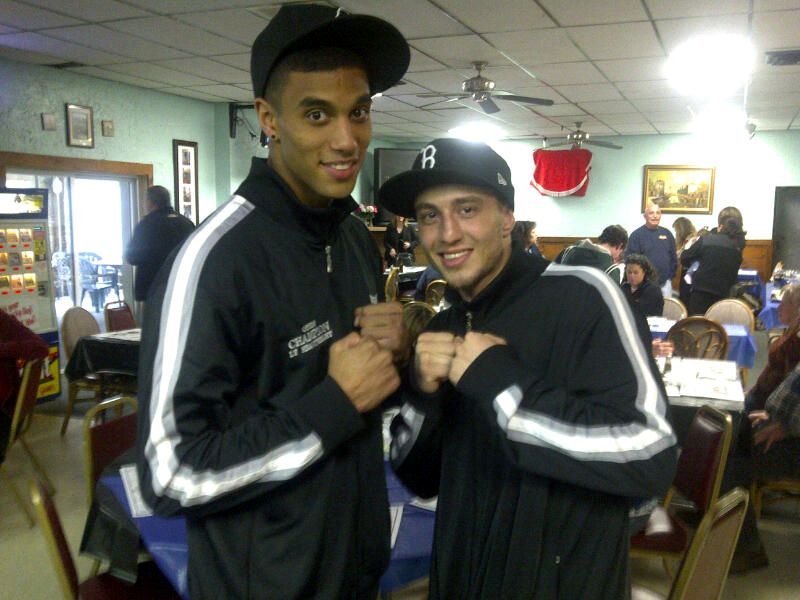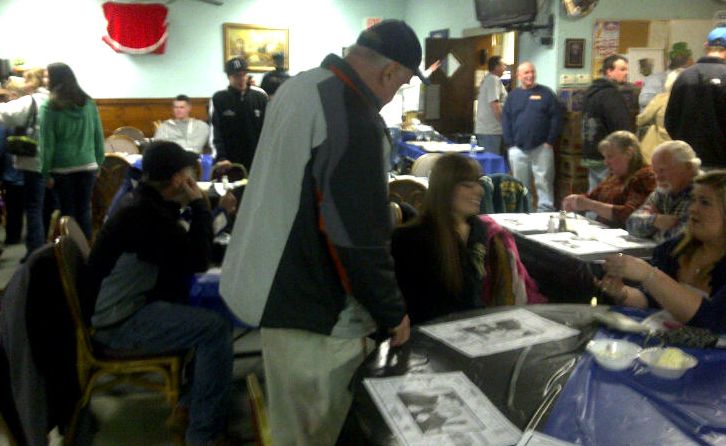 A Successful FUNDRAISER FOR THEIR NATIONAL DREAMS was held on Saturday, April 16, 2011
at SONS OF ITALY HALL, featuring a Spaghetti Dinner, Raffles, Silent Auction & More! A nice crowd turned out to support Stoughton's Champion fighters, Sean Bettencourt and Gerald Schifone, and to try to send them to the national competition later this month in Indiana. Kudos to Ken Martin and Brenda Catalano, and all the people who put so much work into making it the big success it was! And, GOOD LUCK to our own fighters, Sean and Gerald, trained by Joe Ennis right here in Stoughton!
(photos by Mark Snyder)
DAWE SCHOOL PTO FAIR!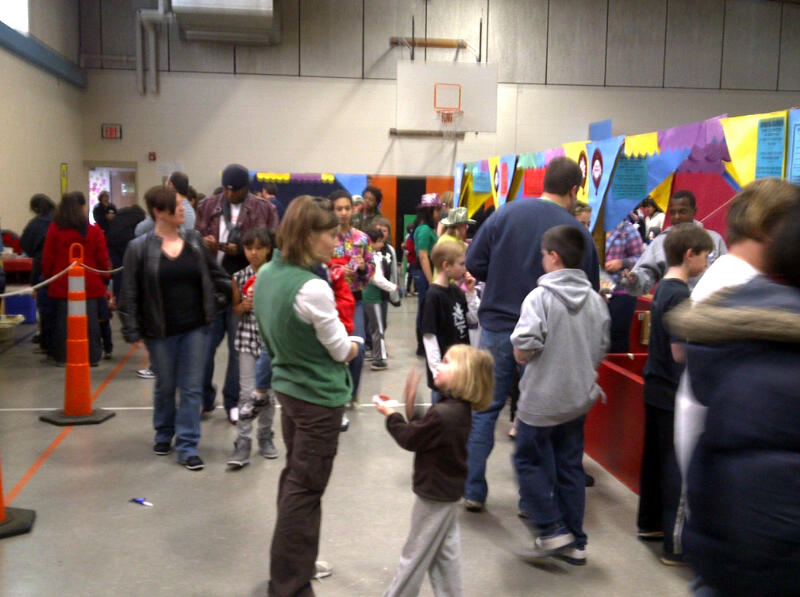 Fun was had by all! (mark snyder photos)
---
Girl Scouts Earn Their Badges!
Girl Scout Troop 80378 worked with Stoughton Fire Department Saturday and earned their First Aid badges. It happened at the First Congregational Church.
(
Pictured left to right: Leah Campanario, Victoria Tucker, Tianna Keaney, Mikaela Murphy, FF John D'Andrade, Amari Harrison, Selena Faria, FF Jack Hussey, Abby MacDonald, Ashley Burrows, Kate Howe, Katie Taylor, and Sophia Calisi.
(Mark Snyder photo)
---
Benson Holds "Meet & Greet Breakfast"



The Committee to Elect Jeffrey Benson to the School Committee held a "Meet & Greet Breakfast" at Sons of Italy Sunday morning. A cozy crowd of supporters came to munch on delicious breakfast from the culinary talents of Mike Sammarco and Nancy Patterson. Benson, and his wife Jacqueline, welcomed supporters, and answered questions from people trying to gauge Benson's ideas. Benson lost to Deb Sovinee by one vote when the Selectman and School Board selected a replacement for jailed former member Tony Bickerton. Faces In The Crowd: South Coast Rail Advisory Board member Gerry MacDonald, ZBA members Steve Mitchell and Ed DeFelice; Selectman John Anderson, Stoughton Community Events Committee member Janet Jasmin; and former School Committee member Peter Banis.
Save The State Theater Event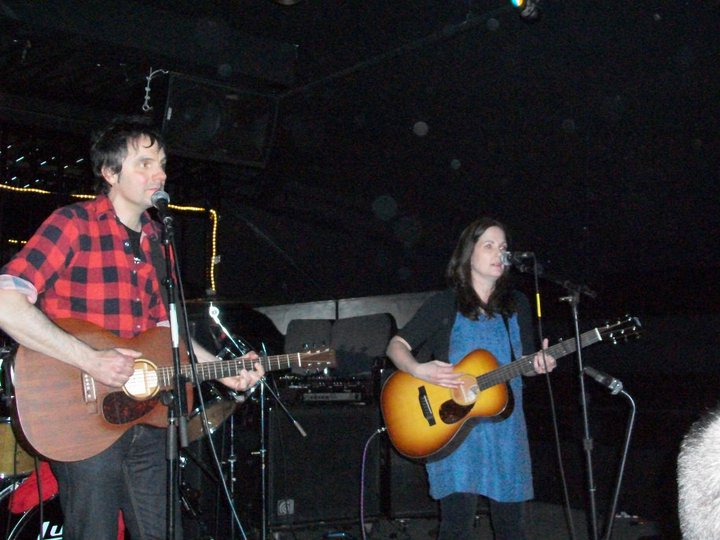 Over 300 people came to Whiplash Saturday night (3/26) to support the Save The State Theatre effort. They got some amazing music from Stoughton's own Mike Viola, plus a guest performance from Stoughton Singer-Songwriter Lori McKenna, a national star. It seemed much too much fun for the pittance of a $5 cover charge. There were two very happy people in the crowd. Mike Mutascio, the man behind the save the theatre groundswell, was more than pleased at the number of people who came. "It's just amazing!" he told me. Whiplash owner Danny Silva, who was working behind the bar, also had to be pleased. His club had been closed by the town for lack of a sprinkler system, and he'd spend months and thousands of dollars to open up again in a totally renovated space. Michael "Mike" Viola lives in Los Angeles, and is best known as singer, songwriter and "musical architect" of a team he called the "Candy Butchers", a pop-rock band from New York City that recorded three critically-acclaimed albums for Sony. He has also sung and done a CD with Mandy Moore and other musical luminaries. He literally rocked the house at Whiplash. Joining him late in his set was Stoughton-based singer-songwriter Lori McKenna, who is best known for writing hits for Faith HIll, Tim McGraw and numerous other stars. She has also enjoyed fame on her own, which continues with her latest CD, "Lorraine." There were so many "Faces in the Crowd" that I'd hate to leave anyone out, but Selectman John Stagnone, ZBA Secretary Bob O'Regan, Stoughton Youth Baseball President Don Connors, Town Hall's Denise Lochiatto, Snyder's Stoughton TV Show Camera Operator Dale Appel, Stoughton Fire Dept. Captain Scott Breen, as well as a number of people from the Stoughton Police Department, were spotted in the large gathering. A wonderful time was had by everyone who came. There were people in the crowd from their 20's through their 60's, from all walks of life. They had something in common that brought them together---the desire to see the State Theatre restored, and the re-birth of Stoughton Center.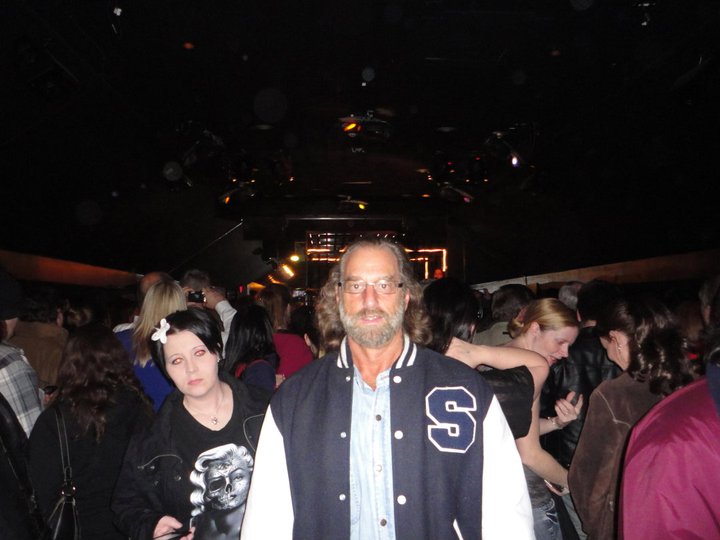 (Posted on 3/26/11 @ 11:30 p.m.)
Top Photo courtesy of David Allen Lambert
Bottom Photo courtesy of Shannon McCarthy
---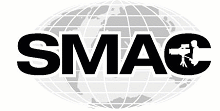 Stoughton Media Access Corporation
About a hundred people came through the doors of an Open House Saturday to check out Stoughton's brand new local cable access studio, according to MSAC President John Stagnone. They had to be impressed. Stoughton has one of the nicest state-of-ste-art studios built in Massachusetts. SMAC'S Board of Directors, including Stephen Bates of Bates Remodeling, who spent countless hours supervising the building of the facility from a builder's point of view, had to be quite proud. Allan Mills, vice chairman of the School Committee, and a SMAC Board members, was speaking of the endless amount of things coming soon to the future of local cable. Bob Mullen, the newest member of the SMAC Board, talked about the hopes that some of those touring would be interested in doing a show. Currently, SMAC has three shows that tape in the facility--Community Forum, Snyder's Stoughton, and Dave Young's Late Nite program. They are looking to add new programs and train new volunteers. They'll have to go over their paperwork, just a bit. They want to CHARGE VOLUNTEERS a $30 annual "membership fee". I don't think that will help spread the word of volunteering. My opinion. But, the facility is wonderful, and SMAC Executive Director Steve Innis seems to truly want to work WITH volunteers and the Community to expand programming, and become a vital part of the communications efforts in the Town of Stoughton. I think they'll end up doing well, once they iron out the kinks (like charging to volunteer.) I think the people of Stoughton should applaud the BOARD of SMAC. They may have been the last facility built in the area, but it's the best---and that's saying something. So, come up with an idea, round up a volunteer crew, and COME ON TV. It can be fun!
Stoughton Media Access thanks all the companies that made a contribution to make this project a success:
DONATIONS: CONTRACTORS:
Bates Remodeling, LLC. Atlantic Coast Cleaning Services R. Leonard Electric, LLC.
Bob's Famous Food Mart Ceiling Man Inc. Ruthardt Woodesign
Brook Contractors Supply Clarion Fire Protection Shading Solutions
Buonato Granite & Marble Co. Graphics The Camera Co.
Co. Graphics Daly Construction
George Washington Toma Deacon Plumbing & Heating Co. Inc.
Hub Technical Guaranteed Flat Roofing Services, Inc.
Kipp's Painting High Output
Lappen's Equipment Integrated System Tectonics
Patriot Alarm Company JM Connect
Peppercorns Café & Catering @YMCA J&D Flooring
Sherwin Williams – Stoughton Kipp's Painting
Sherwin Williams – Randolph MJ & A Architects
Solar Seal Co. Michael O'Brien
Stoughton Pennysaver Inc. Patriot Alarm Company
The Camera Company Prevett Heating & Cooling
Wizard Adz
Working Media, Inc.
WHO ACTUALLY CAME UP WITH THE WORDS STOUGHTON MEDIA ACCESS CORPORATION, THE ACRONYM (SMAC), AND PUT TOGETHER THE BOARD, THROUGH HIS EFFORTS AS CHAIRMAN OF THE CABLE ADVISORY BOARD?
---
URAL HOLDS CAMPAIGN EVENT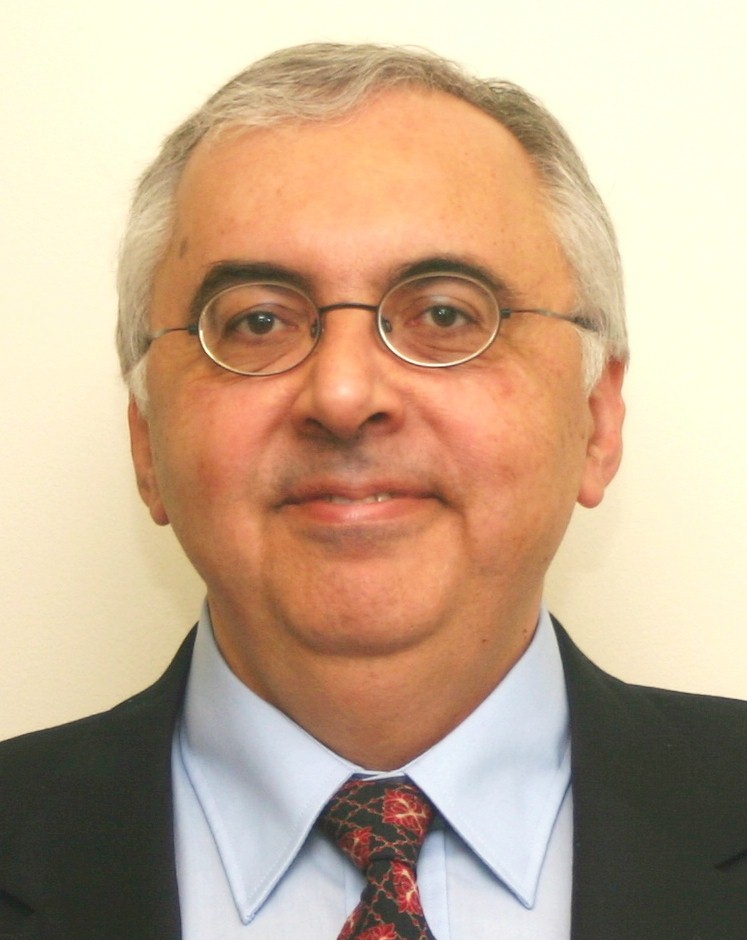 About 50 people attended a Breakfast Meet & Greet with School Committee member Dr. Erdem Ural on Sunday morning (3/27) at Sons of Italy Hall. Highlight of the event for this writer was definitely the homemade cookies by Erdem's wife Meral. She can certainly bake! People enjoyed breakfast foods cooked by Mike Sammarco and served by Nancy Patterson. Ural spoke about his hopes for re-election, and his continuing efforts to look carefully into every dollar spent. Faces In The Crowd: Selectmen John Anderson, John Anzvino, and John Stagnone. Finance Committee members Barbara Anzivino, Steve Mitchell and Ed DeFelice; Plumbing Inspector Billy Angelos, DJ Chris Zienko, Lions Club's Lester Davis, Veterans Agent Mike Pazyra and his wife, Snyder's Stoughton TV Show Director Cindy Pazyra; former School Committee member Carolyn Campbell, Stoughton photographer Jim Noe, Stan Zoll of the Board of Assessors, Former Selectman and SMAC Board member Bob Mullen, and Planning Board Chairman Joe Scardino.
No Mystery Why These Performers Shined
A Fun time was had by a few dozen people on Saturday, March 12th, as actors from the Stars Commuity Theatre presented their show "The Price Is Wrong: Occupation Murder!", an interactive murder mystery dinner theatre at the Last Shot Sports Bar & Grille in Stoughton. It was an enjoyable night, and a fundraiser for the Save The State Theatre effort underway through Mike Mutascio. The historic balconied theatre, located in downtown Stoughton Square, was first opened on December 8, 1927. The first film ever shown was "Smile, Brother, Smile", starring Jack Mulhall and Dorothy Mackaill. The location eventually became Stoughton Cinema, and then, Stoughton Cinema Pub, before closing December 2, 2007. Mike is trying to rebirth the historic cinema. You can help! Go to http://www.stoughtonstatetheater.com.
Congratulations to the cast of the murder mystery, with particular kudos to Merri Phillips, Ryan Rutter and Michael Mutascio, a trio who stole the show with their over-the-top performances. But, they weren't the only ones who shined. Jake Nichols, Jenn Pernock, Kyle Regan, Daniel Gurney, Katie-Lee Crowley, Brian MacNeil, Christena Locke, Tracey Miller, Kellie and Matt McGrath, and Laura Howard also did an outstanding job.
(Mark Snyder photo)
STOUGHTON BOOK CLUB WELCOMES STOUGHTON AUTHOR

Author Kyle Darcy (center on couch) with book club members
---
READ ACROSS AMERICA CELEBRATES
THE BIRTHDAY OF DR. SEUSS
AT THE STOUGHTON PUBLIC LIBRARY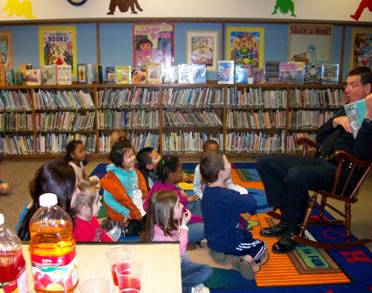 Police Chief Paul Shastany reads Dr. Seuss to Stoughton students.
---
Stop and Shop Manager Mike Draper (l) and Karl Maregni (r) present a check to Anne Havlin of the St. Anthony's Free Market to support the local food pantry. Anne says, "In November, they orchestrated their yearly fundraiser of offering paper turkeys for display. As a result, they presented a sizeable check for St. Anthony's. We are exceedingly grateful to everyone who purchased the paper turkeys, and to stop and Shop for their charitable outreach programs. With good managers like Mike and Karl, businesses like Stop & Shop are making a difference in Stoughton."
RIDE FOR STRONG KIDS BIG SUCCESS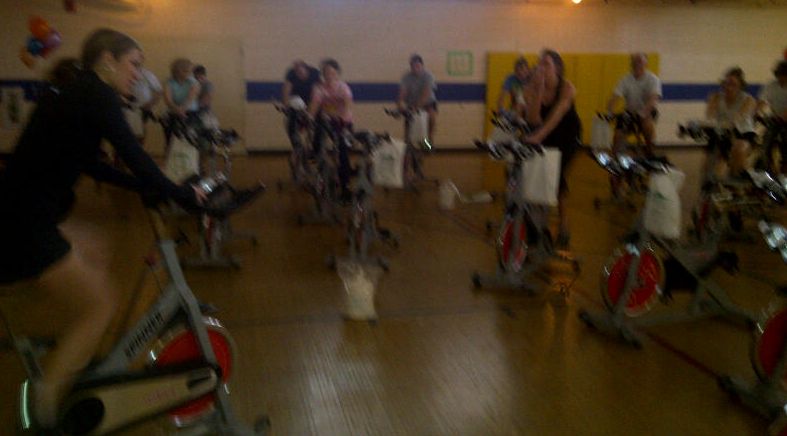 Nearly 150 people participated in the maiden Ride For Strong Kids Spinning Event at the Striar Old Colony YMCA on Saturday. The event, co-sponsored through the generous $1000 donations of Bank of Canton and Jean Inman, raised nearly $11,000 to help send children to camp, after-school programs, or help a needy family stay healthy and connected by exercising at the Striar Y. Bike enthusiasts puffed away to the commands of instructors Beth Marzelli, Jeffrey Sprung, Heidi Isler, Brian Morris, Stephanie Mancini and Margie Bynoe. Event Chairman Mark Leppo, who has been undergoing chemotherapy while putting all his efforts into leading the event, was quite pleased. "It's amazing. Not only did we raise money for a great cause, but people had a great time, as well. As someone who never got to go to camp due to the financial constraints of my family, it's heartwarming for me to know that many children in similar circumstances will be able to go to camp this summer because of this event." Leppo, Business Development Manager at Century 21 C& S Properties, thanked his entire committee, and all the Y employees who rallied to the cause. "It took a team working together to make this happen." Leppo and Special Events Committee Chairperson Kathy Stern, led the Committee which also included Cindy Pazyra, Jean Inman, Jessica Ackerman, Lou Falcone, Mark Snyder, Rebecca Doherty, and Steve Braidman. Riders enjoyed refreshments provided by Ocean Spray, Dunkin' Donuts, Peppercorns @ The Y, Life's a Bagel in Canton, Stop & Shop, Popchips, Chuck and Cheese, T.G.I. Fridays, Shaw's, and Target. Raffle items were donated by Boston Celtics, Reebok, Panera Bread, Frugal Fannies, Avon Foods, PMPNetwork.com, Mark Leppo, IKEA, Jessica Ackerman, Landry's Bikes, Steve Braidman, Halfway Cafe in Canton, Dale Chiropractic in Canton, Marci Schwartz, Salon Bella, and Copy Inks.


Ride for Strong Kids Chairman Mark Leppo (l) and Old Colony YMCA Chief Operating Officer Jeff Russell at the event.
(photos by Mark Snyder)
---
STEYN PRESENTS SCARY WORLD SCENARIO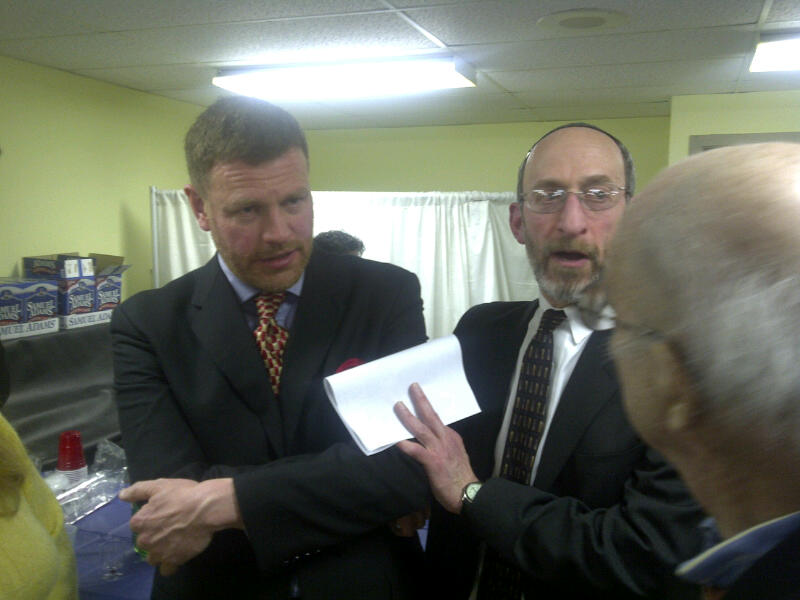 (above photos by Mark Snyder)
Conservative writer and talk show host Mark Steyn (seen left above with Rabbi Jonathan Hausman) drew hundreds of people to the Avahath Torah Congregation on Thursday night (2/24/22) and the people got a proverbial bucket of ice water over the head and a verbal slap on the face to "wake up and get involved." Steyn, who is best known as a substitute host on the Rush Limbaugh show, said that "Islam is planning for tomorrow. Americans seek faster ways to live in the present." He criticized the leaders of Europe and the United States for sounding off about an obscure minister who threatened to burn the Koran, while ignoring Muslims in Saudi Arabia, Iran, and other Arab countries, that burn the bible, assault women, force female sexual mutilation, and have "honor killings" for their daughters. "I don't need a President or Prime Minister of Western Countries to criticize an obscure minister, I need them to stand up for Judeo-Christian values." He's also worried about the economies of North America, adding, "We need an alliance of non-compliance to roll back government and spending." Steyn is concerned about Political Correctness gone amuck, and the slow deterioration of free speech across the planet. "When someone threatens you because of a cartoon, it should be printed in EVERY paper. Sharing the risk is the key. We will lose our freedoms incrementally with leftist governments, and Islamic Sharia laws." As for the political correctness, Steyn said, "Sensitivity Training is a form of Totalitarianism. We should teach anti-sensitivity. We need thicker skins." As for the problems in the middle east, He says that "America and the Western Nations have made themselves irrelevent. "President Obama warned Libya's Khadafi that the world was watching. He knows that. He's a dictator. What happens in a world with no American Order? The Muslim will grow to a third of all the world's population. And, unfortunately for their citizens. They will live in countries that destroy all forward progress. Somalia's top business is pirating. Civilizations will retreat to a few citidels. It's a broader existential crisis." He said that anyone taking a stand against Islamic imperialism is considered a conservative and targeted. "We have to re-light the lamp of liberty so that all of us are carrying the torch of liberty. The lamps are flaming out all over the world. Governments punish those who expose the Islamic threat, rather than address it." Steyn's book, "America Alone: The End of the World As We Know It", discusses much of the themes he discussed before a supportive crowd at the Temple. Rabbi Jonathan Hausman announced further speeches by similar speakers through the spring and early summer."
96.9 FM Talk's Michael Graham with another Talker. (Eric Kahn photo)
(Posted on 2/24 @ 11 p.m.)
Took This at the YMCA Parking Lot:


Don't worry. He was driving carefully
(mark snyder photo)

---
Hank Herbowy Presents: A Trip in History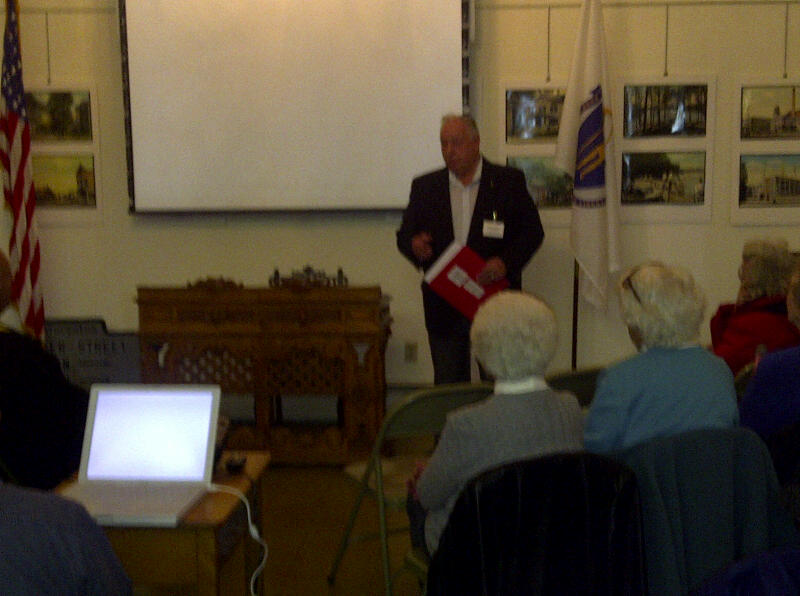 Hank Herbowy, former curator of the Stoughton Historical Society and recent recipient of the Jack Sidebottom Award, narrated an interesting slide show of pictures he has taken over the last twenty years including the demolition of the old Town Spa, the construction and opening of McDonald's and Ikea, a Nascar race, Sarah Palin's visit to Boston, a tour of the Armory, town politicians over the years (including very young then-town moderator Frank Crimmins), and a lot more. Herbowy, the official photographer of the Snyder's Stoughton website, drew a crowd of over three dozen on Sunday afternoon (2/20/11).
Faces In The Crowd: Selectwoman Cynthia Walsh, Town Moderator Howard Hansen, former Town Manager Mark Stankiewicz, historian and local columnist David Allan Lambert, School Committee member Dr. Erdem Ural, FinCom members Ed DeFelice and Peter Vantresco, and educational legend Helen Hansen. Emcee for the event was Stoughton Historical Society president Dwight MacKerron.
(Posted at 4:15 p.m. on 2/20/11)
---
FIFTH ANNUAL GUNS & HOSES HOCKEY GAME
SHOCKER: FIRE WINS!
It wasn't expected to happen. After all. for four consecutive years the Stoughton Police Department owned the Fire Department. Until last year, the hoses had had great difficulty scoring anything against SPD Sgt. John Bonney. All good things have to come to an end, and for the police department, this was it. The Stoughton Fire Department, behind MVP Billy Carreiro (2 goals and an assist) stunned the police department, 5-2 before a healthy crowd at Canton's SPORTSPLEX on Saturday night (2/26). SPD Detective Erik Feist gave the PD a 1-0 lead in the first period, taking the puck at the blue line, deking the defense, and tucking it past FF goalie Scott Camara. FF John DeAndrade tied it up in the second period, on a rebound shot, 1-1. The fire department took the lead for good on a point shot by Paul Spillane that beat Bonney. Carreiro, using amazing moves, scored an unassisted goal to make it 3-1 SFD. SPD's John Fanning's breakaway goal closed the gap to 3-2. But, with 16 seconds left in the second period, Carreiro did it again, and the SFD had a 4-2 lead going into the final period. Jim Bertram scored on a feed from Mike Peck, after Peck had victimized an SPD defensive player, and made the final score, 5-2. Bonney was under seige all night, making some spectacular saves, including one acrobatic save with his skate. Camara played a nearly perfect game in net for the SFD. Now, can the police department turn things around and finally beat the SFD in flag football? We'll find out........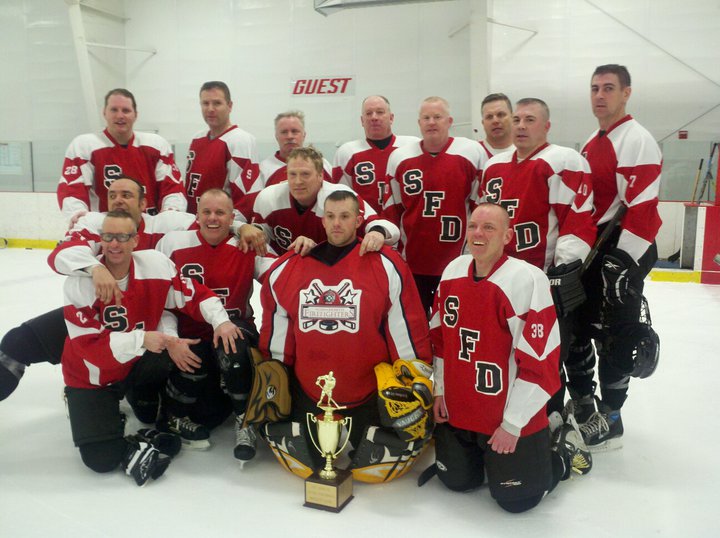 The Winning Team
In a related classy move...
"Mark, I would like to thank you for the publicity you gave to the 5th annual Guns N Hoses Hockey game this year. It was another fantastic turnout, which is a testament to the people of Stoughton who support us all year long. I would like send sincere congratulations to the Stoughton Fire Department for a job well done. They played their hearts out and earned the win against us. Our team put up a great fight, but we were outmatched against the FD tonight. A lot goes into this game and people like Laura Sheehan and Buddy O'Neil put in many thankless hours to make this game happen. The police station will feel a little empty without that trophy in our lobby, but for this year it is the Fire Departments to enjoy."--John Bonney
And........
"Mark, I wanted to echo the words of Sgt. Bonney and tell you on behalf of the Fire Department, that we appreciate your support over the years with the events that the Fire and Police Departments sponsor. The publicity is the driving force behind our success. Although the Fire Department won (finally), the real winners were the Friends of Stoughton Hockey. It was a great tribute to all who played, donate their time, auction items, or working the auction tables, to have such a wonderful turnout as we did last night. "--Jeff Ledin
BENEFIT FOR THE BELYEA FAMILY
FILLS SONS OF ITALY HALL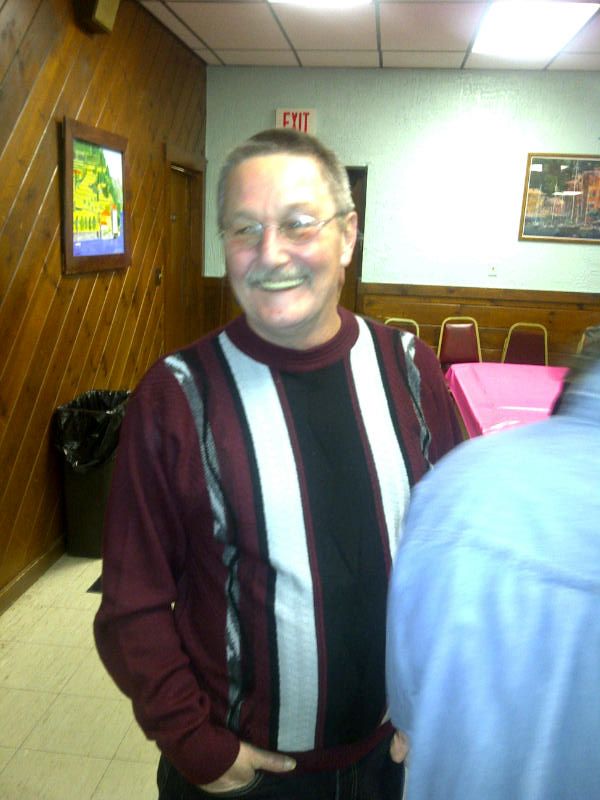 On Saturday, February 5, 2011, the friends of Leonard and Debra Belyea showed up in force at the Sons of Italy. People were extremely generous, and Belyea told Snyder's Stoughton that it was great to see so many people. "I saw people I have not seen in years, and most of my neighbors showed up. It's heartwarming." Belyea said that he and his wife are living in a trailer next to the house, while he sorts out different companies that are making a pitch to fix his house. His daughter Melissa estimated it could be 4-6 months before her parents can move back in. You may remember that the Belyea family were the victims of a house fire on New Year's Eve, that caused extensive damage and killed their daughter's two pet dogs, Boo and Ace. Melissa said she bought two new Chihuahua's from a breeder. If you couldn't make the fundraiser, you can still help. Checks may be made to: Debra & Leonard Belyea and dropped off at the Sons of Italy to Maureen Stringer. Faces In The Crowd: Former Town Manager and Town Clerk Jeanne Fleming.
(snyder photo)
---
STOUGHTON HIGH ATHLETIC DEPARTMENT FUNDRAISER IS HUGE SUCCESS!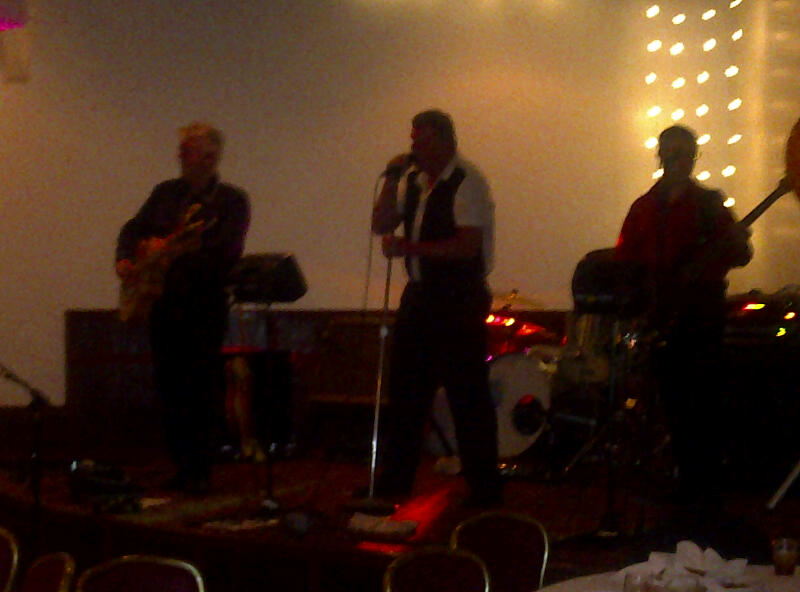 Over 200 people crowded into the Portuguese National Club on Saturday night (2/5) to help raise approximately $8700 that was committed by Bob Evangelista and Jack Raeke at a School Committee meeting last Fall, which allowed three assistant coaching positions to be restored in football, baseball and softball. The Woodard, Evangelista, Raeke, and Milavec families, and a large committee of volunteers, presented a fun evening of music (featuring Jack Raeke, with his band, The Standards), food, and fun, with silent auction, 50-50 raffle, and more. The final amount of money raised is still unknown. Snyder's Stoughton will let you know when the final tally is announced. School Committee member Deborah Sovinee won the cash raffle, and donated all the money back to the Stoughton High Athletic Department. She was the only School Committee member at the event. Among those in the crowd were a group of elementary school teachers. Early estimates were that the amount needed would be raised during the night. Faces In The Crowd: Town Manager Frank Crimmins, Jr., Finance Committee Chairman Holly Boykin, SMAC Board Member Stephen Bates, Town Hall Secretary Denise Lochiatto; Anne Havlin of St. Anthony's Free Market; Stoughton High Athletic Director Ryan Donahue; Stoughton High Principal Matt Colantonio; and Stoughton High Head Football Coach Greg Burke. Missed the event? You can still help. You can mail monetary donations by check made payable to Stoughton High School Athletics to: 30 Central Dr. Stoughton, Ma 02072.

---
McKenna Introduces New CD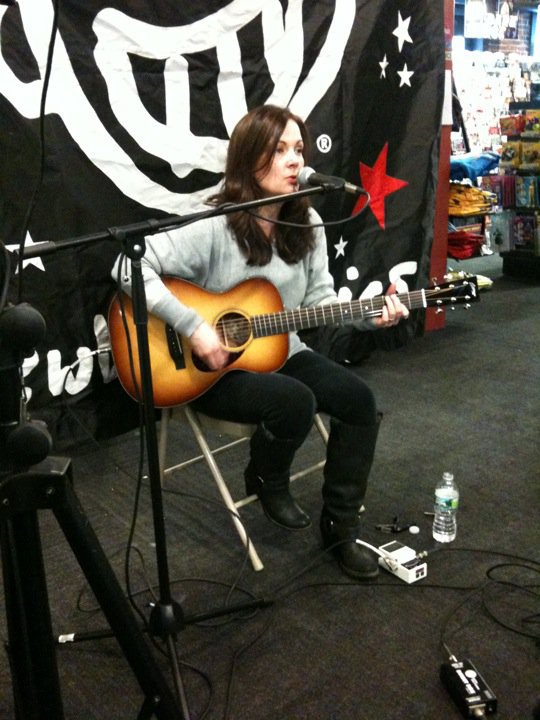 There was a large turnout for Stoughton housewife/mother/singer/songwriter/guitarist Lori McKenna tonight at Newbury Comics in Norwood, as well as Newbury Comics in Boston earlier in the afternoon. The giant record store set up a stage for McKenna, and she belted out a half dozen tunes before signing autographed CD's for a throng of fans. McKenna dedicated one tune from her new CD, "Lorraine" to the Town of Stoughton. As she played "Buy this Town," she told the crowd that it was dedicated to her hometown. She told Snyder's Stoughton before the concert that she's concerned about the town's budget woes. She even offered to play the song at Town Meeting (that would be a GREAT idea). McKenna ended her set with the title song, explaining that it was her mother's name, as well as hers. She added, "I don't answer to Lorraine. People call me Lori, but one person calls me Boo. I don't know why." She also added that, "This song was inspired by a dear friend who told me that if you write songs about your mom, you'll go to Heaven. So, I wrote this song, but it's mostly about me, not my mom. I'm a little self-absorbed." Other tunes from the new CD that were featured included "You Get A Love Song" "Rocket Science" and "Sweet Disposition." All the tunes on McKenna's CD are outstanding. As she said, it's wrapped in light packaging, but it's emotionally heavy. She added, "I used to apologize for making people cry, but now I think it's great." McKenna's CD is available at www.LoriMcKenna.com and www.UMPGNashville.com.
WATCH VIDEO OF HER NORWOOD APPEARANCE
---
FEED THE HUNGRY
Peg Carbone's New Year's Resolution is to eliminate hunger in the Town of Stoughton. To this end, she is offering to pick up donations, large or small, from offices and homes every Thursday in Stoughton. All goods will be donated to St. Anthony's Free Market food pantry. The shelves are very low and the need is great. One item, a bag or box can be picked up. Carbone only asks that it be a non-perishable item, with an unexpired date. Put her to work wiping out hunger! Carbone tells Snyder's Stoughton: "I've lived in Stoughton 14 years. For the last two or three years I've heard the pantries need help in this economy. I'm a busy realtor. I belong to Immaculate Conception Church. It took me awhile to discover the food pantry that they sponsor. I started bringing food there every week. I bring my grandchildren so they realize there is something beyond themselves. It occurred to me that if everyone in Stoughton would give just one item, hunger could be wiped out here, and we could give to other towns. That's where the idea came from. It's been very successful. It should be a community effort. I'm hoping for a great response. In addition to food donations, I've collected over $600 in checks for the St. Anthony's Free Market." Carbone also pointed out that some Stoughton children are not getting the proper nutrition: "During school vacations, many of the children remain hungry. They get their meals at school, breakfast and lunch. It's something else to think about." If you'd like to donate food or funds, call Peg at 508-889-1385 or email her at peg.carbone@comcast.net.
---
PURE SKIN CARE SALON RIBBON CUTTING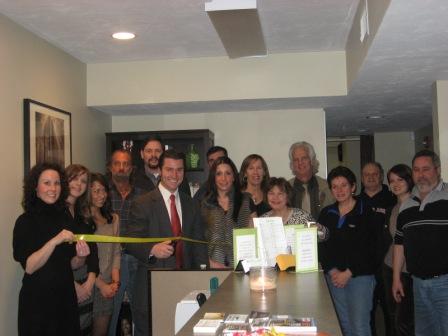 The Stoughton Chamber of Commerce held a ribbon cutting on Monday, January 17 at Pure Skin Care Salon at 10 Porter Street in Stoughton. Pictured (front row l to r): Jennifer O'Neill, Erin Pope, Lani Kennedy, Christopher O'Neill and Lisa O'Neill of Pure Skin Care Salon, Sandy Davis of All Care Home Health Services,Joanne and Terry Schneider of Stoughton Chamber. (Rear row l to r): Chamber Vice Chair Mark Snyder of PMPNetwork, Chairman Chris Petrie of Windsor Tire, Joel Honig of Windsor Tire, Cindy Pazyra of Ahavath Torah Congregation, Jim Horan of Horan Oil, Lester Davis of All Care Home Health Services, and Chamber Executive Secretary Lisa Wheeler of Copy Inks.
---
CHRISTMAS PARADE WINNERS ANNOUNCED
This year's Christmas Parade winning floats were: 1st place - the Vito family float (the Grizwolds Family Vacation); 2nd place - the Gibson family (The Grinch Who Stole Christmas); Best musical float - Starline Academy; Best Christmas Spirit float - The Last Shot restaurant. The Callanan trophy, which is awarded to the public school with the most holiday spirit, went to the Dawe Elementary School.
The Stoughton Chamber of Commerce donated dozens of toys to the Old Colony YMCA's Giving Tree, which will distribute them to Stoughton children in need. Pictured (l to r) are: Terry Schneider, Chamber Executive Director; Cindy Pazyra, 2010 Chamber Executive Secretary; SCC Board member Dan Kaplan; Striar Old Colony YMCA Executive Director Joyce Dwyer; SCC Board members Beth Snell and Bob Zeserson; 2011 Chamber Chairman Chris Petrie; 2010 Chamber Chairman Rick Kaplan; SCC 2011 Board member Bonnie Policow; Board member and Fire Chief David Jardin; Lisa Sharland Wheeler, 2011 Chamber Executive Secretary; and 2010-2011 SCC Vice Chairman Mark Snyder.
---
VOLUNTEER APPRECIATION PARTY
from the Board of Selectmen
Held on Monday, December 13th
| | |
| --- | --- |
| | |
| | |
Selectman Chairman Steve Anastos and his Board hosted the Second Annual Volunteer Appreciation Dinner at Town Hall on Monday night (12/13/10) and it was even bigger and better than the inaugural version. Over 200 people crowded into the Great Hall for a delicious meal and liquid refreshments. Mike Sammarco, Dennis Gada and Al Venterosa made meatballs, sausages and chicken wings at Sons of Italy. The Stoughton Chamber of Commerce donated $100 towards food, and their Executive Director Terry Schneider secured donations from Panera Bread & Cafe, Costco Wholesale, Dunkin' Donuts, Catering by Linda, and Target Stores. It took many volunteers to make this night fly. Of course, the crowd was composed of volunteers from every Committee and Board in town, as well as Town Meeting Members, Church Volunteers, Youth Sports Coaches and Administrators, and so many other people that make Stoughton a special place to live. When people are down and out, the town consistently comes together for them. When tragedy strikes, residents group together for support. Everyone who was anyone is this town was at Town Hall on Monday night. If you weren't, isn't it time YOU step up, and volunteer?
(Posted on December 13, 2010 @ 9:35 p.m.)
photos: Top 6 by Mark Snyder
others by hank Herbowy

THE VILLAGE PUB'S ANNUAL TOYS FOR TOTS HOLIDAY PARTY!

(photos by Hank Herbowy)
The Annual Party on Friday, December 10th was a smashing success! The Capozzoli family pulled out all the stops and served an amazing array of delectable dishes, as well as warm hospitality. Hundreds of quality toys were donated to the Marine Corps Toys for Tots program, to assure needy children will have a Merry Christmas this year. Hats off to the Capozzoli family and the Village Pub for another wonderful night.
Faces In the Crowd: Selectmen Steve Anastos, John Anzivino and John Anderson; Police Chief Paul Shastany (with his daughter Heather); Veteran's Agent Mike Pazyra and his wife, Stoughton Chamber Executive Secretary Cindy; Moderator Howard Hansen; School Committee member Dr. Erdem Ural; Former Selectmen Ed Finn, Ed DeFelice and Bob Mullen; Stoughton Chamber Executive Director Terry Schneider and his wife Joanne, the Chamber's Membership Director; Dennis McCarthy, president of Friends for Seniors; Steve Mitchell and Peter Vantresco of the Finance Committee; and retired Dawe School principal Joseph Dawe.
---
2010 CHRISTMAS PARADE

(Photos by Hank Herbowy)
It was another fantastic Christmas Parade, presented by the Stoughton Community Events Committee on December 11. I had the honor and privilege of serving as Master of Ceremonies again this year. Despite a late start, it was another wonderful parade that entertained young and old alike. Rich Jasmin served as parade Chairman. Mike Sammarco, well known leader of Babe Ruth Baseball and the Sons of Italy, was honored as Grand Marshal. Highlights of the parade included local bands Bad Street and 24 South, as well as the Stoughton High School Marching Band Black Knights. Another high spot was.an imaginative float---in an old RV--by the Vito family. They saluted the Griswald's from Christmas Vacation. Even "Eddie Griswald" made an appearance--in a bathrobe--handing out candy canes to the kids. The West and Dawe Schools students were having fun on floats, promoting their school pride. Stoughton Police, Fire and DPW, as well as the Norfolk County Sheriff's office was also well-represented. Also in the parade were the U.S. Navy Honor Guard from the U.S.S. Constitution, New Liberty Jazz Band, Worcester Sound & Light, and the hilarious Hills Mills Comedy Clown Band. An outstanding float powered by the famed Budweiser Clydesdales, featured Pat Patriot, Patriots Cheerleader Sara from Taunton, KO from the Brockton Rox, and Wally the Green Monster from the Red Sox. The Gibson Family float also was an outstanding salute to family in this season of Wonder. The U.S. Postal Service Letter Carriers were scheduled to participate, but never arrived.
(Posted on December 11 @ 4 p.m.)
A FUNDRAISER FOR PHIL IACOBACCI
The Friends of Phil Fundraiser HUGE Success!
A fundraiser Sunday (11/28/10), conceived and organized by Chuck and Joni Bloom (of Party All Night Long fame), was a major success, drawing hundreds of people, and raising over $22,000 for retired Stoughton High principal Phil Iacobacci.(As background--- Phil Iacobacci is a unique man. He is a father, brother, son, husband, friend, long time school teacher and retired Stoughton High School principal. People have described Phil as funny, thoughtful, kind, brilliant, a role model, an inspiration, a leader, an avid boater, a sports fan, and the best teacher they have ever had. In June, while he was doing home roof maintenance, Phil had a tragic accident. He suffered a broken back and a severed spinal cord. While surgery was able to make some repairs and save his life, he is left with the reality of life in a wheelchair. Those of us who know Phil understand that he is facing this new challenge head on. Therapies are intense, home renovations are extensive and daily tasks are overwhelming, but he deals with them all each day with conviction and determination. Phil keeps his spirits high and looks forward to the day when getting around will become easier and he can get back to the activities that bring joy to his life.)The event began at noon, with dozens of raffles, for everything from pizza to DVD's, to sports tickets, and a week's accommodations in Florida. Then, the party went upstairs with Magician Pete Haddad entertaining (photo second row left shows Peter and George, a young volunteer.) Then it was hypnotist Jim Spinnato putting four volunteers through the paces. Especially funny was Bob Bullock (bottom left photo with Jim). Also entertaining was Stacey Ryan doing her best Keisha impression (bottom right photo). Greeting Phil Iacobacci was retired Dawe School Principal Joseph Dawe (middle row, right photo).
Phil's niece, Teri Mangiaratti, thought that over $20,000 was generated, well on the way to providing the funds for a new adaptive automobile, that will allow Phil to resume his independent life. The community came through in a big way for a dear friend of so many students, teachers, parents, and administrators. So many items were donated---by so many people--that mentioning specific names would certainly result in some getting missed. Same with the volunteers. So many, that some would be overlooked. Faces in the Crowd: Supt. of Schools Dr. Marguerite Rizzi, Retired Supt. of Schools Anthony Sarno, School Committee members Tom Colburn, Allan Mills, and Deborah Sovinee; Town Manager Frank Crimmins, Selectmen Steve Anastos and John Anderson, Police Chief Paul Shastany, former Stoughton High principal Brett Dickins, and Stoughton High principal Matt Colantonio.
Suffice to say, a good time was had by all, and a good amount of money was raised for a great man. With his wife Sue by his side, and family and friends enveloping him, it was obvious to everyone the incredible impact he has had on so many of us. And, we know he will continue to be an inspiration........
---
ATC SISTERHOOD GETS RECOGNITION AWARD


(left to right: Dale Appel, Vicki Lemkin, Sydni Smith, Anne Leppo, Sue Korch, Co-president Madeleine Lewis)

The Sisterhood of Ahavath Torah Congregation (ATC) in Stoughton, MA, recently fulfilled the criteria for the newly created Women's League for Conservative Judaism's Jewels in the Crown Award: Emerald, the highest level. This award recognizes sisterhoods that have demonstrated commitment and creativity in the areas of educational programming, community service and Women's League Activities.
---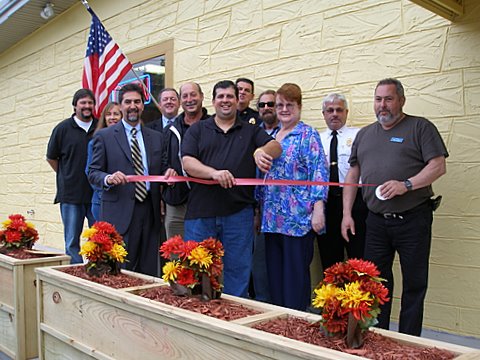 Chuck and Cheese Grand Opening and Ribbon Cutting on October 12:

Pictured (l to r) are Stoughton Chamber Board member Chris Petrie, Chamber Executive Secretary Cindy Pazyra, Selectman Chair Steve Anastos, Town Manager Frank Crimmins, Chamber Chairman Rick Kaplan, Chuck and Cheese Owner Peter Nellos, Police Chief Paul Shastany, Chamber Vice Chair Mark Snyder, Selectman Cynthia Walsh, Fire Chief David Jardin and Chamber Executive Director Terry Schneider. (Photo by Hank Herbowy)
Special thanks to State Senator Brian Joyce for bringing a Senate Official Citation to Peter.....
---
23 Current and former selectmen met at Town Hall on November 23rd to witness the unveiling of a plaque, designed by the Stoughton Historical Society, honoring the Selectmen who have served since 1945. They heard speeches from Selectwoman (one of seven in the town's history) Cynthia Walsh, Moderator and Historian Howard Hansen (who noted that Town Hall opened November 22, 1881), former Selectman John Kowalczyk, Town Manager Francis T. Crimmins, Jr., and Board of Selectmen Chairman Steve Anastos, the man who spearheaded the event. The late Charles Yaitanes was the longest-serving Selectman in modern history with a 20 year run. Guests for the get together, which took place before the meeting, were treated to delicious sandwiches and baked goods from Catering by Linda.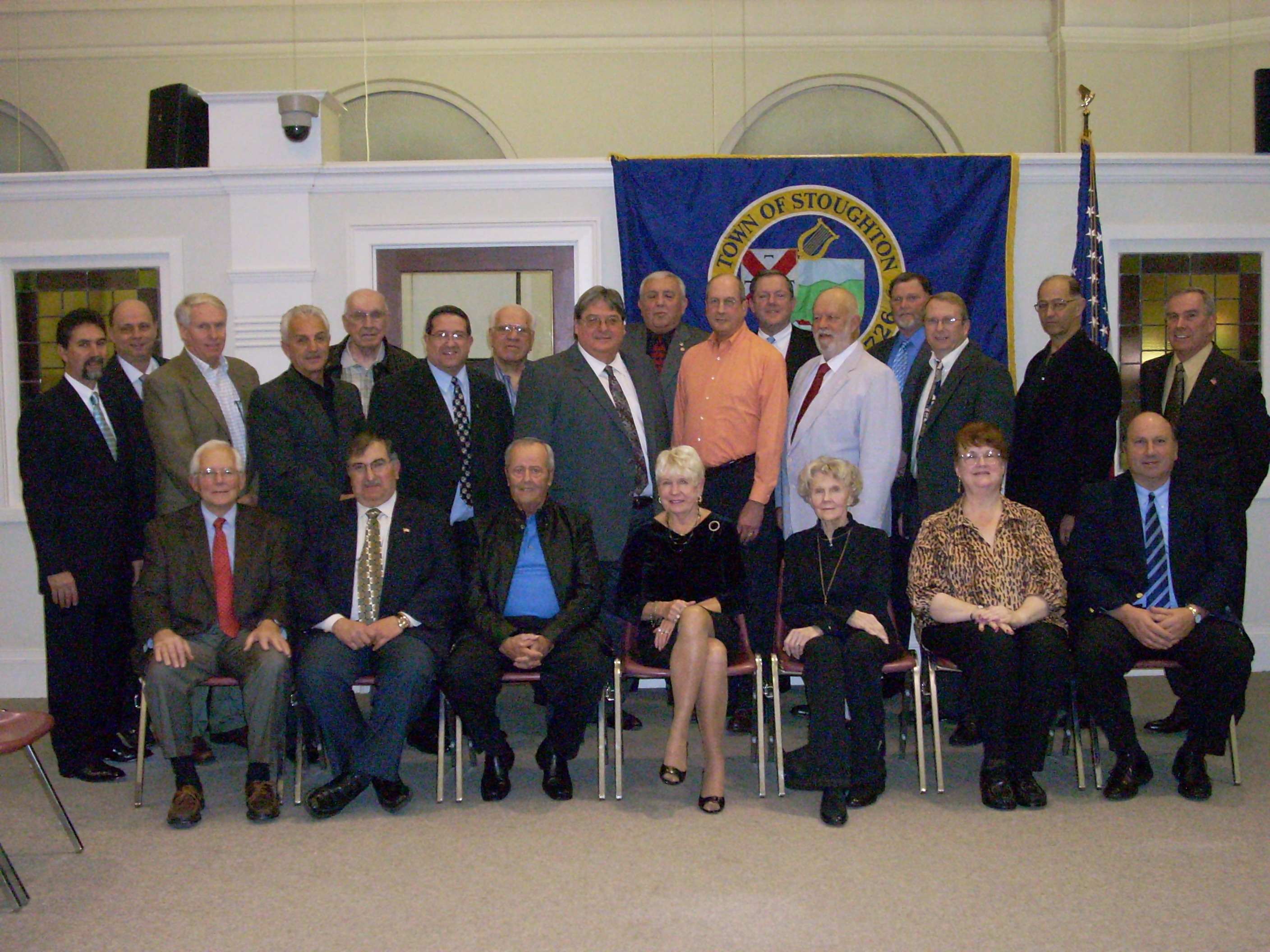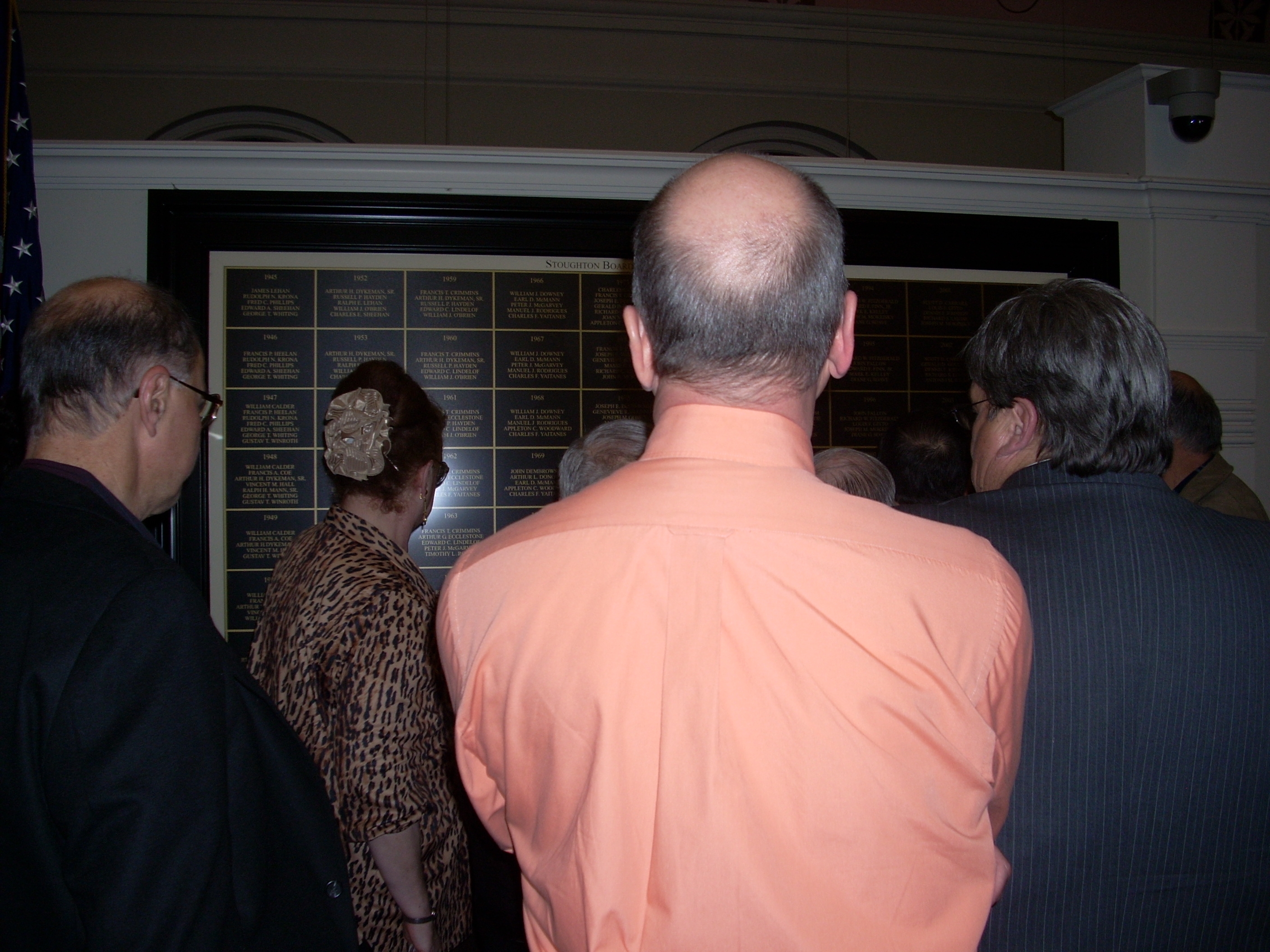 Photos by Mark Snyder
---
Maria Sangiolo's song for her father Lou
On October 10 , twelve Stoughton Veterans visited the O'Donnell Middle School. Each veteran was interviewed by a student reporter who then reported this information to the entire 8th grade at an assembly. "The students and staff of OMS are very appreciative of the sacrifices these veterans made for us," says OMS principal Wayne Hester.
---
Literacy Volunteers of Massaschusetts--Stoughton/Sharon Honored
State Rep. Lou Kafka (D-Stoughton) presented citations to outstanding students Thong Nguyen and Qin Ying Chen at the 12th Annual Potluck Dinner at Stoughton Public Library Wales French Room on November 10. Stoughton Selectman John Anderson was featured speaker. Speakers also included tutors Adam Anderson and Lynn Fitzgerald, as well as students Annie Liu of China and Haydee Hurtarte of El Salvador. Honored as Outstanding Students, in addition to those pictured and mentioned, were Maria Lopes, Nilma Olivera, J.D. Hung, Laila Mokhles, Edrige Dorescat, Maria Silva, Sabah Kaleel, Carrie Yang, and Gilcelia Rossow. Outstanding tutors included Dorothy Mazzola, Jonathan Bloch, Linda Kennally, Marcia Wagner, and Karen Marie Shea. Sandra Goverman of Sharon greeted the crowd. LVM Director Smadar Gekow played host. Karen Race, Assistant LVM Director, also worked hard to make it happen. A good time was had by all, and the continued efforts to teach English to those from outside this country, continues! Stoughton Library Director Pat Basler, at the event, told Snyder's Stoughton that efforts to build a second Habitat for Humanity home in Stoughton (on Commercial Street) have now started.
(Snyder photo)
---
HOLISTIC MEDICINE LOCATION OPENED BY STOUGHTON WOMEN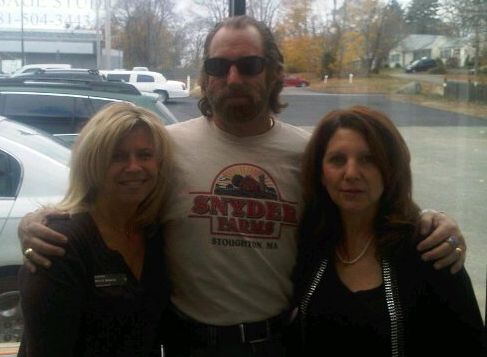 Marci Schwartz, Mark Snyder, and Michele Wein-Crelly @ the Grand Opening of Mic

hele's Massage Studio in West Bridgewater. Marci and Michele are Stoughton ladies.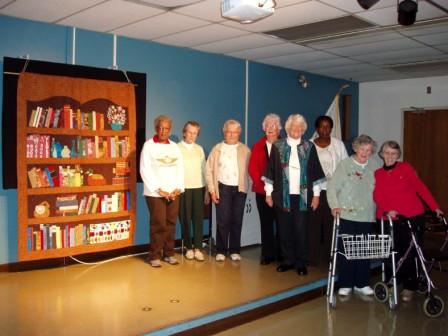 The Stoughton Quilters presented a beautiful quilt designed as a "Bookcase" to the Library for it's permanent collection. Joan O'Hare is the leader of this quilting group that meet at the Stoughton Council on Aging on Thursdays from 10:30-11:30 am. They make quilts for homeless shelters and other causes, and also created a beautiful quilt several years ago for the COA. The quilting ladies are willing to help young people interested in developing the skill of sewing and creating quilts. All are welcome. Please stop by to see the quilt, which is on display in the Library Art Gallery for the month of October, along with many other unique quilts on display. The Library is very grateful for this thoughtful work of art. Stoughton Quilters who contributed to the "Bookcase" are: Lettie Nobles, Isabelle Hinchcliffe, Elaine Hudson, Cecila Ledwirth, Rose Rush, Norma Booker, Roselyn Cahill, Tina Larson, Ester Gomes, Bertha Moore, Carol Siegel, Theresa Lloyd, Sherry-lee Hopwood, Reta Russell, Joan O'Hare and Jill Webster.

---
Friends for Seniors Holds 12th Annual Golf Tournament

Friends for Seniors President Dennis McCarthy, and Matt Baldassari of Canam Steel Corp., lead sponsor of the 12th Annual Friends for Seniors Charity Golf Tournament, held on Saturday, September 25, 2010 at Lakeville Country Club. A good time was had by all, and the money raised will serve Stoughton seniors in the coming year.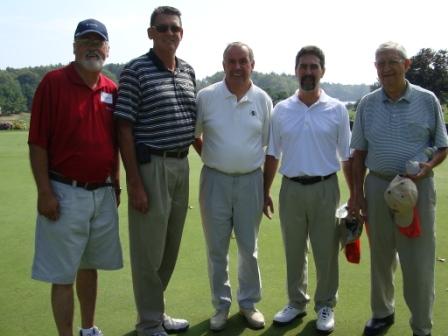 Gathering for the Friends for Seniors Golf Tournament were (l to r):
FFS President Dennis McCarthy, Stoughton Police Chief Paul Shastany, Selectman John Anderson, Selectman Chairman Steve Anastos, and Joseph Anastos.
---
Stoughton Lions Club 60th Anniversary 2010 Summer Concert in the Park Series Closes Out

Pink Cadillac closed out another successful season of Lions Club concerts at the Gazebo on August 29. Kudos to Lions Club President and Concert Chairman Bob Mullen on a job well done! (Snyder photo)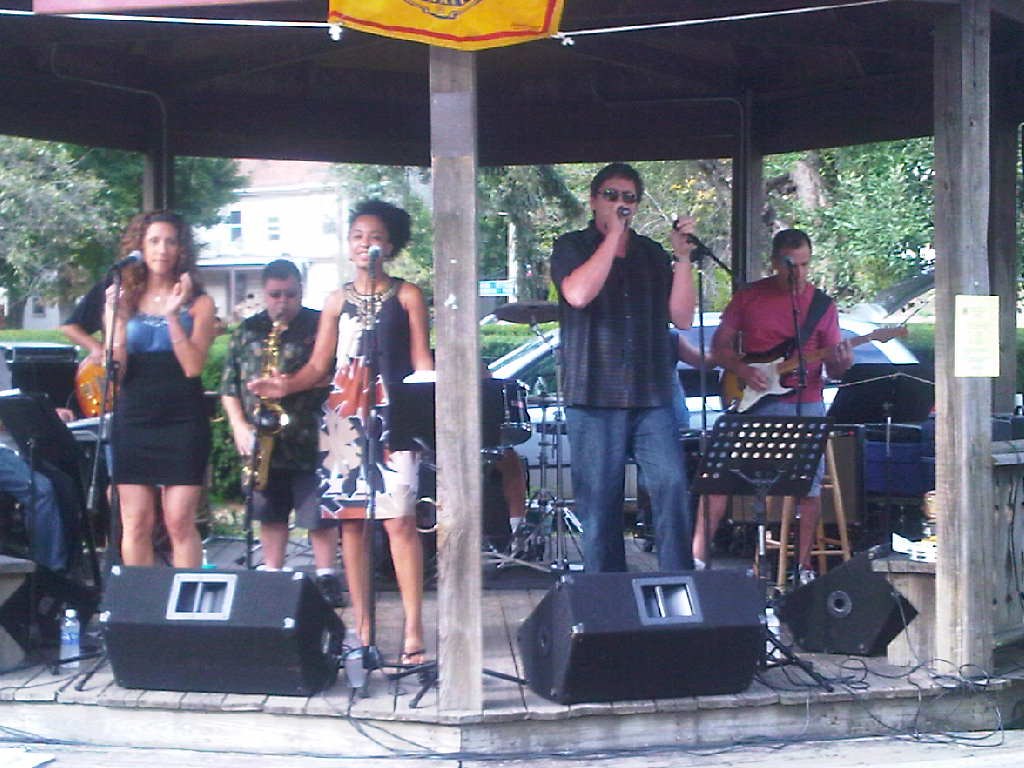 Insufficient Funds rocked the Park on August 15th before a large crowd of appreciative fans. Singer Chris Petrie (right) is the well known manager of Windsor Tire--but he can sing! Singer Lydia Harrell (center) was recently featured on "Community Auditions" on WSBK-TV Channel 38. (Terry Schneider photo)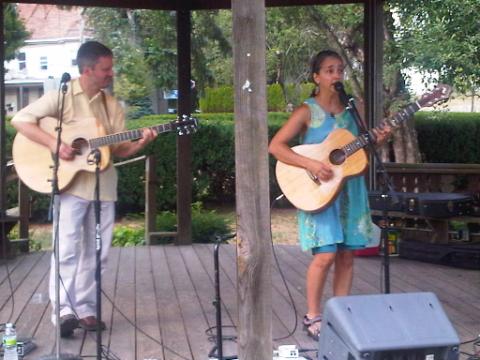 Maria Sangiolo (with Dave Dick) entertained young and old before a huge crowd on a perfect August 1st evening.
(Terry Schneider photo)

The Corvairs entertained on July 18.

Easy Access Band kicked off the Lions Concerts @ the Gaze
bo series on July 11. Here's singer Janie Dulong. A large crowd of over 100 people gathered on a beautiful night for great music. Snyder's Stoughton heard from two people who attended the event that were not pleased with politicians glad-handing the crowd. They included Congressman Stephen Lynch and District Attorney candidate and State Senator Michael Morrissey. The individuals, who wished to remain anonymous, thought politics and the entertainment didn't mix. But, Lions Club president Bob Mullen said that neither candidate interferred with the band. "The Lions Club does not get involved in politics. We don't endorse candidates. But, Faxon Memorial Park is open to the public and anyone can attend the concert. The politicians cited came during the band's intermission, and were really not a problem. That said, I really enjoyed the Easy Access Band. Families had a great evening of free entertainment. Some people brought in pizza. It was just a great time. I hope that the community will continue to support the series in the future."
The musical series at the Charles Large Gazebo continues next week with the Corvairs. (Photo by Cindy Pazyra)
---
Senior Ice Cream Social.....
| | | |
| --- | --- | --- |
| | | |
| | | |
| | Photos by Hank Herbowy | Happy 59th Anniversary to Josie and Alfred Sargent |
---

(l to r: Karen Hall, Mark Snyder, Harvey Leonard & Candace Fisher)
Harvey Leonard, WCVB Meteorologist, was an enthralling speaker before a large crowd at the Council on Aging on Wednesday, August 11. Leonard spoke for two hours about hurricanes, tornadoes, sleet, thunderstorms, hail, and even the large amount of female meteorologists on TV in the morning in the Boston market. He answered a lot of questions with self-deprecating humor, and took time to sign autographs and pose for pictures with the large number of senior citizens who turned out. Candace Fisher, who booked Mr. Leonard, and is a member of the Board of the COA, was pleased with the turnout. "The event went perfectly. He was really entertaining." COA Director Karen Hall said a number of residents from the Arbors at Stoughton were bused to the event. "Everyone seemed to enjoy themselves," she said. The next event for the Council on Aging at the Senior Center will be an ice cream social on August 26 @ 12:30 p.m. For information on that event, call the COA at 1-781-344-8882.
Seniors Enjoy Barbecue
The Stoughton Senior Center hosted a barbecue on July 29, and 130 seniors took advantage of the wonderful food and entertainment---for only $3! The crowd was fed through the help of COA Board member Warren West, and the donation of Queen Anne's Catering from Canton. DJ Chris Zienko entertained the crowd with music, and his stories of meeting Barbra Streisand, Tom Jones, and Walter Cronkite. COA Director Karen Hall played hostess amid a variety of wonderful volunteers, including Deputy Fire Chief Mark Doloff.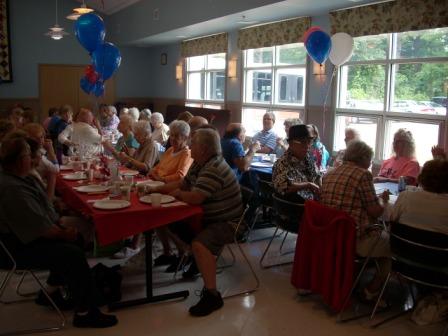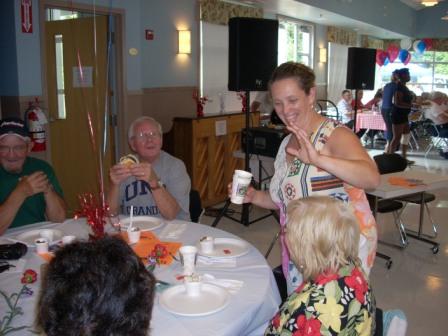 (photos by Mark Snyder)
| | |
| --- | --- |
| | |
| above two photos by Hank Herbowy | |

KIDS DAY 2010 (snyder photos)
Stoughton Community Events Committee
Annual Children's Field Day, July 3, 2010
Decorating Contest Winners:
Name Age
Tricycle
1st Place Kileigh Culhane 3
2nd Place Thomas Winckowitz 4
3rd Place Samantha LaFarge 5
Bicycle
1st Place Kayla Medeiros 1
2nd Place Liam Culhane 7
3rd Place Kayleigh Marinelli 10
Doll Carriage
1st Place Ella Holden 5
2nd Place Kirsten Alexson 3
3rd Place Alexandra O'Neil 7
Scooter
1st Place Jennifer Bradford 7
2nd Place Hanna Holden 9
3rd Place Jack Faulkner 4