NEWS ARCHIVES
A Day with the Folks from Stoughton Wisconsin (Here)
Veteran's Honored by Town
Led by Stoughton Veteran's Agent Mike Pazyra, the Town celebrated Veteran's Day in a big way, with a Parade and multiple ceremonies around Town. At a gathering at Town Hall, Pazyra honored World War II Veterans Paul Berger and Eldin Morrill, as well as recent Iraq returnee, Sgt. Paul McManus. The invocation, by Rabbi Jonathan Hausman of Ahavath Torah Congregation, touched on history and the Founding Fathers. Pazyra, addressing a crowd of a few hundred people, emphasized the benefits available to Veterans. (If you've served, you should call Payzra at 781-341-1300 to find out YOURS.)

Stoughton Veterans Agent Mike Pazyra Leads The Parade
Scouts Decorate Soldiers Graves
Jonathan Raine , Pack Committee Chairman for Pack #8 in Stoughton says, "The Cub Scouts replaced veterans flags at Holy Sepulchre Cemetary. All of these boys were either tiger cubs, wolfs, bears or webeloes. It was brutally cold that morning, and I was proud of them. " Scouts included William Christie , Brandon Cohen , Christopher Ford , Brendan Gallagher , Lucas Holmes , Will Johnston , Ryan MacDougall , Sean MacDougall , Benjamin Mallock , David Mallock , Benjamin Monahan , Samuel Monahan , Thomas Mone , Krish Patel , Courtland Priest , Brennan Raine , Noah Rideout , Stephen Stenstrom , Alex Stenstrom , Chris Stenstrom , Cameron Trieber , Jacob Trieber , Alex Warner , Ryan Warner, and"Squanto District " mascot, "Cubby Bear". In addition, Girl Scout Troops 564,602,620,691, and 1222 replaced the flags at the Evergreen Cemetary.
ZBA Approves "Mini" Stonegate
The Zoning Board of Appeals last night (11:30 p.m.on 11/8/07) passed a miniature version of the Villages at Stonegate, with a large number of restrictions. The project, whose original plans showed 220 units of housing, had been narrrowed by the developer to 140 by September 2005, when they got LIP approval from the Board of Selectmen. Working with the community and town boards, this was narrowed to 120 units by 2006. The ZBA's final approval was for a total of 80 units, a cut of 33% from the last presentation to selectmen in 2006. The upscale Garden Style units were reduced from 72 to 36 units. The Townhouses were reduced from 48 to 44 units. Each approved unit will have two bedrooms. Either side could appeal the decision to State authorities. With the town's affordable housing count at 11.7% (first reported on this site), the developer could have a hard time overturning the decision. ZBA officials taking part in a barely-audible open discussion were Chairman Sherm Epro, Vice Chair Jerry Savage, and members Herb Mussman, Bob O'Regan, and Peter Barron (a nearby resident on West Street.) The ZBA has also approved 512 apartment units during the past year. What do YOU think of the decision? Do you agree or disagree? Send your opinions to snydersstoughton@aol.com. Yours could end up on our site!
James Marathas, one of the developers of the Villages of Stonegate, released this statement to exclusively to Snyder's Stoughton today (11/10/07) regarding the ZBA Decision:
"We're pleased that the board adopted most of the points on the benefits of Stonegate that we've been arguing for well over two years. That's very encouraging. The end result is another matter. Once the decision is filed, we will evaluate where we are and figure out how to proceed. It may be that the project is not economically viable at the number of units arbitrarily prescribed by the board. We'll know more once we've reviewed the final decision. We do know this much: The board members unanimously rejected nearly all of the arguments presented by the neighbors and recognized that Stonegate passed every engineering, planning, environmental and legal test, and was rightfully approved. That part is encouraging. Now, we have to decide where the board's arbitrary number of units puts this project."
John Anzivino, a member of the Stoughton Neighborhood Coalition---a vocal opponent of the project--told Snyder's Stoughton on November 13, "I'm not prepared to make a statement. We're digesting things. We're waiting to see the decision that was actually filed. It was forty pages long. We thought we presented enough from our point of view. Now, we'll look at the final decision." As soon as the SNC makes its statement, we'll have it here for you.

THE DECISION (Click Here for the Document)
STOUGHTON'S PROPOSED OPEN SPACE PLAN (Click Here For Document)
JUST IN---The State's OFFICIAL Affordable Housing Count (We are at 1http://www.tbf.org/uploadedFiles/Housing%20Report%20Card%202006-2007.pdf1.7%!)
Oldies But Goodie: Stoughton Protects Libby Farm (here)
---
MAN CRUSHED BY CONCRETE SLAB
A man working construction at a house at 39 Raymond Road was trapped by a huge (two ton) slab of concrete Friday afternoon (11/2). It took firefighters, EMT's and equipment from a number of towns to stabilize the situation enough to extricate the man from the scene. The individual, who could not be identified at press time, was placed in a Stoughton ambulance and taken to Stoughton High School, where a Medflite chopper was there to take him into Boston. Stoughton Police officer Joe Pascarelli, who was the first responder at the scene, told Snyder's Stoughton, "When I first got there, I thought the guy was dead. It was only when he started speaking, that I realized he was conscious." Pascarelli said the seven foot slab weighed nearly two tons. Fire officials from Bridgewater, Braintree, Canton, Hanson, and Hanover responded. Others, as far away as the Onset Fire Department, also sent apparatus and personnel to the scene. The Plymouth County Sheriff's Mobile Command Center was also there. Officials at the scene said that the employee of Concrete Sawing Company of 396 Washington Street in Westwood, was "stable" and they did not feel his injuries were life threatening. No further word on his condition was available.
SCENES FROM THE ACCIDENT (Photos by Mark Snyder)
---
Looking Back: Stoughton Saves Libby Property
(story)
Veterans Day Parade
---
CHIEF'S TRIAL POSTPONED TO FEBRUARY...
Mike Hulak, Clerk of Norfolk Superior Court, has to told Snyder's Stoughton that the October 29th trial of Police Chief Manny Cachopa has officially been postponed to next year. The Chief, on trial for allegedly covering up the activities of former Sgt. David Cohen, who was convicted and sentenced, will wait until February for his day(s) in court. Hulak, who says he is just relaying the information, and was not in on the lawyer's meetings, tells us that "there were agreements by both counsel that the matter be continued to February 25, 2008." This online publication did not hear any different from Special Prosecutor Jabour or Chief Cachopa. Cachopa remains on paid leave.
**UPDATE: THE TRIAL WAS POSTPONED AGAIN FROM THE 2/25/08 DATE. No date has been set for the start of an actual trial. The delays are through NO FAULT of Chief Cachopa. Sources tell Snyder's Stoughton that the prosecution has asked for numerous delays.
Letendre Back To Work (here)
---

Stoughton Junction III, a continuation of the condo/commercial developments adjacent to the Stoughton Police Station, has broken ground in the lot behind Stoughton Town Hall.
WRKO Host Pat Whitley Visits Stoughton

Pat Whitley, host of "The Restaurant Show" on WRKO, visited N.E. Sinai Hospital & Rehabilitation Center recently. Pictured here (l to r)
are Steve Robbins, owner of Maxie's Delie; Lisa Wong, owner of Chinatown; Whitley, and Gloria Herbowy. (Hank Herbowy photo)

Hillary Jepsky--Local Poet
Hilary Jepsky, who can be seen working out at Gold's Gym, like this writer is also a published poet. Jepsky, daughter of a well known Randolph physician, is the subject of a feature story (here) For Snyder's poetry, click (here)
A Glimpse of the McFuture...
(here)
---
Speed Trap Exchange
You've Been Warned! (here)
---
CASE SOLVED!
An arrest has been made in the August 6, 2007 robbery of Citizens Bank in Stoughton. Detective Jim O'Connor tells Snyder's Stoughton that he'd been in contact with the Westboro and Newton police departments. "Our videos matched. Then, the suspect robbed a bank in Worcester and got bagged by the exploding dye with the money. You could say he got caught red-handed." O'Connor said "It all matched. He was living in the area during the Citizens robbery." The suspect, Richard Piper, is a 39 year old whose last known address was in Framingham. As for the other robberies detailed below, O'Connor says that evidence has been collected. "We're looking to solidify and develop our leads on suspects. We are just waiting back to hear from the state crime labs." The Stoughton Police Department's pool of information has helped a number of area police departments solve their cases. Both suspects in a March 9, 2007 bank robbery in Needham were identified with the help of the Stoughton Police Department and V.A. Police. Detective Sgt. Robert Welch helped identify Derek H. Johnson, 36, who robbed a gas station in Canton March 16, 2005. An individual who stole a pocketbook at Boston University Medical Center January 11, 2005, Michelle Davis, was identified by a Stoughton Police officer.
RASH OF ROBBERIES PLAGUES TOWN
Don't look now, but Stoughton has been in the middle of a rash of robberies around town. According to Lt. Tom Murphy of the Stoughton Police Department, there have been seven robberies in the past two months here. Last night (10/4), there was a robbery at the Citgo station on Park Street. Two black males showed a gun before they grabbed the cash. Previously, there was one on September 29th at 8:50 p.m. at Cumberland Farms. The suspect in that case, a black male about 5'10", told the clerk that he had a gun, but did not show one. He asked for a specific item and then demanded money.
Here he is:
Andy's Food Market at 330 Morton Street was robbed at knifepoint last Tuesday night (9/25). The bandit, estimated to be in his 20's , was a white male, approximately 5'9"-5'1-" and between 200 and 220 lbs. The robber was wearing a black baseball cap, jeans and black sweatshirt. Police report he had facial hair. No estimates of how much money was stolen. We were unable to reach the Bento family from Andy's at press time. No one was injured during the robbery. Reportedly, there was a "getaway" driver, identified as an African-American male by a witness. No suspects have been named, as of press time. Radio Shack was another business hit. No photos were available, but the suspect was a female in that robbery.
Here's the Andy's suspect:
If you recognize either suspect, call the Detective Division at Stoughton Police (781-344-2424). Lt. Murphy says that citizens should not be alarmed, but should be concerned. "If I didn't put this information out, I'd be wrong. I want people in business to call if they see anything suspicious. If a car is parked a long time, if someone is hanging around or casing the business, call us. I don't want clerks in harm's way. Property is replaceable. If a clerk has any doubt, call 911 and put the phone down. We'll get there." If citizens are concerned about "getting involved" to try to offer information on these (and other) crimes, Murphy says, "They can call anonymously. No need to be fearful."
No connections have been made between any suspects. Murphy says physical evidence has been submitted to state crime labs, but because of backlogs, it could be months before identifying information is relayed. Murphy cautions citizens to "be aware of your surroundings, and report anything suspicious to the police." In this writer's opinion, this recent spate of burglaries are a direct result of addicting drugs like crack and Oxy. Small time burglars looking for easy targets for their next "fix." At press time, Det. Jim O'Connor had announced a suspect had been arrested in the Citizen's Bank robbery.
(c) snyder's stoughton
---
STOUGHTON HIGH HALL OF FAMER ON CBS-TV's "SIXTY MINUTES"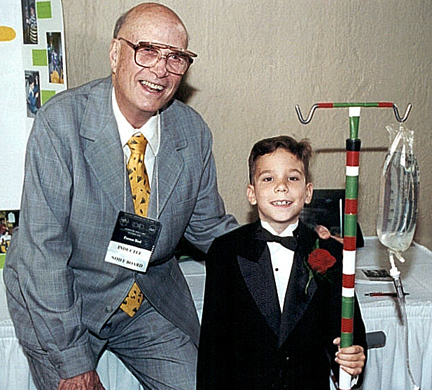 Dr. Forest Bird, 86, a graduate of Stoughton High School, who was inducted into the school's Hall of Fame, was featured on CBS TV's "Sixty Minutes" last night (October 7). The show was seen locally on WBZ TV Channel 4. Dr. Bird currently lives in Sandpoint, Idaho. Dr. Forrest M. Bird is an American inventor and aeromedical scientist, born in Stoughton, Massachusetts on June 9, 1921. He is best known for developing some of the first reliable mass-produced mechanical ventilators for acute and chronic cardiopulmonary care. According to Stoughton Historical Society's Joe DeVito, "Forrest and his father would occasionally fly a version of the plane seen in the clip from a field at the corner of West Street, where Forrest lived until he was a sophomore in high school. I believe that they lived in the Myron Gilbert-Louise and Julie Gitto house."
Watch "The Birdman" (HERE)
---
QUOTE OF THE WEEK:
Cable Host Dick Murphy to guest selectmen Joe Mokrisky: "The dope is saying right after Cachopa's trial, four members of the Board of Selectmen will vote to fire Mark Stankiewicz, and appoint John Kowalczyk as the new Town Manager. That's what I'm hearing"
Mokrisky's response: "That's pretty good dope you're smoking. I wonder where this dope comes from. This is off the charts."
---
Exclusive: Stoughton Cinema Pub To Close
We Broke The Story!
Mike Harmen, owner for the last eight years of Stoughton Cinema Pub, told Snyder's Stoughton Friday night (9/28) that he will be forced to close the landmark downtown site. "My new landlord Joe Banks said he'd negotiate the rent, but I can pay the rent. The utilities are what's killing me. I was paying 2700 a month for gas. That's just to heat the place four hours a night. I tried closing Monday and Tuesday nights, hoping that would increase the rest of the week, but it just isn't working." Harmen says that it has been a labor of love for him and his wife Pauline. But, he just can't do it anymore. "I shut down the heat. So, when it starts to get too cold in here, then I will shut the business down. Hopefully, it will stay warm, and I can keep the place open until the end of October." Harmen, who was a part time worker for Bill Haney, the former owner of the Cinema, and Entertainment Cinemas, rose to GM of that company, which had 14 Theatres and 100 screens in four states. He said that Stoughton Cinema Pub was one of the last remaining single screen theatres anywhere. "Showcase Cinemas in Randolph ate up most of the business. Add to that people buying plasma TV's, and On Demand services from cable, and it's disastrous to small theatres like this one." Harmen, who owns a vending company in Boston, and works there during the day, says he intends to expand that company and "enjoy my nights and weekends."
Harmen says he hopes that an insulated rubber roof installed by former building owner Gerald Goulston will help him stay through the end of October. "Gerry did some good things here. The roof helped cut heating costs a bit by insulated the building from the top." As someone who enjoyed coming to the square and catching a movie at the Cinema Pub, I will miss it. But, so will Little Theatre of Stoughton, the Independent Theatre, and Starz. Little Theatre of Stoughton, according to Director Jan Jones, is "not going anywhere out of town." Jones says that she has negotiated with building owner Joe Banks to rent the Cinema for their holiday show in December. "A Christmas Carol is cast and in production," she tells Snyder's Stoughton. "We will be paying for the utilities. The agreement is drawn up and we will go there when Mike Harmen leaves. The Cinema will be shut down after our show."
So, go to the theatre and take in a film before it's too late. And, make sure you say "thanks" to Mike and Pauline. "It really was a labor of love.' Harmen says. "But usually the summer blockbusters provided enough 'fat' to support us through fall and winter. Not any more. We used to have 150-175 people a nigt here on weekends. Now, it's more like 45-55. It's just not enough." Stoughton will miss having its own one screen cinema.
(C) 2007 by Snyder's Stoughton
UPDATE 10/17/07 ***A developer from out of town is attempting to buy--and renovate--the building housing the Stoughton Cinema Pub, DJ O'Donoghue's Bar, hair and nail salons, and the 99 cent store. While owner Joe Banks and his brother-in-law Gerry Goulston fight it out in court, it's to Stoughton's advantage to have the building sold to someone who wants to renovate the building, and preserve the theatre! That 99 cent store is a blight in the center of our downtown. Hopefully, all parties will do the right thing-----for Stoughton. More on this soon...
---
THE NSTAR PROJECT: DETAILS HERE
Stoughton's Open Space Plan (here)
---
UPDATED: STANKIEWICZ CONTRACT NOT RENEWED
Town Manager Mark Stankiewicz, whose contract expires June 30, 2008, was notified last week by the Board of Selectman that his contract will not be renewed. In a tight vote in closed session last Tuesday night, the Selectmen voted to let Stankiewicz' contract expire next summer. The contract specified that Stankiewicz had to be notified by September 30, 2007 whether his contract would be renewed or not. The embattled town manager could still stay and work without a contract. If he decides to leave before the contract expires, he'd need to give the Board of Selectmen sixty days written notice. Sources tell Snyder's Stoughton that Chairman Dick Levine, and selectmen Tony Sousa and Scott Carrara voted against renewal. Selectmen Joe Mokrisky and John Kowalczyk were the minority voters in the 3-2 decision. Ironically, Sousa gave Stankiewicz his highest grades, and Kowalczyk his second-lowest. The upcoming election in April, 2008 could play a role in whether Stankiewicz stays. The seats of Sousa and Levine are up then.
Some in town are presenting the vote as one directly involving the "Police Issue". They say (Former Chairman Gerald Goulston and local cable host Dick Murphy were quoted by the Globe) that because Stankiewicz testified against members of the Police Dept. at the Grand Jury, and because he put a number of officers on "leave", that the direct result is the actions of the selectmen not to renew his contract. But, they didn't answer one question. If that is so, then why did John Kowalczyk---who was swept into office by We The People and is a friend and backer of Chief Cachopa-vote FOR a contract for Stankiewicz? Much has been made by Stankiewicz (in his own defense) that he never got below "satisfactory" grades. Is it a smart idea to pay a man over $100,000 for an admittedly "average" performance. I like Stankiewicz. He is a homeowner here and has children enrolled in our schools. Yet, he and his pals, called two writers who specialize in "insurgent" pieces, and don't call me. Why would that be? Stankiewicz did not return a call to his cell phone. He sent a "statement" to other outlets. As of October 3, I have not received a courtesy call back from Stankiewicz. Seems he only speaks to those who will print verbatim what he wants written or said. Hmmmmm. An article in a local daily said Stankiewicz is "gone" on June 30, 2008. Wrong. He could have a new contract before then, if an incoming board is amenable. Or, if he gets on the wrong side of one of the selectmen who supported him last week, he could get fired. It's a narrow tightrope he walks as a town manager in a highly-political town.
Stankiewicz did get improved scores from two members of the Board of Selectmen, but overall he barely got a passing grade in the 2007 evaluations. In 2006, the former Webster Town Administrator got an overall average of 60.7. This year, Stankiewicz recorded an overall average of 57.3. The scale places a score of 65 as a "D" and a 55 as an "F". Chairman Dick Levine gave Stankiewicz his lowest grades, with a total of 435 points, but it reflected a 30 point improvement from last year's score. Vice Chairman Tony Sousa gave him highest grades, with a 733 total, 57 points less than Sousa gave him last year. Selectman John Kowalczyk gave Stankiewicz his second-lowest score, with 539 points, an increase of 35 over his last year's scores from the former Chairman. Newcomer Joe Mokrisky gave Stankiewicz a total score of 586 points. Scott Carrara did not fill out the evaluation this year. Last year, Carrara gave Stankiewicz his third-highest score of 641 points. Stankiewicz scored highest in the catagories of "Board Relations" (633) and "Community/Development Relations" (636). His weakest catagories, according to the Board of Selectmen assessments, were in "Personnel" (520) and "General Management" (573). Stankiewicz was hired by the embattled Gerald Goulston regime, and was immediately thrown in the middle of a divisive controversy. He has been a named "source" in a number of lawsuits against the town, and most recently testified before the Grand Jury for the Prosecution in the Police Trial, which landed Sgt. David Cohen in jail. Norfolk County D.A. Bill Keating has told me years ago that he named Special Prosecutor George Jabour after getting a request for an independent investigation from Stankiewicz and former Acting Police Chief David Chamberlin. That investigation culminated in the conviction of Sgt. David Cohen, and the upcoming trial of Police Chief Manny Cachopa. There is another way of looking at the raw numbers, as well. Grades are also given on a "four point" system, similar to that of public school students in the secondary grades. Stankiewicz scored nothing below "satisfactory" in any catagory. Numerically, overall, he averaged 2.324, which could be considered a "C" grade. Last year, when he was given a one year contract extention, he scored a 2.492. (complete story in this week's column!)
It's sad when writers from out of town, don't do their research. The Globe's article is headlined "Split Board Says Official Should Go." The Board did NOT fire Stankiewicz or tell him to leave. He can work as long as he likes without a contract, or wait and hope for supporters to be elected in April. The Globe also stated that: ""And two years ago, the town manager had the task of sending officers to retrieve Cachopa's badge and gun when he first was indicted, which his supporters took as an insult." This is another inaccuracy in the story. Sources tell Snyder's Stoughton that the Chief's gun and badge were at the station, where they remain. The Cachopa family was away with a church group when the indictments came down. The truth never hurts a good story, eh Globo?
(C) 2007 by snydersstoughton.com
Mark's Greatest Moment As Town Manager: The Danish Flag Incident (NPR News Here) (Globe Story Here)
---
TURNPIKE STREET TRAFFIC NIGHTMARE
While Target Store, T.G.I. Fridays, and the other building are being constructed, and the intersection is being widened in anticipation of these projects, the commute has become a nightmare for those living and traveling in North Stoughton. Is this just a foreshadowing of what is to come?
---
How Much $$ Does STOUGHTON Get From The State??
Stoughton's Dancey On Wheel of Fortune
Stoughton High graduate Greg Dancey played on Pat Sajack's Wheel of Fortune after auditioning in Boston. He represented the UMass Amherst team in their college competition.
---
Acting Police Chief Chris Ciampa: "LET'S MOVE ON"
(story)
More Chats
(story)
---
STOUGHTON JOURNAL COLUMNIST BREAKS NATIONAL SPORTS FRAUD STORY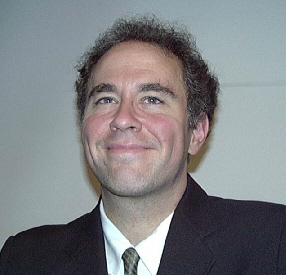 Stoughton Journal columnist, and historian David Allen Lambert, has broken a national sports fraud case, and is featured in the September 24th issue of Sports Illustrated, in Rick Reilly's "Life of Reilly" column, subtitled, "Passing a Counterfeit Bill." It is an interesting story, also netting Lambert a mention on Fox 25 news.
Read about it (here) from the Tampa Tribune
---
JUDGE RULES AGAINST COHEN
Appeals Court Judge Mitchell J. Sikora, Jr., who had released Sgt. David Cohen last week from prison, reversed himself yesterday (9/11) in a 4:45 p.m. decision that will send Cohen back to prison to await his appeals in the case. Attorney David Frank, a columnist for Mass Lawyers Weekly, said on cable's The Local News program that it was unusual for a Judge to reverse himself in the course of a week. When asked by host Dick Murphy if that decision meant that Cohen would be going back to jail, he replied, "There's no issue to decide tomorrow (9/12) when he reports back to court. The single Justice decided that the Government's case (as stated by Special Prosecutor George Jabour) was right. He will have to continue to serve the original sentence." That sentence, of two and a half to three years, was given by Superior Court Judge Barbara A. Dortch-Okara for convictions including attempted extortion and two counts of witness intimidation. Frank said that, "It's likely that Mr. Cohen could ask a single Supreme Judicial Court justice to step in, rather than wait for the Appeals Court to play itself out." According to Frank, Cohen-- who was already fired from his job with the Stoughton Police Department--could lose his license to practice law next. Frank said, "If a lawyer is convicted of a felony, I'd expect the Board of Overseers will begin disbarment proceedings."
A group called Friends of David has formed to help gather and forward mail for imprisoned former Stoughton Police Sgt. David Cohen. Anyone wishing to send him a personal message can write to: P O Box 723, Stoughton, MA 02072. Cohen is currently incarcerated at Bay State Correctional Facility in Norfolk.
Atty./Writer David Frank writes on the Cohen Case (here)
ALERT**Judge Rules October, 2007 in Similar Case Regarding Close Juries**(here)
Cohen's appeal was scheduled to be heard by the end of November, 2007. (As of March,2008, the appeal continues.)
Sgt. Welch's Suit Dismissed. The lawsuit against the Town of Stoughton, Stoughton Police Chief Manny Cachopa, Acting Chief Chris Ciampa, and selectmen Dick Levine and John Kowalczyk was acted on yesterday (Wednesday the 5th) by the U.S. District Court in Boston. The judge determined that evidence was insufficient to bring before a jury and dismissed it. Welch had sued after being removed as head of the detective division at the Department, after citing the Whistleblower Act, among other factors. Welch was among a handful of SPD officers who testified before the Grand Jury, for the prosecution, in the Stoughton Police trial. (Suit here)
---
SUCCESS! ERIC BOYKIN SURGERY GOES WELL
Open heart surgery is always scary. Stoughton Finance Committee Chairperson Holly Boykin and her husband Bill are thankful their sixteen month old son is going to be fine. I know many in the community were praying for this.(STORY HERE)
---
STOUGHTON TEENS CHARGED WITH POSSESSING COUNTERFEIT CASH
(story)

UNGLAMOROUS? NOT MCKENNA!
Lori McKenna's "Unglamorous" Debuts at #1 on Billboard's Heatseekers Chart
Major-Label Debut From Acclaimed Singer-Songwriter Also Cracks Top 20 on Top Country Album Chart
NASHVILLE, TN--(Marketwire - August 22, 2007) - Having already received glowing reviews from critics, "Unglamorous," the major-label debut from singer-songwriter Lori McKenna, has debuted at Number One this week on Billboard's Heatseekers chart, which tracks best-selling titles from new or developing artists. In addition, "Unglamorous" debuted at Number 19 on the Top Country Album chart, Number 25 on the Top Internet Album chart, Number 26 on the Top Digital Album chart, and Number 109 on the Billboard 200. Since "Unglamorous" was released on August 14th on Warner Bros. Nashville and Stylesonic Records (the label run by country superstar Tim McGraw and noted Nashville producer Byron Gallimore), critics have raved about the Stoughton, MA-born and bred McKenna, who, in addition to being a singer-songwriter, is also a plumber's wife and stay-at-home mother of five. Traversing familiar domestic territory, "Unglamorous," which was produced by McGraw and Gallimore, "lays bare the realities of small-town life while clinging to the hope of better days," as one reviewer put it. "What really gets you is the strength of the songwriting," said People Magazine in a lead review, while the New York Times praised McKenna for her "knack for aching melodies and telling details." Entertainment Weekly raved: "the most engaging pop paeans to mature, married love you've ever heard," while USA Today called "Unglamorous" a "winning showcase for McKenna's own achy-sweet, warmly knowing voice." Finally, the Boston Herald wrote: "Modern country music doesn't get much better than this." McKenna appeared on "Good Morning America" the day the album was released, and was recently featured in an eight-minute segment on "Nightline." McKenna first emerged on New England's vibrant singer-songwriter scene with the independently released "Paper Wings & Halo" (1998), followed by "Pieces of Me" (2001), and "The Kitchen Tapes" (2003). In 2005, she signed to Warner Bros. Nashville, which re-released her 2004 album "Bittertown." She recently completed a stint opening for McGraw and Faith Hill on the couple's hugely successful "Soul2Soul Tour 2007."
FIRE CHIEF JARDIN:
"We Spent 3.2 Million Dollars And Got A Pile of Shit"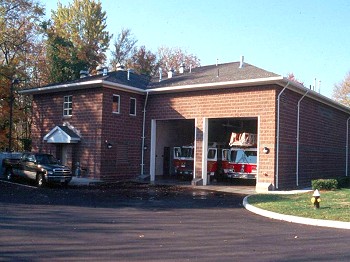 Fire Chief David Jardin tells Snyder's Stoughton that it has been very frustrating for the past nine months as he sees "a beautiful new fire station that we can't use." Jardin says that an engineer and town resident, who wishes to remain anonymous, took a walk with him through the new Central Street Station--which is plagued with mold problems that rendered it uninhabitable--and said, "You got screwed." The general contractor on the job is out of business, and the original engineer died. However, Jardin says that the town filed suit five days before the six year window limit for suing those responsible expired. He says that engineers have estimated it will cost between $700,000 and a million dollars to get the building whole again. "Everything was done on the cheap. Whatever was recommended was cut out, in order to deliver a higher profit to the builder. We spent 3.2 million dollars and got a pile of shit." As for the delay in getting things done, Chief Jardin said, "We had hit a lull because we needed to get drawings and paperwork in order. The police thing also put us on the back burner. But, I informed the Finance Committee in March or April that I'd need the money for the engineering study. They knew it was coming, and recently approved $48,000 to get the final engineering plan. We will have building engineers layout out exactly what needs to be done to make the building whole again. What was called for, and what we had, were apples and oranges." Jardin has a plan in mind for the repairs to get done. "We will need the selectmen to borrow the 700k-1 million that we need. When the suit is settled, we'll pay all that money back." Jardin is confident that the town will recover the damages it suffered. "But, it has been a very frustrating experience. I was a lowly Captain when the thing was built. Chief William Stipp left town before the work was done. Once he left, that was it."
(C) 2007 by SnydersStoughton.com
POLICE TRIAL NEWS
COHEN SENTENCED TO 2 1/2- 3 Years Concurrent Terms
Judge Barbara Dortch-Okara denied a plea to stay sentencing. Sgt. David Cohen was incarcerated after this morning's hearing at Superior Court in Dedham. Special Prosecutor George Jabour called it "a just verdict." But, is it justice? We'll look at the Battle of the Blogs in Friday's column. What do you think? Send your opinion to snydersstoughton@aol.com.
THE VERDICT:
Robert Emmett Letendre: Not Guilty on Filing A False Report & Being an Accessory After the Fact of Kidnapping
Sgt. David Cohen: Not Guilty on Extortion, Kidnapping, Conflict of Interest, A & B w/Firearm, Abuse of Police Authority
Guilty: Attempted Extortion, Witness Intimidation (two counts), and Filing a False Report.
The Trial of Police Chief Manny Cachopa was originally scheduled for October 29, 2007.
Your Reactions? Email snydersstoughton@aol.com
(Letters without names will not be considered)
Read YOUR Letters (here)

TWO BROTHERS HOLD PROTEST
Ed Kundrot, and his brother John (here), best known in Stoughton for their early morning dropoff of Knights of the Ku Klux Klan literature in residents driveways (here), staged a protest Saturday (August 11) in Town Square, requesting that Sgt. David Cohen return all funds paid to him by the town while he was on leave. Cohen was found guilty of four (of 10) counts in a Norfolk County Superior Court. Town Manager Mark Stankiewicz told a local reporter, "Given Cohen's criminal conviction, selectmen have the option of filing suit against Cohen for the return of the pay he received while under suspension."


Ed Kundrot and John Kundrot

Ed Kundrot with sign (mark snyder photos)
Ed Kundrot, in spite of his past documented support for the Knights of the Ku Klux Klan,said that this was not about Cohen being Jewish. "I went to high school with David and I thought he was trouble back then. I was actually hoping he'd be found innocent. But, he was found guilty, and needs to pay the money back to the town. Many people are struggling and can barely pay their mortgages. My sister had her water shut off when she fell behind. I'm a taxpayer. What about us? I am not currently a member of the KKK and I do no agree with everything they do."Kundrot has previously been criticized in my column for his late night flyer drops. Not necessarily for their content, but for the cowardly methods used to distribute them. This time, at least, he stood outside in the square with his signs, handing out flyers. (Why didn't he just hold a KKK sign, and hand out flyers, the same way? "It would be too confrontational," he said.) In his flyer, Kundrot writes, "We need our tax dollars to go towards bettering our town, so it can look to the future. Not pay for corrupted cops!" He then lists the phone numbers of four of the five selectmen (Joe Mokrisky is not on his flyer), and town hall. "These selectmen should be removed if the money is not returned!" He says that he has "plenty of support. People are just afraid to come out." So he and his brother will keep on trying to put pressure on the Board of Selectmen until they relent and try to get Cohen to pay. Selectman Tony Sousa, just arriving back in Boston after a three week vacation, tells Snyder's Stoughton, "Personally, I think we should ask Sgt. Cohen to pay the money back. When we made the decision originally, we did it in good faith. I think since he was convicted, he should pay it back in good faith. But, I don't think we'll ever see it. If I owed the town a lot of money, they'd come after me." But, Selectman Chairman Dick Levine says, "We will not be able to get reimbursed for what we paid any of the officers. When we decided to pay them while they were on leave, we became unable to legally recover any funds. We recently spoke to town counsel about this." When asked if the Board should sue to try recover the funds, Levine said, "There's a fat chance in Hell of us succeeding. I don't want to waste taxpayer money on legal expenses." Selectman Joe Mokrisky tells Snyder's Stoughton that he doesn't think it could go anywhere in a court. "The Board made a decision. It was duly voted. It would be tough to change, and say 'sorry', we changed our minds. I don't see it overturned. However, if there's something the town can do, it's worth discussing. It could be brought up." As for the Kundrot Brothers, Mokrisky says, "They are certainly good at printing up flyers." Selectman John Kowalczyk said he understands there are people with legitimate concerns about the money spent on the officers on leave. But, he adds, "we would have been paying for four more officers that Town Manager Mark Stankiewicz and (former Police Chief) Joseph Saccardo put out. None of them was ever indicted." He adds, "It was done as it had to be. Officer Letendre was found innocent, and I hope Chief Cachopa is, as well. This phase of the episode in the town's history is behind us. I don't feel guilty. I give them the benefit of the doubt. I still don't think it was the proper jury decision. I hope he's successful in his appeal. Sgt. Cohen has lost so much, and all these people want to kick him while he's down."
(C) 2007 Snydersstoughton.com
Stoughton Journal Story (here) Enterprise Story (here) Boston Globe Story (here)
The Enterprise Has Made Their Opinion Crystal Clear (here)
---
Food For Thought: Next time you hear politicans discussing million and/or billions of our tax dollars, think of this: If there were a machine that could dole out a one dollar bill per second endlessly into the future, it would take 11.5 days for the machine to dole out one million dollars.
But that same machine, doling out a dollar after dollar each and every second, wouldn't reach one billion dollars for 31.7 YEARS!!
---
McManus Gets Bronze Star!

In an awards ceremony the 382nd MP Battalion held in Iraq on Sunday, August 5, 2007,
Master Sergeant Paul J. McManus Jr. was awarded the Bronze Star!

Our brave soldier, pictured above, is the husband of Susan, and father of Hayley. We appreciate the sacrifice he is making for his country, and that of his family as well. If you get a chance, please send your congratulations to him at pjm111090@comcast.net.
---
Stoughton Kids Go Hollywood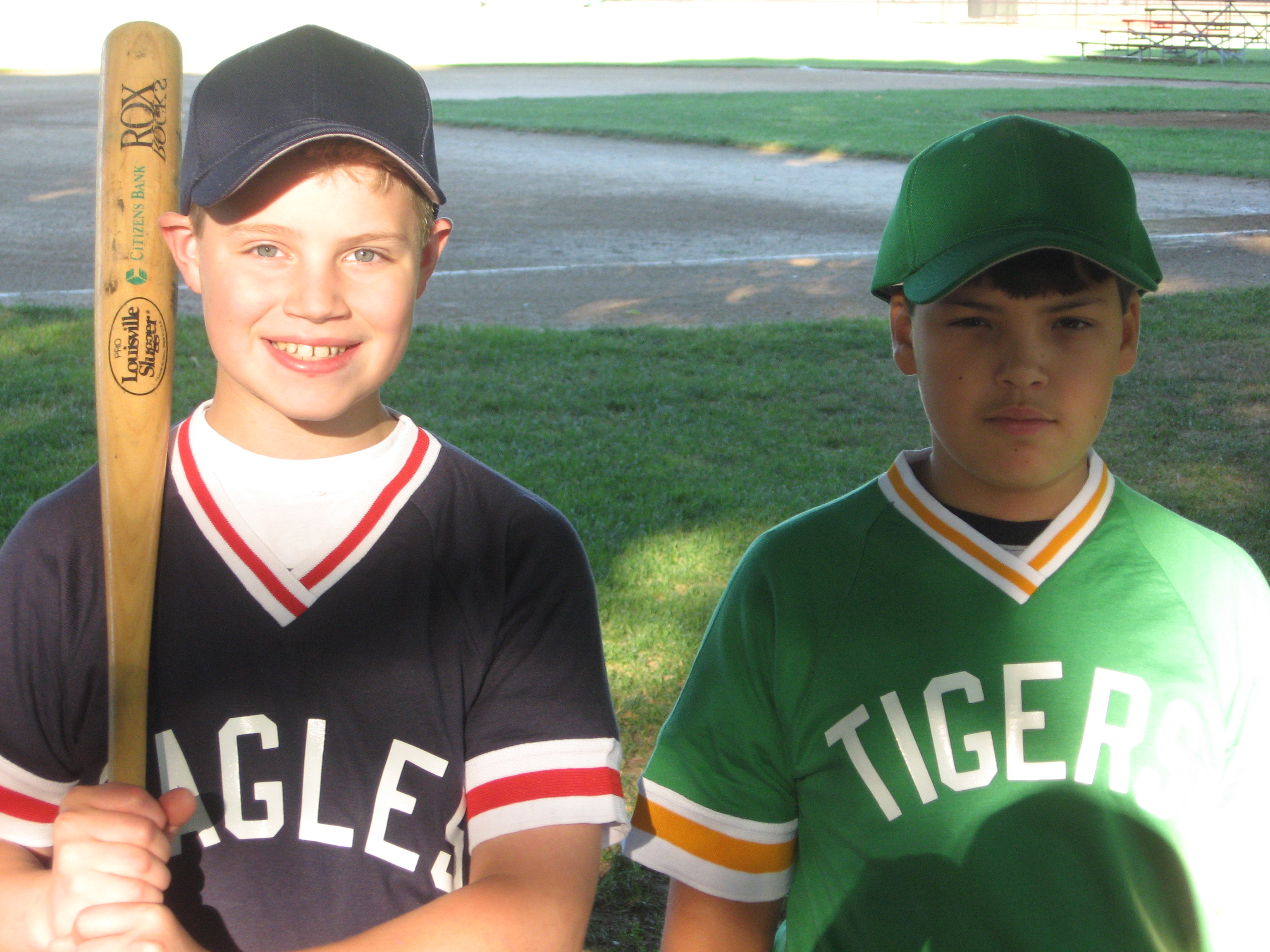 Two members of the Stoughton Little League AAA Rox players will act in a TV commercial for Capitol District Physicians Health Plan in upstate NY. Jaime Henriques and Alex Pattavina were cast by Boston Casting for the youth baseball oriented spot.
---
THE LOX INCIDENT AT SHAW'S (details HERE)
---
AMERICAN LEGION: GAMBLE DIDN'T PAY OFF
American Legion commander Bob Sprissler told Stoughton selectmen Tuesday night that the club's revenues have shrunken along with the membership, and that they turned to placing gambling machines in the club to make some money to pay bills. Detective Tony Bickerton of the Stoughton Police Department outlined the charges regarding "gambling machines that were paying out cash daily." Bickerton obtained a search warrant from the Stoughton District Court after an informer played the machines and was paid on two different occasions. The warrant was executed on February 2nd, under the guidance of Stoughton Police Sgt. Dan McGowan and Lt. Tom Murphy. With 25 people in the club, the police, according to Bickerton's report, found receipts and $1000 cash. Bickerton, assisted by Detective Eric Feist, walked in on two people actually playing the machines. The poker machines gave a piece of paper with the points awarded, and the bar was allegedly paying 25 cents a point in cash. Bickerton said $1740 cash was found in both machines. Bickerton also said KLM Vending's rep said he knew its machines were being used for gambling purposes. KLM, based in Braintree, is family owned and operated since 1980. KLM is the only local vending company that is licensed by the Massachusetts Commissioner of Banks to own and operate ATM machines.Selectmen were stunned by Bickerton's charges, which included finding "nine packets of cocaine on the floor." Selectman Joe Mokrisky said, "It puts a black eye on all the good work the Legion has done." Sprissler said "We took a gamble and lost." They did. The Board suspended the liquor license of the American Legion for five days, commencing with the second Friday in August. Before the adjourment of the hearing, Tom Hunt of the American Legion, leveled charges of police abuse in the incident. "They patted down an 83-year old Brigadeer General and made him ask for permission to go to the bathroom." Selectman John Kowalczyk quickly replied, "Did he have on a sign that said general? The police would not have been there if there wasn't illegal activities going on." Bickerton said that careful consideration was made of the veteran's status inside. "We tried to be respectful for their Legion and their members. If we had done it by the book, we'd have made an arrest for the cocaine. We did a 'soft' execution of the warrant."
SONS OF ITALY: WE'RE GUILTY
In another case before the Board of Selectmen Tuesday night, the Sons of Italy was charged with a liquor violation. Stoughton Police Sgt. Mike Morolla, after being alerted by Officer Kevin Lima, observed 8-10 cars in the Sons of Italy lot on March 15, 2007 at 1:56 a.m. With the doors locked, Morolla knocked repeatedly and it was finally answered by John Amaru. The Sgt. said the tables had cards and money on them, and the bottles at the bar were still cold. As Stoughton's town counsel Brian Riley ran the hearing, Mike Sammarco of the Sons of Italy said, "We are guilty. Move on." With that, the selectmen suspended the club's license for one day, August 5, 2007.
---

SAVE GLEN ECHO
Glen Echo Pond was once a preeminent resort on the South Shore, with trolley cars, and very expensive homes surrounding the property. Mrs. Gibson, who owns a good part of the current property, is considering selling it to the Town, to help preserve our history. John Morton of the Conservation Commission and Open Space Committee told selectmen Tuesday night that, "The property has 72 acres and surrounds 2/3 of the pond. It is the most important piece of open space in town. This is the number one property in our Open Space report." Said selectmen Scott Carrara, "This is a piece of our history that we can hold onto." Selectmen voted unanimously to have the town's boards work with Nellie Aikenhead of the Trust for Public Land (TPL) to work on a plan to purchase the property at some future point, if the funds are available. If you'd like to get involved in trying to save this piece of Stoughton's proud heritage, contact John Morton at 781-344-7511 or email him at johnhmorton@verizon.net. Aikenhead previously helped the town when it purchased the Libby property, which currently houses the Bradley Lessa Memorial Playground.
---
A First Look at:

Target at Shoppes at Page Pointe
Doesn't look like your average department store, does it? (Artist's conception submitted by Edens & Avant)
You looking forward to Target's and TGI Fridays? Let us know, write snydersstoughton@aol.com.
---
STOYAC COACH BECOMES THESPIAN

Jim Marchione, who is well known around town for his long stint as a STOYAC basketball coach, is lighting up the screen, as he becomes a budding thespian. Marchione first heard a radio ad last fall, looking for "extras" for the movie "Game Plan", which stars former WWE Star Dwayne "The Rock" Johnson. The movie was filmed around Boston, and at Gillette Stadium in Foxboro. Marchione tells Snyder's Stoughton, "Most of my assignments were those of a fan although for one day I was able to convince the casting people that I could handle the role of the home team assistant to the head coach (played by Gordon Clapp, Det.Medovoy of NYPD BLUE) . Must be all those years coaching in Stoyac and baseball. Clapp was a nice guy." The movie is slated to be released October of 2007. Then, in December of last year, Jim was assigned the roles of a restaurant diner and a sports reporter (interviewing Mike Torrez) in the ESPN production of, "The Bronx Is Burning," an eight part series about the New York Yankees involvement in the Bronx during the 1970's (to be shown starting the last week of July 2007.) In the spring of 2007 Marchione was involved with the filming of "21", starring Kevin Spacey (release is scheduled for March 2008), based on the book about the MIT students that broke the bank in Las Vegas . Marchione says, "I did an overnight shoot in Chinatown, as an extra in the crowd and a week later appeared as an MIT professor at a robotics competition, which was actually shot at Boston University. I have no idea if I get any 'face time' in these productions, but I met a lot of interesting people and enjoyed doing it. When I get my first starring role, I will definitely let you know."
UPDATE***UPDATE October 12, 2007: Marchione tells Snyder's Stoughton that he played a professor in "The Great Debaters" (playing college kids were Stoughton's own Julie Aztalos,Carlos Ramos, and Steven Campbell.) Jim worked in an EBAY commercial, a crowd scene filmed at Raynham Ppark(Kristine Oreilly of Stoughton Stars theatre group is shown in the balcony cheering.) Marchione also filmed two episodes of one of my favorite shows, Showtime's Brotherhood (Season 2) as a businessman and state house visitor; and "The Pink Panther 2", as a museum official, along with performing a wine bottle juggling act with his foot.

---
MARIE CHIOFOLO

NEW TOWN CLERK
Talk about stepping into some big shoes. New Town Clerk Marie Chiofolo follows Paul Dawson (who became a town administrator in Marion) and Jeanne Fleming (a legend whose portrait hangs in Town Hall.) Chiofolo was Town Clerk in Norfolk, a small town. She should avoid the political quicksand that forms when you choose "sides" instead of just doing the job and staying clear. Good luck to Marie! May her stay be long and successful. She has already captured the "Best Dressed' Award at Town Hall!
Should Town Clerks be Elected or Appointed?
---
OUR STATE REP. KAFKA'S WORK ON BEACON HILL


(List of Bills---HERE)
---
Stoughton's Estimated '08 Cherry Sheet (here)
Department of Housing & Urban Development: Stoughton Profile (here)
---
STOUGHTON REALLY IS
NO PLACE FOR HATE

!

The Massachusetts Executive Office for Safety has released their latest statistics for hate crimes (covering the year 2005), and Stoughton recorded only ONE case all year. That anti-Semitic incident was the only one recorded. Stoughton Police Safety Officer Jim O'Connor tells Snyder's Stoughton, "Stoughton having only one is not bad." Actually, it's pretty good! Let's try for ZERO. Here's the report: (click)
OUR LADY HAS A MAKEOVER
Our Lady of the Rosary Church, which was closed by the Boston Archiocese in the midst of the expensive Church scandal, is being made over. The Church is undergoing extensive renovations, and will re-open in a few weeks as Jubilee Christian Church. The beautiful stained glass windows have been preserved, new electric is being installed, and new woodwork. Jubilee will be located at 1278 Park Street at South Street, adjacent to the RK Plaza. The Jubilee Christian Church is based at 1500 Blue Hill Avenue in Mattapan, and their prayer service can be heard on WEZE-AM 590 from 6:00-6:15 a.m. weekdays.
---
STOUGHTON---IT'S A MILLION DOLLAR TOWN!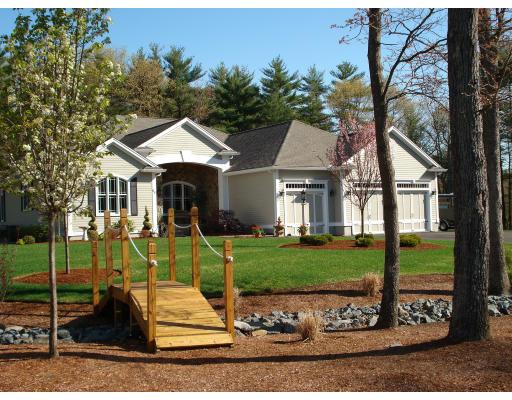 This Stoughton home is listed for $1,350,000. Check it here (click)
MSC Development Smart Growth Planning for DOWNTOWN STOUGHTON

: (here)
---
POLICE EXPLORERS BUY BOOZE--
FIVE BIZ OWNERS STUNG
Stoughton Police, under the direction of Lt. Bob Devine, ran a liquor sting in the town, in conjunction with Mothers Against Drunk Driving (MADD), using under-21 Stoughton Police Explorers to purchase alcohol. One out of every six establishments, of the thirty or so that sell liquor in town and were tested, sold it to the minors sent in by police. Those identified by the Stoughton Police as selling to minors were Cheng Du, St. John's Portuguese Club, Nocera's Restaurant, VFW Post #1645, and Whiplash Nightclub. The Stoughton Police will present their findings to selectmen who can impose sanctions, including ordering an establishment closed for a set number of days. Acting Chief Chris Ciampa tells Snyder's Stoughton, "It's ironic, but all five locations did ask for licenses. They just never looked at them, because all the individuals had birth dates that clearly indicated they were under 21." Ciampa says that the stings will continue during the summer. "We do this every year. We'll try to keep liquor from getting in the hands of underage kids. Those that sell liquor in this town need to train and retrain their employees to read the licenses carefully." St. John's was previously nabbed in May of 2003 in a compliance check under the supervision of Officer Roger Hardy.
---
NURSING HOME COMING TO TOWN?
Elm Development, LLC and The Gaglia Group are proposing to build a 91 unit "rest home" at the rear of 2121 Central Street and 0 Henry Street, called Arbors at Stoughton. The proposed facility would be located adjacent to the D'Angelos Plaza, and behind the current work site of John Polillio's Construction Company at 2111 Central Street. The 2121 property was sold to Elm by Danny, George, Raymond and Anthony Polillio of A. Polillio Construction. John Polillio, who attended Thursday night's Zoning Board meeting, said, "This will disrupt our use. Heavy equipment is how I make my living. This 'eyesore' (as it was referred to by ZBA member George Eichorn) pays taxes." Polillio wanted to be assured he would not be "harrassed by residents and staff there calling the police for loud noises. We use jackhammers." The project had a number of supporters, including an elderly couple who lives in Knollsbrook, which abuts the rear of the proposed facility. Jenna Schneider, another abutter, wanted to make sure that there was enough room for fire engines to work in the rear of the property. "We at Knollsbrook know first hand how important it is for access of emergency personnel." The facility will not be an "assisted living center", but a "rest home", according to their attorney T.J. Recupero. "They will not be dispensing drugs, just reminding residents when to take them." Recupero and ZBA member and attorney Bob O'Regan battled out the terms and lawyer-ese of the proposal (which O'Regan thought was not changed significantly enough from the original that was rejected without prejudice, and also didn't like "granting a permit for a nursing home that is really an assisted-living facility), knotting things up early, and prompting Gaglia Group's principal Ernie Gaglia III to say, "It's frustrating that we're caught on a technical issue. We got some input from Stoughton's town counsel. It's frustrating for me to be in a box. It's a good project. People want it. I've been working on this for a year. I'm not sure you (the ZBA) are really helping the good of the town."The units would be one or two bedrooms, and be anywhere from 486 to 546 square feet in size. There would be common areas for entertainment, dining and recreation. The property is now an abandoned house and construction yard.
To see the plans, (click here)
For your opinions, write to snydersstoughton@aol.com and attend the continuance of the hearing at Town Hall on June 14 at 7:30 p.m.
---
STOUGHTON HITS THE AFFORDABLE HOUSING MARK!
Good News on the Housing Front!! The Department of Housing and Community Development has notified the Town of Stoughton that we have reached 11.67% affordable housing! This number will allow the town to deflect any more incoming Chapter 40B projects! (Click Here) for DHCD Report.
***UPDATE---AS OF FEBRUARY 27, 2008, Stoughton is at 12.65%!
---
NSTAR EXPANDS TRANSMISSION LINES
For story, click here
---
PHATT BOYS AUCTION---NO BIDDERS!
The Phatt Boys building, located across from Shaw's Plaza, has housed thriving restaurant businesses back to the days of the Stoughton Diner. Well, after the owners of Phatt Boys expanded to Cambridge and killed their business, the place has been vacant. Friday morning, about a dozen bidders, and numerous onlookers, came to try to buy their piece of Stoughton---at a discount. As the building's owner stepped off a plane at Logan, Auctioneer Paul Saperstein started the bidding. He asked for a bid of two million dollars to open. Qualified buyers had to have a certified check for $50,000 to bid. He then lowered his first bid amount to one million dollars. No one raised their bid numbers. After Saperstein said, "This is not a dress rehearsal," and asked again for bids at the million dollar minimum---with no one responding--he said the auction was over. Outside, frustrated bidders told me, "They had never posted a minimum bid. I wasted my time and money to get here. What a complete waste of time." One bidder was planning to open a combination Japanese/Chinese restaurant at the site, another a seafood place, and still another was just looking at it as a real estate deal. A number of well-known Stoughton residents and business people attended, some as potential bidders and others as onlookers. Faces among the crowd: former selectman turned author Charles Yataines, developers John McKeown and Scott Hersee, Dick Phillips of Town Spa, Amvets' Warren West, Stoughton Chamber of Commerce President Terry Schneider and his wife Joanne, and local Bob Decelle, who works for Saperstein. One bidder told Snyder's Stoughton he might have gone as high as $700,000 for the building. "I'd have probably spent another 250K on making it look like I wanted. Meanwhile, the owner still has to pay all the bills for the building, and the property will lose value the longer it is closed. I can't understand why they didn't start lower and work up. The owner could have refused the sale. At least he'd have known what it was truly worth."
(c) 2008 by snydersstoughton.com, a PMPNetwork Company
SnydersStoughton.com Success:
OVER 3.7 MILLION HITS! (Details)